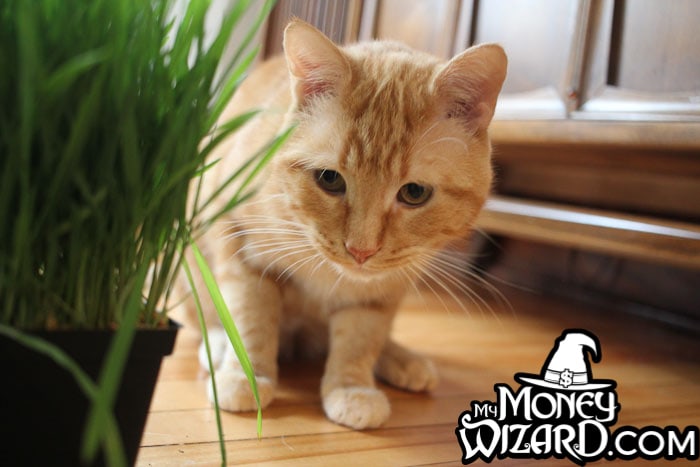 If you're new around here (chances are, you might be, especially after Business Insider just republished my journey to $500,000 by age 30 on their front page) then welcome to the monthly net worth update!
Every month I track my progress to my goal of about $1 million in net worth, which I'm hoping will allow me to take an early retirement from my white collar office job. I'm currently 30 and hoping to retire within the next 5 years. Read on for the latest progress!
*As always, I am not an expert or financial advisor, so nothing on this site should be considered financial advice. These are just like, my opinions, man. Always do you own research, and always abide by The Dude.
Life Update: March 2021
In typical COVID fashion, there's no wild adventures to report this month… other than a new member in the family!
It's true, it's true… The Money Wizard household caved in the name of a Pandemic Pet.
Well, not exactly.
Long story short, a few months ago we came home to see a friendly orange cat on our porch.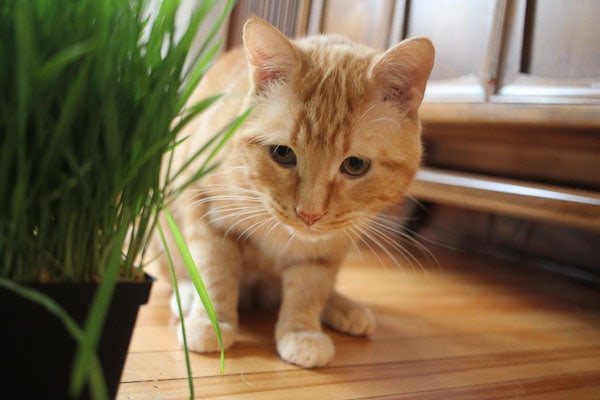 When he came back a few days later, we noticed the poor fellow was walking with a limp and mangled with flees. So, we decided to see if we could catch him and get him some of the treatment he needed.
After a trail of treats, we did manage to catch the guy. We brought him to the vet where there was just one small hiccup…
They lost him.
Literally, they lost "our" cat.
Poof. Gone.
Apparently, as they were bringing him inside (curbside dropoff, for COVID safety… add it to the list of new normals…) the unlucky vet tech dropped his carrier, which exploded into a million pieces and left the cat fleeing for the forest.
A ferocious lover of animals, Lady Money Wizard wasn't one to be deterred. She immediately went to work printing flyers for the neighborhood, and she spent the next few nights cat hunting.
After day three, a Good Samaritan found the orange guy, and they returned him for the vet visit that started this whole saga.
By this point, Lady Money Wizard's heart stood no chance, and she pleaded with me to keep the poor stray.
A few months later, I'm now a guy with three pets.
Oh well, at least the new one is a total heart throb.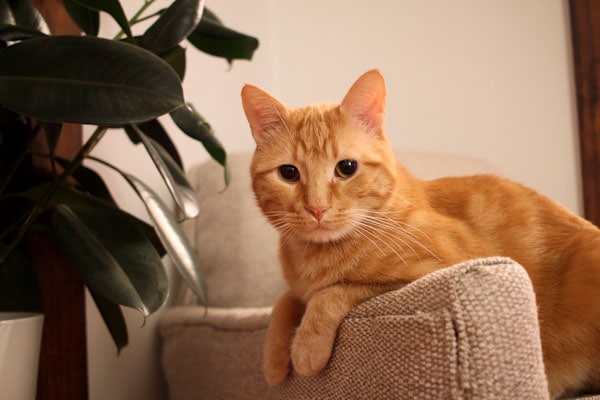 Plus, he gets along great with Money Meow #1, which severely decreases the amount of times #1 tries to rip the cords of out my computer while I'm typing up these posts.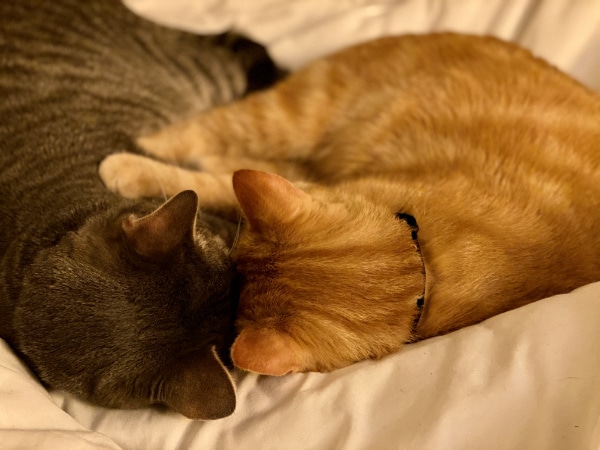 We'll call it a win for the blog?
Net Worth Update: March 2021
With my Personal Capital back up and running, we can now see the handy dandy chart…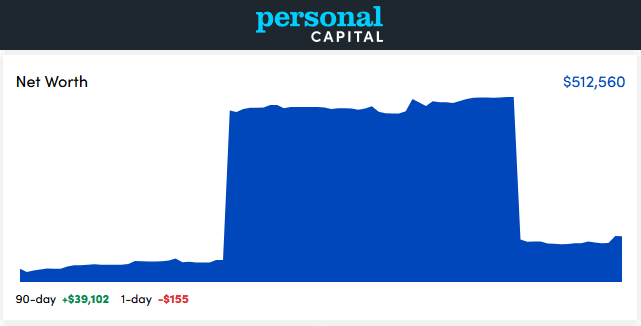 Whoa! What-the…
It turns out, due to some technical behind the scenes stuff on Vanguard's end, Personal Capital briefly counted my Vanguard accounts twice.
As nice as it was to be temporarily $150,000 richer for a few days, I'm sad to report that this wasn't real life. Dang! I'll have to put those borrowed fur coats back in the closet, and return to life as a regular Joe.
Which, as it turns out, isn't so bad! Especially since the net worth stayed above the glorious half-million milestone after crossing the threshold for the first time last month.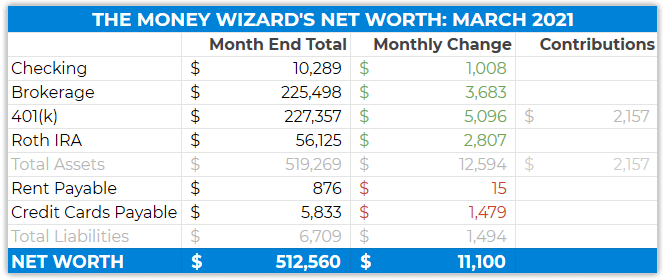 And with Personal Capital back in the action, I can finally provide a detailed portfolio breakdown again: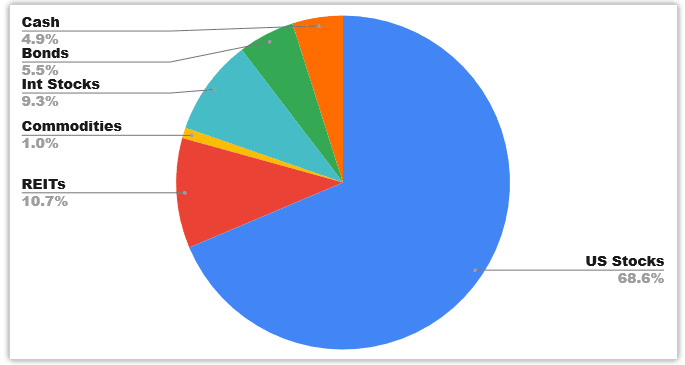 As usual, this doesn't count my roughly 10% cryptocurrency exposure. With bitcoin continuing to the moon, that part of the portfolio is getting harder and harder to ignore. BUT, we shall continue ignoring, both in the interest of security and not counting on those risky investments for early retirement's sake.
Checking Account: $10,289
(+$1,008)
Normally I don't like for the checking account to be this high, but I just finished meeting with my accountant and am currently bracing for the extra $4,000 tax bill that will slap me in the face mid-April.
Brokerage: $225,498
(+$3,683)
No contributions this month, so just market movement here.
For newer readers, the brokerage account is mostly just general stock market index funds, like VTSAX. (If you're ambitious or craving particulars, take a look through previous net worth updates where I provided exact numbers.)
401(k) : $227,357
(+$5,096)
The 401(k) stays ahead of the brokerage account, which is no surprise considering it's helped along by about $2,200 of my contributions and employer matching every month.
My contributions are still invested like so:
50% S&P 500 Index Fund
30% Small Cap Stocks Index Fund
20% International Stocks Index Fund
Roth IRA: $56,318
(+$2,807)
I contributed the $6,000 maximum back in January, so this is just investment returns in action.
The Roth is still roughly 75% VGSLX and 25% VTIAX.
PS – here's why I like VTIAX more than VFWAX.
Rent Payable: $876
(+$15)
Nothing exciting here. I'm still splitting the mortgage on a house that my fiance bought for $180,000 a few years ago. This "rent" covers my half of the mortgage, utilities, taxes, expected maintenance, etc.
Credit Cards Payable: $5,833
($1,479)
Bam! I got blasted with $750 of credit card annual fees for a bunch of travel credit cards I've barely used in a year. (That's how they get you, btw…) That said, even with the fees I should come out ahead… if I ever book another trip this year.
Total March Spending: $3,812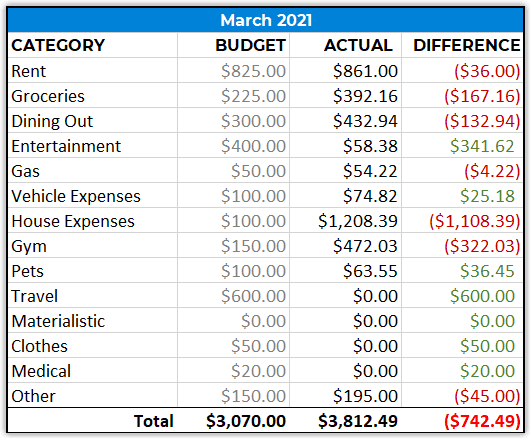 Budget alert!
$800 over!
And crazier, that was all because of one thing I bought…
House Expenses: $1,208
The big one. We finally bit the bullet and decided to get our 100-year-old historic house in Minneapolis some insulation.
What's that you say? You can't believe a house in a place with -20 degree Winter days didn't have any insulation?
Neither could we. But that was the reality we faced after opening up the walls and finding a completely empty chasm. Nothing. (Not even old newspapers!)
The insulation guys were just laughing at how inefficient the house was. And they do this for a living!
The total bill was 5 big ones. As in, $5,000. Split between Lady Money Wizard and I, and that's $2,500 per person. The $600 per month we save together into our home maintenance fund still wasn't enough to cover it, so we both topped off the bill with some extra money from our personal stash.
Sounds expensive, and it is. That said, the difference between insulation vs. no insulation (and I should stress again, literally zero insulation…) should actually pay for this entire bill in a couple of years.
I'm pretty excited about it! And as an added bonus, I no longer hear every single outside noise like it's occurring in my living room. (It turns out, having insulation makes a house quieter, too. Who would have guessed?)
Gym: $472

I officially cancelled the Globo Gym for good. To help mourn the loss, I grabbed a set of free weights in the most cost effective and space efficient way I could find – a set of Powerblocks.
How was your March?
Adopt any new pets? Haha!
In any case, hope you're doing great!
-Sean aka The Money Wizard
PS – Want to track your net worth like this? Personal Capital is my favorite tool to do so. The free software is truly awesome, so just check it out already!