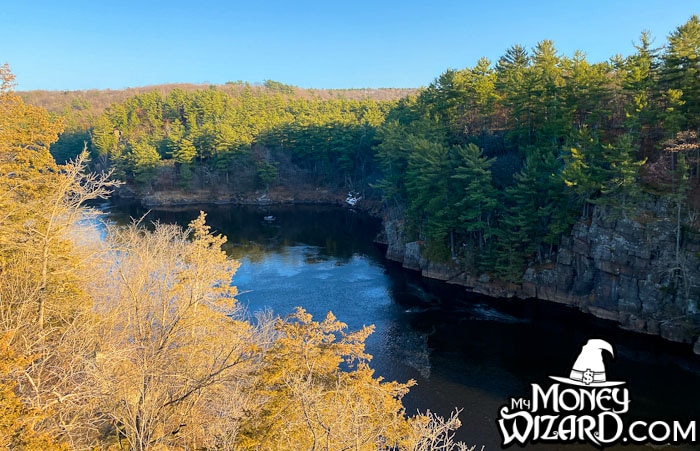 Hey Money Wizards!
Welcome to the second to last net worth update of 2020. Regular readers know that every month, I share my progress towards a roughly $1 million portfolio and (hopefully!) an early exit from the working world. I'm currently 30 and hoping to retire by age 35, so let's check it out!
Life Update: November 2020
Hmm, writing this section is getting tough. Thanks, 2020!
With COVID spiking and lockdowns resuming, there's not a whole lot to report here.
Each day is pretty similar. Wake up, work from home, relax in the evening. Repeat.
I could keep complaining or recognize it as a once in a lifetime opportunity of forced savings. When you're fortunate enough to still have a job in these crazy times, that's a serious boost in reaching your savings goals.
Otherwise, I interrupted the monotony with my go-to activity these days – hikes around local parks.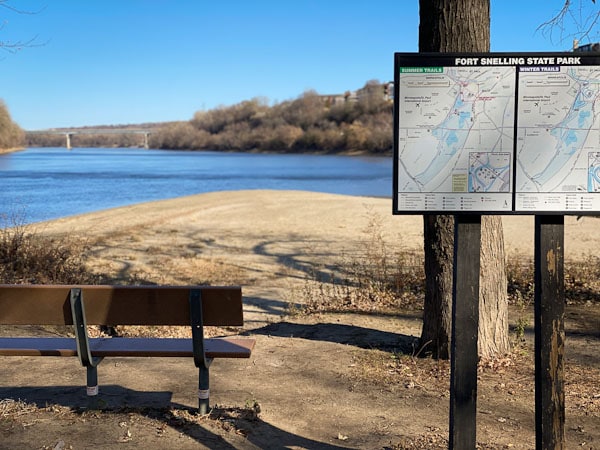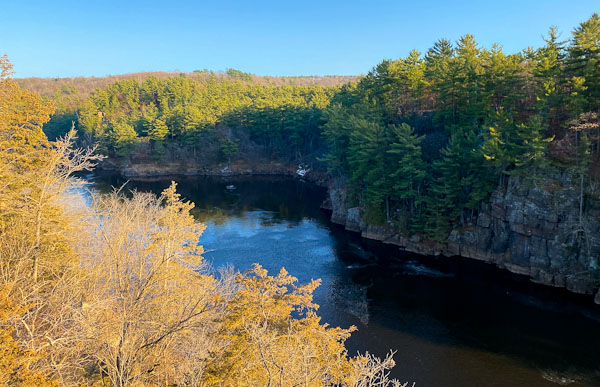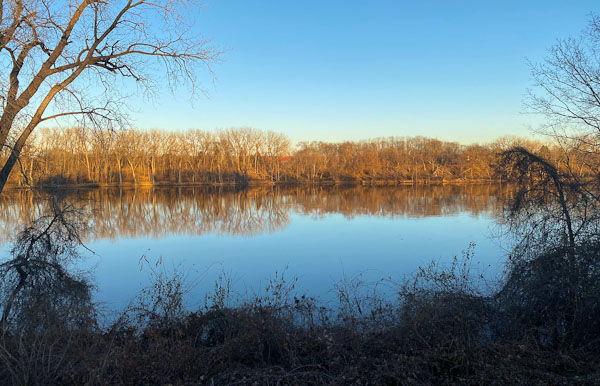 Otherwise, last month's update about side hustling $7,000 in a little over a year inspired me to up my flipping game. So I spent quite a bit of free time driving around the cities and flipping furniture and other finds.
Not a whole lot else to add, so let's look at the numbers.
Net Worth Update: November 2020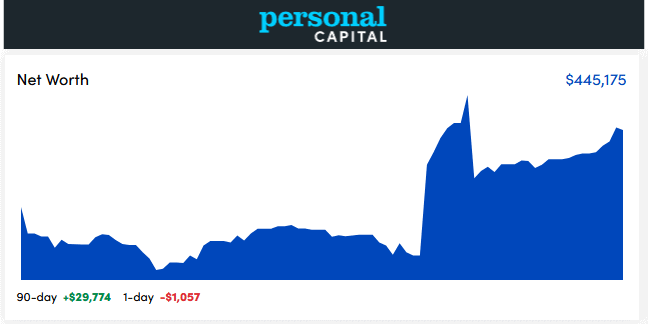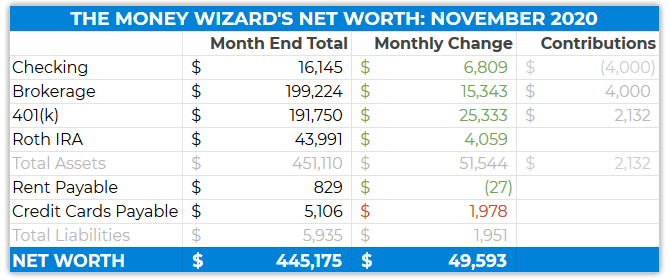 Holy SH*T!
A $50,000 increase in one month!
I'm not sure what the biggest one month increase was before this, but it definitely wasn't $50,000. That's almost a 13% increase in the total portfolio since last month. Put another way, I'd label it "a whole freakin' lot."
The biggest cause is a stock market that bounced back after last month's decline. It kept rallying up and up in hopes of a COVID vaccine, helped along by a rare 3-paycheck month for me and no way to spend it even if I wanted to.
Portfolio Allocation: November 2020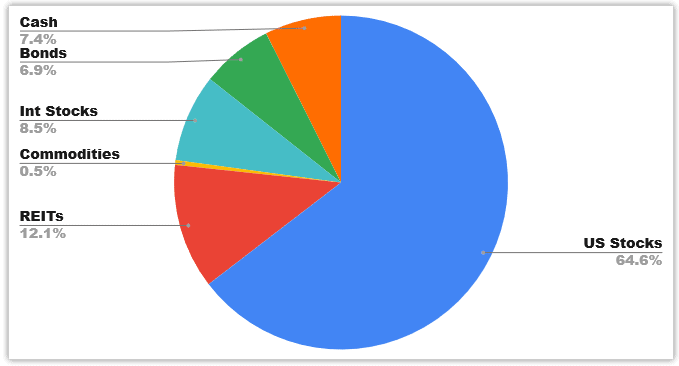 Checking Account: $16,145
(+$6,809)
This was helped along by a rare three paycheck month, which boosted the cash account and reminded me that I need to get investing.
Brokerage Account: $199,224
(+$15,343)
*So close* to $200K. Thanks to a unbelievable 8% increase in my brokerage account since last month.
401(k): $191,750
(+$25,333)
The increase in the 401K was even crazier, since the 401K account rode the wave of the increased stock prices AND got three paycheck contributions. Those equal about $2,000 per paycheck, since I max out my 401k each year and get a generous employer match as well. In other words, about $6,000 of this change was from my savings and about $19,000 was market movement.
I still contribute to my 401k in the following proportion each paycheck:
50% S&P 500 Index Fund
30% Small Cap Stocks Index Fund
20% International Stocks Index Fund
Roth IRA: $43,991
(+$4,059)
No action to the Roth account this month, except for more crazy market movement.
Rent Payable: $829
($27)
For newer readers, I split a mortgage for a house in Minneapolis that my fiance bought for $180,000 a few years ago. This "rent" covers my half of the mortgage, utilities, taxes, expected maintenance, etc.
Credit Cards Payable: $5,106
(+$1,978)
As always, this is a wildly inaccurate representation of my monthly spending. Lady Money Wizard and I took advantage of a Black Friday Sale to finally get some nice blinds for a few empty windows in our house (and stop living in a fishbowl).
We took the money out of the home maintenance fund that we contribute to each month. But first, we paid for the large $1,000 purchase using my credit card. (Always gotta get those reward points!)
Total November Spending: $2,209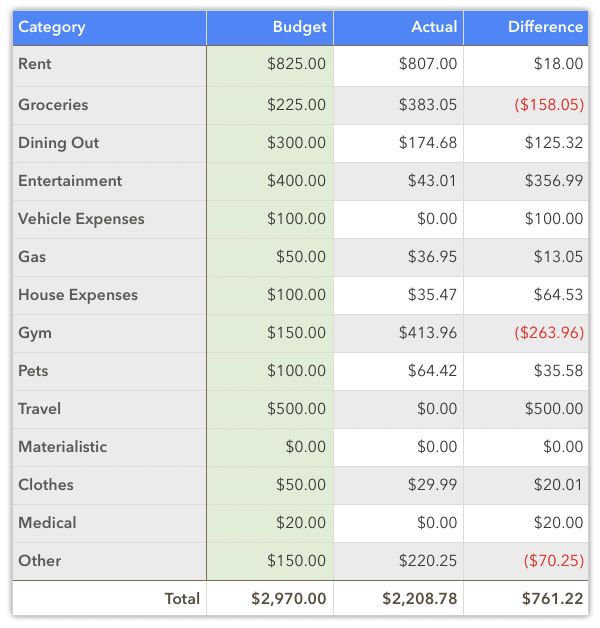 Groceries: $383

With COVID's new normal, groceries are up and dinning out is down. I've also found myself splurging more at the grocery store, since a fancy meal at home can help replicate a fancy meal out. Not to mention, November = Thanksgiving.
House Expenses: $35
The big items here come out of the home maintenance fund, which I contribute $300 to as part of each month's "rent." So despite spending a grand on new blinds, it doesn't show up in this spending report.
A perfect system? Probably not. Yet here we are.
Gym: $414
Well, I've officially decided to cancel my public gym membership. After my $30 gymnastics ring purchase a few months ago, I feel pretty confident that my tiny basement has the strength training covered.
Cardio is a bit more difficult, since you can't exactly fit a regulation sized quarter mile track inside our 500 square foot unfinished basement. Enter, the spin bike.
We grabbed one of these from Costco last month. Although the "easy install" was, as expected, not so easy after we realized they sent us two left pedals!
I'm excited to get that right pedal installed, which will have our home gym up and running.
Pets: $64
Just miscellaneous treats for the good boys.
Other: $220
A bunch of random stuff, with some Christmas shopping mixed in.
How was your November?
I think Thanksgiving was tough on all of us given the circumstances. But we're rounding the corner on 2020 and heading into the home stretch!
PS – Personal Capital support fixed last month's issues for me. I was impressed with the response of their customer service, and within a few days my favorite software was back and tracking all my accounts in one place. Definitely enough for me to keep highly recommending them!
---
Related Articles: