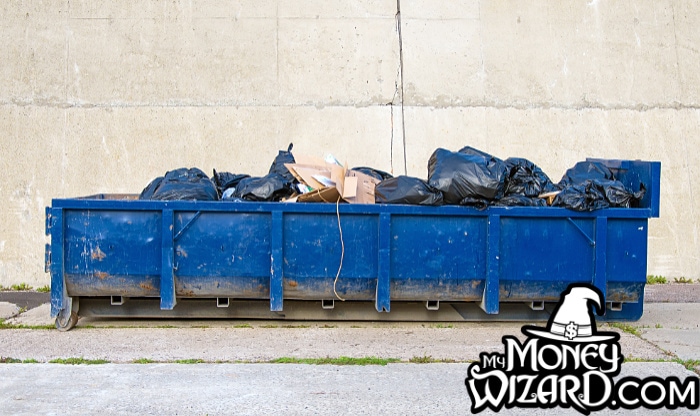 In basketball, there's Michael Jordan. In baseball – Babe Ruth. And in the unique and often messy world of Dumpster Diving, there's the reddit user "UrbanRelicHunter."
I first came across this online legend a few weeks ago. He was posting up something super valuable that he found in the dumpster (per usual) and immediately, a horde of other commenters called him out, saying his find was too good to be true.
And then, at the exact same time, another horde of users came to his defense. Apparently, this guy has a multi-year history of posting some absolutely CRAZY and valuable stuff that he finds in local dumpsters. And as a flea market dealer, he takes great care to check the authenticity of his treasures before posting.
I immediately looked into his older posts and was blown away. If he's faking it, he sure is dedicated to the cause…
We're talking 3-4 posts per week. Every week. For years. All showing rare collectibles plucked out of the trash. (His feet, still buried under garbage bags, can usually be caught near the edge of the frame.)
Here's some of his best finds, just within the past few months. Prepare to never look at trash the same way again…
Finding Thousand Dollar Treasures in the Dumpster
We're starting off easy, with a modest haul of some gold earrings valued at a couple hundred dollars after 2 hours of work.
2 hours of digging through 1 dumpster and only 2 decent finds… a 1954-s wheat penny and a pair of 18k gold stud earrings. from r/DumpsterDiving
Next…
Best find of the night dumpster diving… 2.437 grams of marked and tested 14k gold (3.1 grams with the pearls) local thrift shop threw away a whole bag of jewelry. This was all the gold… I also found 28 grams of sterling silver from r/DumpsterDiving
More gold in the trash. (wtf!?) At its current price, two and a half grams of 14 carat gold is worth about $100, the silver about $30, and well… pearls are pearls.
Found 27 nes games dumpster diving tonight. Here are my 2 favorites. from r/retrogaming
For those who haven't plugged in an Original Nintendo since the 80s, those dusty old games have a loyal following of collectors. And those collectors pay anywhere from $10 to $1,000 per game. (Just the two pictured here total over $400.)
I doubt this is a real benchmade but thought I would check before I chuckled it… says Bali-song inside the butterfly and Benchmade USA underneath. Other side of the blade has ATS-34 from r/benchmade
As it turns out, this classic knife was real. Which meant it was valued anywhere from $300-600.
Found a bunch of pokemon cards diving tonight. Here are some of the better ones. (Sorry if I posted twice I don't know if the video went through) from r/DumpsterDiving
Any 90s kid remembers the thrill of uncovering a Charizard Pokemon Card. And to this day, they're still selling for at least $300 a piece, meaning this haul easily has over $1,000 of cards.
I'm really happy about this find… found it dumpster diving a couple of days ago, just haven't had time to take a pic of it. Its surprisingly comfortable to sit in. Any idea of the age? from r/Antiques
Not sure what this thing is worth exactly, but based on my experience flipping furniture, I bet this guy could grab a hundred bucks or so for this one.
Tonight I found this ring dumpster diving. I thought for sure that it was fake… it was marked 14k gold tho so I kept it. Well I got home and tested the gold and it tested as real. The stone however I believe is fake. It sets my diamond tester off but something just feels wrong. More info below from r/DumpsterDiving
And the finds just go on…
Found a DS lite with some games tonight. Local thrift shop threw it away in a big box of random cables that was still sealed from whoever donated it. from r/DumpsterDiving
and on…
Yay… first large video game in awhile. Original xbox halo edition and a ton of random games. The boxes don't show what's inside…. I was kinda upset actually, I expected cooking mamma and got Mario party. from r/DumpsterDiving
and on…
Found a really nice piece dumpster diving tonight. As soon as I saw it I thought "this must be uranium glass" and snapped a pic. Got it home and what do you know… IT GLOWS!!!!!!! from r/DumpsterDiving
and on…
Gotta love finding pyrex in the dumpster. Found this earlier this morning the lid has a chip in it but at least the main bowl is fine. from r/Pyrex_Love
Keep in mind, he's found all of these just within the last three months!
More dumpster treasures…
If I kept going back, this dude has endless posts like this!
Found two gift cards in the dumpster of the local thrift shop. I just checked the balance on them, and each one has $100 on it. from r/DumpsterDiving
I doubt either of these are real, but I found some coach bags in the dumpster this morning. from r/DumpsterDiving
found this in the dumpster of my local thrift shop this morning… I already tested it, and it's real. It is marked and tested as 14k gold and weighs 36.5 grams. I'm super excited. from r/DumpsterDiving
(The coach purse was real, and he says he sold the piece of jewelry for $750…)
How does he do it?
According to him, his strategy is pretty simple.
Local thrift shops gets tons of donations. Sometimes, it's simply too much for them to sort through. Other times, their employees just get lazy. So rather than organize a huge box of cables that usually doesn't have any $1,000 Nintendo games inside, they just throw out the whole bag so they can take their early lunch break.
Before donating to a thrift shop check out back…One of my local spots gets a new dumpster Mon, Wed, & Fri. They got this dumpster at 9 am and look at it at 9pm. Most of the boxes and bags were sealed when I got here. (Already finished my hunt) this is a construction site sized dumpster btw. from r/DumpsterDiving
Then, under the cloak of darkness, UrbanRelicHunter jumps in, willing to do the work the employees aren't. Like some sort of vigilante superhero. Except with less capes and more garbage bags…
His strategy isn't unique either. My blogging buddy at FinancialPanther.com has made thousands of dollars plucking furniture from his apartment's dumpster.
Would you ever dumpster dive?
I'll be honest. As much as I'd love to uncover an O.G. Charizard for nostalgia's sake (and mostly, my bank account's sake) my limits of dumpster diving top out at "clean piece of furniture clearly visible on the side of the road with a free sign attached."
There's just something about taking the leap of faith into a pit of trash that makes my skin crawl. Or maybe that's just the potential bed bugs talking…
So this might have to be one side hustle I sit out.
But I won't lie. I'm more than a little jealous of the people brave enough to score these types of finds. They've definitely earned it.
What do you think? Is digging through trash nuts or totally worth it?
---
Related Articles: