Hey Money Wizards!
Around the same time I started My Money Wizard, another Minneapolis blogger started a like-minded personal finance blog. He too was chasing financial freedom, but there's one part about his blog that really stood out to me…

He was a side hustling machine. In fact, I'd never seen anyone who'd incorporated extra income into their daily life so effortlessly.
When I first met him in person at the FinCon blogger's conference, he lived up to the hype as the internet's #1 side hustler. While everyone else was twiddling their thumbs during the conference breaks, he headed outside to earn some quick cash walking dogs on Rover!
Talk about walking the walk! (Literally!)
Here's the coolest part. Over just a couple of years, those little side hustles have added over $90,000 to his net worth!
I knew I had to have him on to share his story. Take it away, Financial Panther!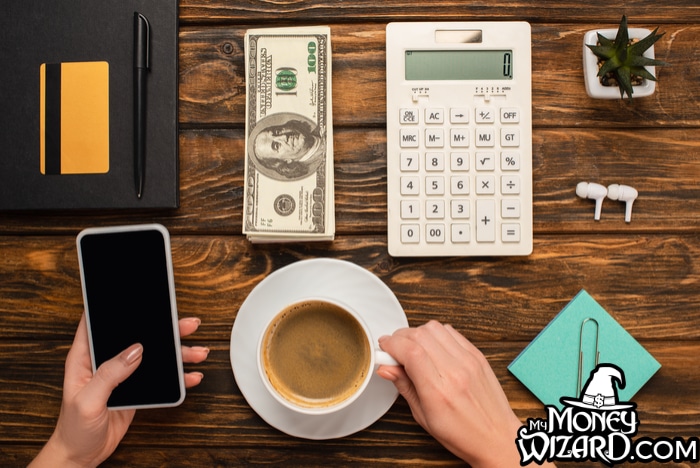 One of the unique things about the world we live in today is just how easy it is for anyone to earn extra income.
Even just a few years ago, things were very different. The sharing economy and gig economy didn't really exist yet and if you wanted to earn extra income, your main option was to pick up a part-time job, which likely meant that you had to work scheduled hours without a ton of flexibility.
Today though, thanks to our phones and things like the sharing economy and gig economy, there's almost no excuse not to bring in some extra income each month.
I'm a good example of what's possible. Before I quit my job to go all-in on my blog, I worked full-time as a busy attorney, regularly working 60+ hours per week. Even with this schedule, I still found ways to incorporate side hustling into my day-to-day life, taking advantage of gig economy apps to earn money in small, piecemeal chunks, on my own time, often doing the things I was already doing.
This included doing things like:
Renting out a room in my house on Airbnb;
Taking care of dogs using Rover and Wag;
Delivering food on my bike with Postmates, DoorDash, Uber Eats, and Grubhub;
Charging electric scooters with Bird and Lime; and
Delivering groceries with Shipt and Instacart, among other things.
These side hustles might not seem all that lucrative, but over time, the income adds up. Indeed, over the past four years, I've earned close to $90,000 doing side hustles that pretty much anyone can do. That's pretty incredible, especially when you consider that the side hustles I do don't require a ton of skill or upfront costs. And often, they're things I'm already doing anyway (and they might be things you're already doing anyway too).
The important thing is just what impact these side hustles – even very simple side hustles – can have on your journey towards financial independence. Financial independence tends to place a big emphasis on cutting costs. That is, reduce your expenses (including your small expenses) and save as much money as you can. Over time, all of that money you save will add up.
But just as saving consistently can add up to huge sums over time, taking steps to earn more money – even in small amounts – can have a huge impact on your ability to reach financial independence. If you understand just how valuable a side hustle can be, you can dramatically speed up your path towards financial independence.
Let me explain how.
The Reverse Latte Factor
One of my favorite financial concepts is the Latte Factor, coined by David Bach in his book, The Automatic Millionaire.
The general idea behind the Latte Factor is that many of us spend small amounts of money on a regular basis without even thinking about it.
Take the example of your $5 daily latte (or any other similar, small daily expense). By itself, $5 per day isn't very much. But add it up over the course of a year and you'll find that it comes out to almost $2,000.
What's more important is how much that money can be worth if saved and invested over a significant period of time. For example, if you invest $5 per day at a 7% annual rate of return, you'll have about $180,000 over the course of 30 years. Double your savings to $10 per day, and you're looking at about $360,000 over the same time period.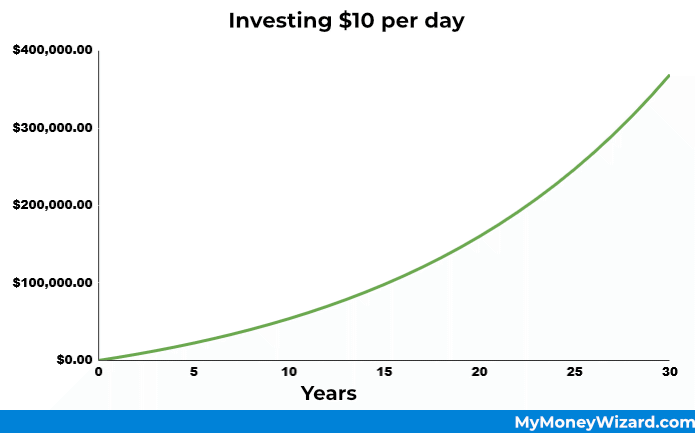 That's the Latte Factor – and it shows us just how much your small purchases really cost you. The Latte Factor admittedly has some valid criticisms, but I think the general point it makes is still a good one. Small amounts matter.
The flip side to the Latte Factor is what you could call, the Reverse Latte Factor. If saving $5 or $10 per day can add up to hundreds of thousands of dollars, what happens if we do things to earn an extra $5, $10, or more per day and save all of it?
The answer is, it can turn into a lot of money – enough to literally make you a millionaire. The below chart shows the impact earning an extra $5 or more per day can have if saved and invested over a 30-year period.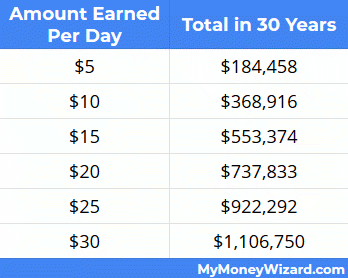 This chart tells us something pretty striking. If the Latte Factor tells us that saving small amounts of money can add up to huge sums over the long-term, the Reverse Latte Factor tells us the same thing, only in reverse. It comes down to opportunity cost, and just as there's an opportunity cost with spending money that you don't really need to spend, there's also an opportunity cost with failing to take advantage of all of the opportunities around you to earn extra money.
Fit Side Hustles Into Your Day And Become A Millionaire
When the Latte Factor was first articulated over a decade ago, the idea that someone could go out and earn a random $5 or $10 per day wasn't really possible. The technology to do that just didn't exist yet, and there were very few jobs (probably none) that would let you work at random times, whenever you wanted, for as little or as long as you wanted.
Then phones and the internet changed all of that. Today, you can open a bunch of apps during your lunch break or while you're on your way home and make a few bucks without having to commit to several hours of work or schedule anything in advance.
Just take a look at some of the things I've done to consistently generate an extra $5 to $25 per day.
Deliver food on my way home from work and make an extra $10 to $20 per day. Since I'm doing deliveries using my bike, I also get the added benefit of exercise and having no operating costs.
Earn $11 to $16 per day walking dogs with Wag during my lunch break. I have an office downtown and there are a lot of apartments near me. And just like with doing food deliveries, I get the added benefit of being able to get outside and walk a little, instead of being stuck at my desk eating a sad sandwich.
Earn $15-$30 charging three to six Lime scooters each evening. I live in a dense neighborhood with a lot of scooters, so it takes me almost no time to simply walk outside and grab a bunch of scooters before I go to bed. As an added benefit, I can also essentially ride these scooters around for free by charging them.
It doesn't take much to bring in regular, extra income each day. The important thing is just to be willing to try things out. It's even better if you can find things that fit into your day-to-day routine. See what works for you, keep doing what works, and drop what doesn't work.
Even the simplest side hustle can be worth hundreds of thousands of dollars – or even a million dollars – over the course of your life.
3 Things To Think About When You Start Side Hustling
With all that said, I think there are three things to keep in mind when it comes to the concept of the Reverse Latte Factor and side hustling towards financial independence:
1. Consistency Matters.
Perhaps the biggest lesson with any personal finance principle is this: consistency matters. Building up your nest egg can't be done overnight – it takes time (and generally a long time at that). But give it enough time and you'll start to see a real impact.
The same can be said with side hustling. If you can take steps to consistently earn extra income on a regular basis, the money will add up over time (see the chart in the previous section). You'll also get better at whatever it is you're doing, which will lead to more income.
And because of how side hustling works today, it really is possible to add almost any side hustle into your day-to-day life. Do this for long enough and you'll be surprised at how much you have in the future.
2. Treat Side Hustle Income As Bonus Money.
The beauty of a side hustle is that all of the money you earn from side hustling is money that you otherwise would never have.
What this means is that every dollar from your side hustle is bonus money that you can save at a 100% savings rate. These extra savings can dramatically push you closer towards financial independence.
Take the example of someone making $100,000 per year and saving half of their income (or $50,000). If that same person can make just $10,000 per year of side hustle income, it's possible for them to save all of it and increase their yearly savings to $60,000. Since that money is bonus money that essentially doesn't exist to you, it's like you've increased your savings rate to 60%, all simply by adding a side hustle. You could cut off years of mandatory work simply by adding a few side hustles into your life.
3. Your Side Hustle Is Worth More Than You Think.
This sort of goes with the consistency matters point, but it bears mentioning. Your side hustle is worth a lot more than you think.
Someone making just $10 of extra income per day might not be making that much on a daily basis. But add that $10 per day over the course of 30 years, and you're looking at potentially hundreds of thousands of dollars.
That's significant – and it's really remarkable that something as simple as delivering food, walking dogs, or doing other simple side hustles can add up to such large numbers when given enough time.
The Golden Age Of Side Hustling
We live in what I think is the golden age of side hustling, where it really is possible for almost anyone to pick up a side hustle and make some extra income without having to commit a lot of their time or resources. Take a look at all of the options around you and see what works for you.
Making just a little bit of extra money each month might not seem like that big a deal. But the fact that you can save all of it is something that shouldn't be underestimated. An extra $150 per month (about $5 per day) gets you to around $180,000 over a 30-year period. An extra $300 per month (about $10 per day) gets you to a little over $360,000. Figure out how to make an extra $900 or so per month (about $30 per day) and you're looking at having over a million dollars in 30 years!
As you can see, this money means something. And there's a real opportunity cost if you sit around and don't take advantage of the opportunities around you. So, take a look at the things you're doing and figure out what works for your situation. You'll be surprised at just how much you can make and what it can mean on your own journey towards financial independence.
Thanks for the post, Financial Panther! If you're feeling as motivated as I am after reading that, here's some of the side hustles Financial Panther uses:
---
Related Articles: