Travelers on a budget may be familiar with Spirit Airlines. Spirit is the "ultra low-cost carrier" doing everything it can to drive its ticket prices as close to zero as possible. The no frills flight experience includes seats that don't recline, tray tables barely bigger than a deck of cards, and leg room so scarce it would make a dwarf feel tall. For customers who don't mind being treated like a piece of shipped meat, Spirit airlines is a great budget option.
What's the catch for that dirt cheap flight? The fees. Forget charging for checked bags, Spirit charges for everything!
If it's bigger than a backpack, get ready to pay $35 for it. And you better pay that online, because if you try to sneak it passed the gate agent, you'll be slapped with $100 carry on fee.
And the fees continue:
Want some water during your flight? That will be $3 sir.
Want to choose your seat? That'll be $5 per seat.
Lose your boarding pass? We'll print one right up for you, for only $10.
The fee system has worked well enough to make America's most hated airline also its most profitable one. Despite racking up customer complaints at 3 times the  pace of next airline, Spirit's margins, profits, and stock prices have soared.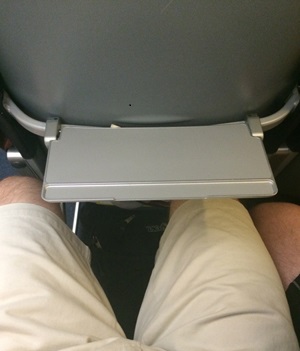 To beat Spirit at their own game, there's one fee to avoid. Customers willing to go the extra mile to fly the extra miles (for cheap) have one secret weapon in their arsenal.
The Passenger Usage Fee
Spirit is pretty clear about most of their absurd fees, but there's one fee they try to sneak under the radar. It's called the Passenger Usage Fee.
The passenger usage fee is controversial, to say the least. It's is so well hidden that I'm embarrassed to admit I flew on Spirit for years before I even realized what I was throwing my money away on. Apparently, I'm not alone, as Spirit is now facing a class action lawsuit for the practice, and was previously fined by the Department of Transportation for misleading customers. But fear not, you're about to be in the know.
The "Passenger Usage Fee" is what Spirit calls their online booking fee, or as I like to call it, "The Completely Ridiculous and Unheard of Ripoff Fee." It costs $17.99 EACH WAY, so if you're flying roundtrip, the fee will total $35.98.
This fee is also completely avoidable. By purchasing your ticket at the airport, at Spirit's ticket counter, you will waive this online booking fee.
Just park in the airport's one hour parking, walk inside, and buy your ticket the old fashion way. BOOM! Saved $36. Like magic.
If you're flying with a family of four, you're looking at $143.92 of savings. Talk about a return on investment for that one hour parking spot.
Better yet, convince a friend to come with you on vacation, then convince said friend how you can save them $36 if they just drive you to the airport. No paid parking required!
These savings are nothing to sneeze at, and in many instances this little hidden charge makes up the bulk of Spirit's flight costs. I know what you're thinking, and yes, it is possible to use this trick on one of Spirit's $34 fares to buy an airplane ticket for only 15 bucks! At least that's what I was thinking.
Getting a 30% Discount in 10 minutes
For my vacation to Florida back in January, this fee accounted for nearly 30% of my ticket price!
As the Money Wizard, not only do I love saving money, but it's also my job to research ways to save you money. Put simply, this was one experiment I was happy to throw myself into.
I first noticed that none of the fines or class action lawsuits have phased spirit in the slightest. In fact, Spirit has actually made the fee even more hidden since I started researching this article.
The website no longer breaks down the "base fare" during the first step of booking. Instead, you have to get past the rental car AND hotel options before you can expand the flight price to show that tiny line of microscopic 6 point font.

I took a mental note of their attempted highway robbery and added a trip to the airport onto my to-do list. A week later, I found myself near the airport. (I waited until the trip was convenient to me, in order to save money on gas and maximize my return on savings)
I parked in the $5 one hour parking lot, followed the signs for Spirit airlines, and soon arrived at the ticket counter. On my visit there were two people in line checking bags, but hey, even if I waited an hour to save $31, that's still a better wage than my day job.
Luckily, I didn't have to wait an hour. Less than a minute later and I was at the counter, buying my cheap tickets to Florida. Without a $36 fee. Fast, painless, and totally worth it.
Try it out!
UPDATE: I'm now 2 for 2 on saving serious cash using this trick. Just last week the girlfriend and I saved $70 on two round trip tickets, which was enough for a free hotel night where we are going. Ahh, I love beating the system.

---
Related Articles: