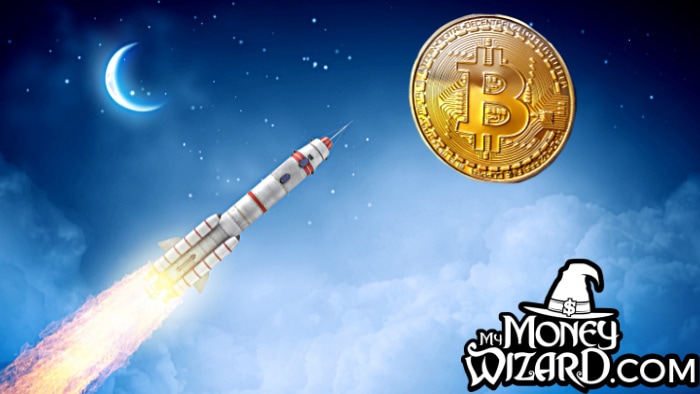 How's this for a bombshell?
Bitcoin cryptocurrency (otherwise known as that roller coaster of an investment that started as a nerdy experiment, quickly became the currency of choice for underground criminals, then got threatened with government shutdown, somehow made a comeback, and along the way accidentally created thousands of unexpected millionaires and billionaires)…
Yeah, THAT bitcoin just received a $1.5 billion investment from Tesla.
A large, real company investing in the space is a landmark moment in the era of cryptocurrencies. And it comes off the back of a flood of similar news about mainstream adoption:
In light of all that news, Bitcoin has exploded, to put it lightly.
Since November, bitcoin's price has climbed about 250%, from around $14K to $47K. (By the time you read this, that stat will probably be outdated.)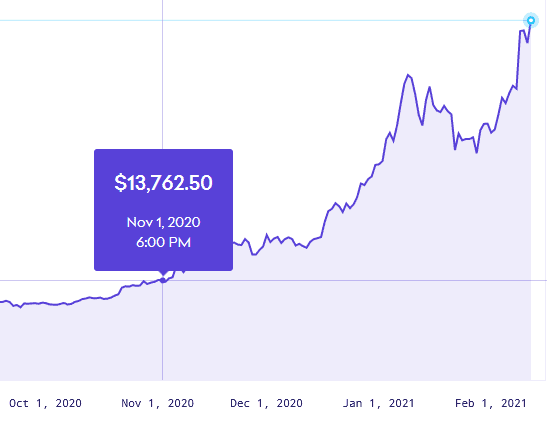 Which begs the obvious question.
Are we in the most 'roided up bubble in bitcoin history? Or is this the start of bitcoin's moment in the mainstream?
Elon Musk and Tesla's $1.5 billion bitcoin investment
Back to Tesla. So what's going on here?
Well, as a publicly traded company, Tesla has to disclose everything it does through SEC filings.
On Monday, Tesla's annual report got released to the wild. And page 23 includes this bombshell section:
We hold and may acquire digital assets that may be subject to volatile market prices, impairment and unique risks of loss.

In January 2021, we updated our investment policy to provide us with more flexibility to further diversify and maximize returns on our cash… Thereafter, we invested an aggregate $1.50 billion in bitcoin under this policy and may acquire and hold digital assets from time to time or long-term."
Translation: We had a bunch of cash we didn't know what to do with, so we figured why not throw billion into something with more potential?
(The other newsworthy item in their statement is that a few sentences later, they also announced plans to start accepting bitcoin as payment for their cars.)
How much is $1.5 billion to Tesla?
Well, as a company, Tesla's "net worth" is about $23 billion.
So Tesla investing $1.5 billion into bitcoin is similar to you or I allocating about 6% of our portfolio to bitcoin. That means Tesla is NOT "all in" on crypto, but 6% of your portfolio probably isn't chump change to you, and neither is it for Tesla!
Of course, comparing Tesla to mere mortals like us isn't exactly fair. Tesla also has some advantages not available to non-multi-billion-dollar global enterprises.
If the price of bitcoin goes down, Tesla can use it as a tax write off.
If the price of bitcoin goes up, Tesla doesn't have to pay taxes unless they sell. This means they can take advantage of their bolstered balance sheet in all the ways businesses can, like borrowing against that healthy balance sheet to fund more growth or sell the extra assets to build the sickest version possible of the new Model S.
Bitcoin price skyrockets after the Tesla news
All of this was underscored by Elon Musk's twitter account, which for the past few weeks has been posting tons of cryptocurrency memes:
Frodo was the underdoge,
All thought he would fail,
Himself most of all. pic.twitter.com/zGxJFDzzrM

— Elon Musk (@elonmusk) February 11, 2021
Bitcoin jumped about 20% on the news, nearing an all time high of $50,000.
Since $50K is child's play, the next logical question asked by crypto bulls was… can it hit $500K?
Can bitcoin hit $500,000?
That's what Cathie Wood thinks.
She's the CEO of the largest actively traded ETF in the stock market, and she recently made waves when she explained her beliefs that bitcoin's price could rise to "somewhere in the $400,000 to $500,000 range."
And before you pass her off as crypto kook, it's worth reminding everyone that this is the same lady who was ridiculed for predicting $4,000 Tesla stock back when it was trading at $300 a share. Can she go two for two?
We shall see!
Her reasoning is that thus far, most institutional investors have only started small, with a one-half to 1% allocation in bitcoin.
If those institutions decided to bump their exposures up to 5%, a number she thinks is reasonable, it would push the price up tenfold.
Eric Peters, the CEO of another billion dollar asset management company, agrees with the $500,000 potential.
He says that nearly every single mega-huge institutional investor in the United States is currently considering whether to invest in bitcoin, if they haven't already.
Of course, Mr. Peters might be a little biased. His firm holds "well over $1 billion in bitcoin."
Then again, at least he's putting his billions where his mouth is?
My Thoughts
I first jumped into bitcoin back around May. At the time, it cost about $9,000 per coin, and I figured what the heck. I tossed about 1% percent of my wealth into it and strapped in for the ride. (I also invested a little less than 1% of my wealth into Ethereum, which I actually like more than bitcoin, but that's another topic for another post)
Back then, I wrote that it was reasonable bitcoin could become a "digital gold" whose deflationary properties could serve as a great counterbalance to the rest of my portfolio.
And so far, it's looking like that may happen. Say what you want about the challenges of bitcoin being accepted as a true form of payment, but so far, the one "use case" it's proven to be is a store of value, similar to gold.
At the end of the day, there's been endless doubters, market crashes, and wild drama, but here we are a decade later and it's still preserving people's wealth.
Which is why I don't think its totally crazy that $500,000 bitcoin could become a thing.
The case for $500,000 bitcoin
Consider this:
All the gold in the world is currently worth about $9 trillion dollars.
At today's prices, all the bitcoin in the world is currently worth about $0.8 trillion dollars.
$500,000 bitcoin would push bitcoin's market value to about $9 trillion dollars, about equal to the gold market.
And sure, that's a bit like saying, "all you have to do is hit multiple championship winning three-point shots under immense pressure to be equal to Michael Jordan," but the point is… it's possible.
And bitcoin, along with its blockchain technology, actually has some properties that are even better than gold, which could help the currency make up the gap.
(Not to mention all the help from each of the government's $1.9 trillion advertising campaigns for a limited supply currency free from government intervention. Oops, I meant to say their stimulus packages…)
The recent run up in prices has actually pushed crypto to about 5% of my total portfolio. (Not reported in my net worth updates, for security reasons and in the spirit of assuming these ultra-risky investments could go to zero.)
The more I read about the stuff, the more I'm convinced it's legit. So I recently decided to add another 2% or so into various cryptocurrencies, including bitcoin.
I'm now sitting at about 7-8% of my total wealth in crypto, and I may gamble a little bit more to get closer to 10%.
So, should you invest in bitcoin?
Well, the first thing you should do is not take financial advice from a random unqualified guy on the internet.
The second thing you should do is consider where my advice is coming from. These days I'm 30-year-old with about $500,000 to my name. I've got zero debt, and compound interest all but ensures I'll retire a multi-millionaire, bitcoin or not. Aside from my already consistent contributions (I save over $50K per year) the only other thing that's really gonna move my needle is strategically taking more risk. This is a simple way for me to do that.
With all that in mind, the third thing you should do is make sure you're investing in the correct order, including eliminating bad debt, taking full advantage of your retirement plans, and building up a healthy position in low cost index funds.
If you've ticked all those boxes and are a little bored with the usual options, in light of all the recent developments, I think it's becoming totally reasonable to dabble in crypto. Then, immediately write those investments off entirely. 🙂
Get ready for a wild ride!
PS – If you do invest in crypto, doing so through my referral links to Kraken, Ledger, and Trezor helps this site immensely!
---
Related articles: