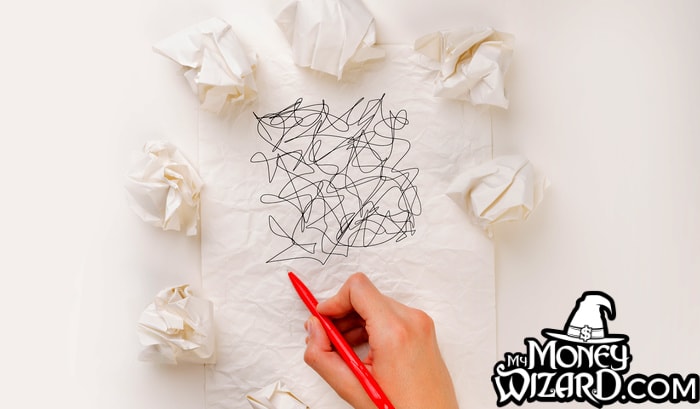 If you've been keeping up with the news, these last few weeks have felt like a few years.
It seems like every day there's some shocking new headline. For the first time in my life, I've found myself glued to the latest developments of what's quickly becoming one of the biggest worldwide events in history.
It's a wild time, and you're probably wondering what to make of it all.
I know I am. That's why I decided to dump out all my random thoughts and predictions into one epic (and at times, rambling…) post.
I'll preface all this by saying I'm no infectious disease expert. Nor do I have any crystal ball into the world's economies.
But hey, what good is having a blog if you can't use it to share your random thoughts with the world?
1. "The greatest shortcoming of the human race is our inability to understand the exponential function."
This is a famous quote from 1900s physics professor Albert Allen Bartlett. A lot of personal finance bloggers like the quote it to highlight the power of compound interest, but Barlett's quote was originally applied to human populations and demographics.
To put it bluntly, anyone complaining that the United States' current lockdown is an "overreaction" is either in denial, or doesn't understand basic math.
Across every age group and in every country, COVID-19 is showing a mortality rate that's 10-300 times more fatal than the normal flu. And each infected person spreads the disease to about 2.5 people , on average. The regular flu? 1.3 people.
So, twice as contagious and at least ten times as deadly. Great…
From there, basic math means we can estimate coronavirus is anywhere from twenty to SIX HUNDRED times worse than the regular flu. (Despite lots of uneducated claims from people who haven't done the research.)
The result?
A disease with some serious exponential power.
That's probably why, across every single country it's shown up, COVID-19 follows pure exponential growth. The United States included.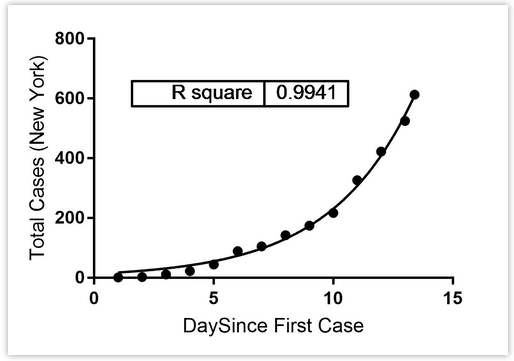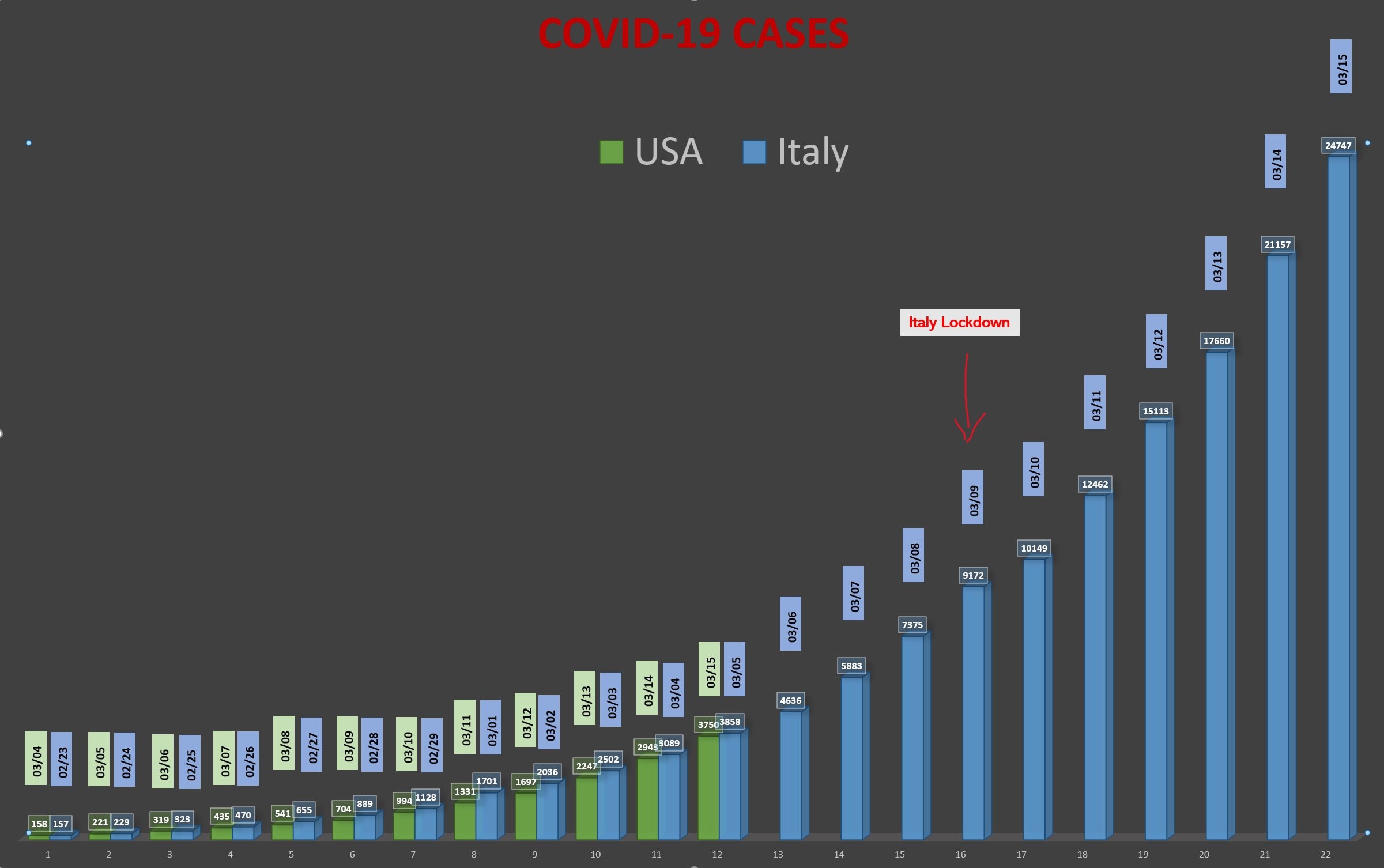 What happens if we let this exponential growth go untamed?
Well, some UK infectious disease experts ran the simulation. You know their findings were bad, since their ensuing report is what supposedly convinced U.S. leaders to lock everything down.
How bad?
90 million global deaths.
That's 1.5 World War II's, or 15 Holocausts. In just 3-6 months.
People arguing that it's still "too early" to shut things down simply don't understand the power of exponential growth. It's the same logic as people who believe it's "too early" to save for retirement during your 20s.
2. The big concern seems to be the number of hospital beds.
Italy locked down their country not because the number of cases (9,000 at the time… Nearly 25,000 one week later) but because parts of the country went from no confirmed cases to flooded hospitals with no more room to treat patients. In just 10 days.
In the previously mentioned report, even if you limited the quarantine to the sick and high-risk, you still reach a point where there's 8 times as many sick patients in the United States as hospital beds to care for them.
3. Unfortunately, the vaccine seems far off.
There's a lot of talk about big pharma "getting serious" and rushing out a vaccine to save us all.
Unfortunately, this seems more like wishful thinking than reality.
While it's true the first trials were injected into humans a few days ago, and they were able to make an exception to the rule by skipping animal testing, that's only half the story.
The rest? It turns out that if you're planning on giving a vaccine to millions of people, you've got to be sure it's not going to kill them. And apparently, there's really no rushing that process. The only way to know for sure is to monitor the trial patients for approximately 14 months.
Plus, let's use some common sense here. Scientists never developed effective vaccines for past coronaviruses, like SARS or MERS, so what makes everyone so sure this one will be an easy slam dunk?
Sure, the stakes are higher. But if it was just as easy as quickly slapping together a vaccine, it'd probably already be here. Bill Gates was warning about the dangers of Coronaviruses as early as 2015. Considering we still only have a flu "shot" and not a full vaccine, my unqualified opinion is that we're at least a year out from a coronavirus vaccine.
And yes, with the next flu season just 8 months away, that mean this coronavirus sonuvagun could come back for round two before we're ready.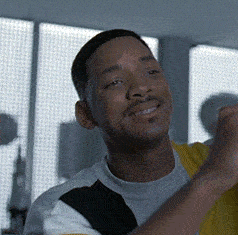 4. Speaking of which, the initial U.S. response is aging like a travesty.
If a joker like me can be following along with this coronavirus since December, and somehow gather enough facts to make me alarmist enough to become the butt of all my friends' Doomsday Prepper jokes by mid-January, how on earth can the United States claim they were blindsided by this?
The initial test requirements in the U.S. all but required that you travel internationally before they'd even consider testing you. Despite scientists already proving that the virus was transmitting here locally.
Anecdotally, I knew several people checking all the boxes for COVID-19, yet they got turned down for tests.
The result was that we completely lost track of this virus, and COVID-19 silently spread across the country, slowly building up some exponential power like a 20-year-old beginning their investment journey.
By March, already months into our outbreak, our country had tested a total of 5,000 people for the virus. Total! By comparison, South Korea, who we'd already observed was one of the only countries successful in containing this thing, was testing 20,000 people a day. In a country the size of California!
Who's supposed to be the world's superpower here?
N95 masks are a couple pieces of paper, some staples, and rubber bands. We can put a man on the moon using technology worse than a modern calculator, yet we can't collect the combined might of the United States to develop the supplies and tests needed to save tens of millions of people (or as we'll get to in a minute, maybe tens of trillions of dollars)?
5. What happens when the lockdown ends?
One of the interesting findings from the early simulations is pretty discouraging.
If the lockdowns are lifted, it should only take a few weeks before we're back at a total epidemic again.
(That's thanks to the virus's incubation period that leaves people well enough to function for days to weeks, while still being contagious.)
The only solution, as far as I can tell, is to either:
Have a vaccine ready.
Build up the capacity to test everyone, all the time.
When viewed at it from this lens, you start to realize that the next few months could really suck.
China seems to be encouraging though. They're currently lifting many of their restrictions, and their total cases are falling. It will be interested to see what happens there in the next few months, if we can trust their numbers.
6. This has to cause an extended recession. Change my mind.
Even ignoring the last bullet point, I don't see how the whole world pausing operations for a few weeks to months could do anything but cause some seriously extended problems.
I'm still playing out the scenario in my head, but as far as I can tell, the situation we're in looks something like this:
In 2008, the economy tanked during the Great Recession. In response, the Fed cut interest rates to historically low levels, in hopes of spurring the economy.
For the next 12 years, companies (and some individuals) "took advantage" of low rates by loading up on massive debt.
By year-end 2019, America's corporate debt reached over $10 trillion. The highest in history. A number that's representative of 47% of the entire economy.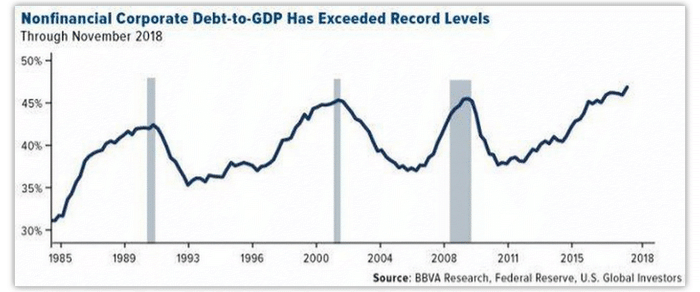 Then, 2020. And the world economy shuts down because of COVID-19.
Revenues for entire industries are likely to fall to near zero. And as any homeowner with a mortgage knows, just because you lose your income doesn't mean your debt obligations go away…
So, the temporary pause in earnings becomes tenfold worse, because companies either won't be able to make their debt payments (going bankrupt) or will take significant temporary losses (which will take months, or years*, to recover from.)
Meanwhile, those companies are likely to cut jobs to weather the storm, creating a vicious cycle.
Add in a blown up supply chain from China's months of quarantine, and this does not seem very good at all.
(*As an aside for how bad losses can be for leveraged up companies, I'm reminded by this classic example from banking 101.
If a bank takes a total loss of $1 million, a lot of people incorrectly assume that the bank just needs to book another $1 million loan to replace the loss.
Incorrect.
Banks only profit off the interest rate. Assuming a 5% interest rate, booking a $1 million loan to replace a lost $1 million loan only offsets the initial loss by $50,000 a year. In other words, a bank either has to wait 20 years to earn a million dollars from the replacement loan, or book $20 million of new loans for every $1 million loss.
You can apply a similar line of thinking to businesses operating with significant debt levels or operating on low margins. Like, say, restaurants, hotel chains, airlines, etc.
For a business with 10% profit margins, one month of lost profits actually takes 10 months to recover from.)
(PS – we won't even get into the scam that is the recent trend of companies loading up on debt to buy back their stock shares. That's a lengthy topic for another post.)
7. A lot of people suggest buying gold…
I'll admit, even though I've made fun of gold for quite some time, I'm actually considering allotting a very small percent of my net worth (5% or so) to the idea.
That said, I'm still split on it.
Gold investors love it as a hedge against complete and total catastrophe.
Gold has an uncorrelated to inverse relationship to stock prices, usually. So it can be a nice diversification tool.
It's one of the few currencies backed by something tangible. (Precious metal) Whereas government currencies are what's called fiat currencies – they're simply numbers on a screen that are worth something only because people agree they're worth something.
Supply is limited, whereas governments using fiat currency can decide to print a trillion dollars tomorrow, if they wanted to. (And they're currently planning to.)
That said, I'd argue gold is, in some ways, just a different form of fiat currency. Gold isn't inherently worth more than a US dollar. Rather, people have just agreed that metal is worth money, just like they've agreed the US dollar has value. Why not use sandstone? Or any other element?
Besides, if it's diversification you're looking for, bonds are probably better suited for that task.
So really then, you're holding gold for the "end of the world" type situation. In which case, it seems you're better off holding physical gold than some sort of gold index fund or gold stock company.
8. And then there's Bitcoin and other cryptocurrencies…
"Digital Gold" as its fans like to claim.
Similar to Gold, Bitcoin and other cryptocurrencies have a limited supply, due to the way the technology's code is programmed.
It's supposed to have an inverse relationship to the economy as a whole – The idea being if the entire economy blows up and US citizens have to start carrying their cash around in wheelbarrows like a World War II era hyperinflation Germany, Cryptocurrencies will swoop in to save the day as the new, stable, de-facto worldwide currency.
Yeah, I'm not entirely sure I buy it either…
That theory's obviously never really been tested. And in its first practice runs, like the recent 30% drop in the stock market, Bitcoin hasn't exactly passed the test. Just last week, Bitcoin fell 50% in 24 hours.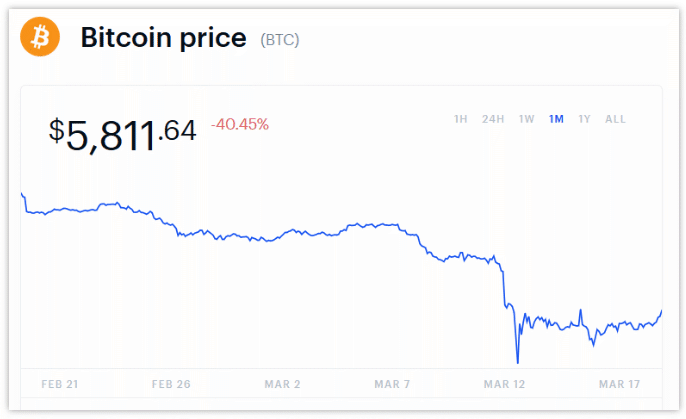 Plus, as Bitcoin has turned into a weird, speculative market full of investors hoping to ride the wave of returns, it kind of defeats the purpose of a "stable currency."
How can you really buy anything with it, when its agreed upon value changes by thousands of dollars daily?
Then again, a lot of people a whole lot smarter than me truly believe in this technology. So perhaps I'll throw a tiny percentage of my net worth in here (<5%) just to cover an asymmetrical risk:
If Bitcoin fanboys are wrong and the technology goes to zero, I may lose a relatively meaningless amount of my net worth completely.
If they're right and the world ends, and by some miracle cryptocurrency becomes the new standard (AND you happen to pick the one of the 300 different cryptocurrencies that becomes the primary standard) then the price probably skyrockets. And a small stake becomes a lifeline to your total net worth.
Like I said, I'm far from sold. But it's an option.
9) In order for the US economy to completely blow up, some other country probably has to step in to take its place. And I don't see anyone in a position to do that.
At the end of the day, the only real risk here is that the entire Fed experiment backfires completely, and somehow the entire U.S. economy falls. (Which, for the record, seems unlikely.)
Any time it's happened historically, there's always been some larger, more powerful economy ready to assume the top dog spot in the world economy.
In post-WWII Germany, it was the United States and Soviet Union.
After Japan's lost decade, it was the United States, Europe, and China.
Even the fall of the Roman Empire was kicked off by Germanic Invasions, eventually leading way to Ottoman Rule.
With this COVID-19 crises, we're all in this together. China is even more decimated than we are, and the European economy is busy battling this thing, just like we are.
So, I'm turning down R.E.M's "End of the World As We Know It " and instead taking these claims with a big grain of salt.
10) "
Every past market crash looks like an opportunity, but every future market crash looks like a risk."
This is a fantastic quote from Morgan Housel.
And it's dead on.
There's a reason stocks absolutely tanked in 2008 during The Great Recession. People were worried the entire economic system was going to collapse.
When it didn't, and the dust settled, people who had the courage to invest through it found themselves earning once-in-a-century returns.
We're quickly approaching a similar economic environment.
Is it scary? Absolutely.
Are there risks? Absolutely.
Could it be one of the biggest money making opportunities we see in our lives? Absolutely.
If history is any guide, the scary, risky times are exactly when investors make their most money. That's why my personal plan is to stick to dollar cost averaging and smart asset allocation.
Stay safe, stay calm, and good luck out there!
Disclaimer – Any financial discussions in this blog post are my personal, unqualified opinion and should not be considered financial advice. Always do your own research before making any investment decision.
---
Related Articles: