When I first started investing money, one of the most exciting ideas was the concept that every dollar I saved could be worth so much more money in the future.
But exactly how much more?
I thought it'd be fun to find out.
For some #ThursdayMotivation (is that a thing?) I ran some calculations to show how much every $1 you invest could be worth in the future. That "future" is yourself by age 60, since it's a nice round number and also the standard age of retirement in the United States.
The result shines all sorts of insights on how important it is to start saving money early, and just how rich we could all be if we decided to do so.
So BEHOLD, the massive, fascinating chart: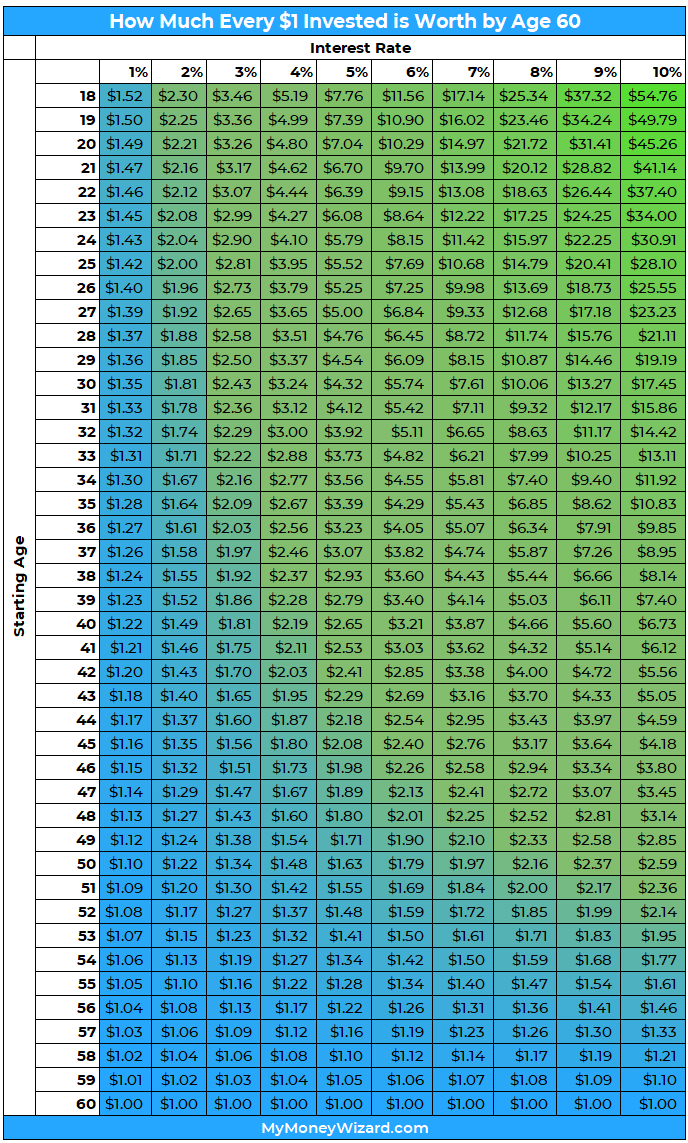 How to Read This Chart
The chart is pretty straightforward. As the title promises, it shows how much every $1 you save (and invest!) will be worth by age 60.
So suppose you're an 18 year old and you save $1 in your bank account, earning just 1% for the next 32 years. That $1 will grow to $1.52 by age 60!
Of course, if you instead choose to into the stock market an earn average returns of 7%, every $1 you invest at age 18 will be worth an astounding $17.14 by age 60!
Things to Consider
Obviously, the interest rate you earn makes a huge difference. So, which one is realistic?
Well, here's some stats to help you out:
High Yield Savings Account: About 1% these days
Low Risk Bonds: usually anywhere from 1-3%
Average Stock Market Return: 7% (after inflation!) based on the last 140 years of market data. (See my study on average stock market returns here.)
5 Key Takeaways:
Obviously, this chart has TONS of implications. Here are my five main takeaways:
1. The earlier the better!
A young person who makes the wise decision to invest has a HUGE advantage. Consider this example.
If a 23 year old college grad chooses to invests their money in the stock market and earns 7%, every $1 they invest will be worth $12.22.
What if that same college grad decides investing is for the geezers and instead chooses to wait a decade before investing? Every dollar they invest at age 33 will be worth HALF as much in the future. (Only $6.21 instead of $12.22) Even if they earn the exact same return.
2. Stuff actually costs more when you're younger.
Put another way, if you buy an $8 brewski with the bros at age 21 instead of investing it the stock market (something even The Money Wizard did many-a-times, by the way) that $8 beer actually costs your 60-year-old self $111.92!
If you really want to cringe, consider the example of a 23-year-old new grad who buys himself a new $20,000 car. That's really a $244,400 car!
Toyota Camry today or Ferrari tomorrow? The choice is yours…
3. Time is usually more important than your rate of return.
Take another look at the chart. A brilliant 52-year-old investor capable of earning 10% per year will under perform a 25-year-old earning just 2% per year.
Put another way, the world's best Wall Street investors at age 52 don't stand a chance against a 25-year-old with a high interest checking account…
Let that sink in. And let it be a lesson to anyone who's worried about investing at the wrong time and possibly earning a lower rate of return. Many times, waiting to invest is far, far worse!
4. No wonder investors get more conservative as they near retirement
The closer most people get to retirement, the more they shift their portfolio to a higher percentage of less risky (and lower returning) investment choices.
The standard reason given for this is that people on the verge of retirement want to protect what they've already saved, so they move into more conservative investment choices, like cash and bonds instead of stocks. That's definitely a good idea, and there's a lot of truth to that statement.
But the chart also shows something less intuitive. The older you get, the less your rate of return impacts your future portfolio values.
When you're in your 20s, the difference between holding cash on the sidelines and jumping into the market can mean the difference between $21.72 for your future self versus $1.49 for your future self. But when you're 55? That difference is whittled down to just $1.50 vs. $1.05.
5. There's no time like the present!
The wrong takeaway for a chart like this is to get bummed about missed opportunity.
Longing for the past doesn't get us anywhere. Hindsight is always 20/20.
Look at the chart again. There's literally no better return profile for you or me than wherever we're sitting today.
Time to get investing!
What do you think about the chart?
Do you find these sort of visualizations as motivating as I do? Let me know, spread the word on social media, or show some love!
PS – You can always support the blog by taking advantage of awesome awesome products like Personal Capital or Rakuten using this site's affiliate links. (Like those two links!) Thanks for keeping this place alive!
---
Related Articles: