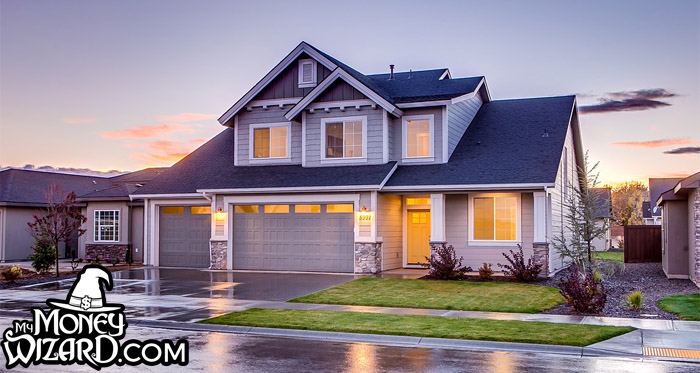 Nelson from FinancialUproar.com calls it HGTV Syndrome.  We all know what it is, even if we've never applied a name.
You start watching HGTV. A lovely couple moves into an "okay" house. They spend a couple dollars, hire a few contractors, and before you know it, that okay house is an amazing one!
Best of all, their 6 months of work, stress, and frustrations are distilled down into 21 minutes of easy to digest footage. We love what we see from the comfort of our couch, and as the credits roll, we instinctively look around our own home.
Suddenly, our modest dwelling isn't looking so modest anymore.
Maybe we should consider upgrading the bathroom? Do you think we need new appliances? Can you imagine if we took that wall down?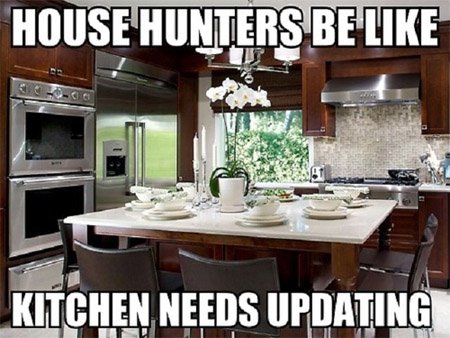 The High Cost of HGTV Syndrome
The HGTV Syndrome is a dangerous game. And it's getting worse.
In today's world of streaming TV, facebook updates, and pinterest boards, a home owner can barely escape the siren calls for the new and improved.
One study calculated the average home owner spent $6,649 on home renovations in the last year.
Us millennials, with our fancy pants smart phones and constant connections, are even more susceptible to the disease. That same study found millennials completed 18% more renovation projects than Gen X-ers and 42% more than the boomers.
And the more you're exposed to renovations, the more you spend. Look no further than an identical study conducted by Houzz.com, the online community devoted solely to showing off renovation projects. The website encourages plenty of spending, since each showcase even features links directly to where you can buy the same great look.
Houzz.com regulars, who visit the site daily to live vicariously through other member's renovations, spend ten times as much on their renovation projects – an average of $60,000 per year!
Getting back to the studs
In the middle of my own $14,634 kitchen remodel, I found myself driving home from a surprisingly good week at work. I was in a great mood, excited for the weekend.
Lady Money Wizard and I had a Friday night date scheduled – a cool new restaurant we'd been wanting to try for a while. The food was great, and we met up with some friends at a brewery afterwards. Everyone had a great time.
The next morning, I started up my usual Saturday morning routine – writing for this blog, mixed with a little bit of internet surfing, some reading, a walk around the block with The Money Pup, and a trip or two to the fridge for some lunch snacks.
It wasn't until my third or fourth trip to the kitchen that I caught myself turning sideways to avoid the giant beam in my path.
I stopped in my tracks, and suddenly I was aware of the absurdity of it all.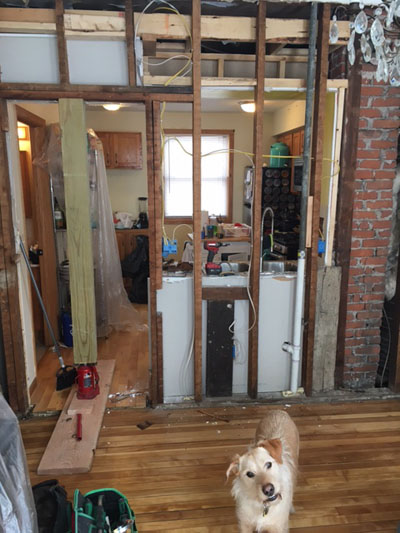 I had become so comfortable with the gutted interior or our work-in-progress kitchen, that I didn't even mind the 8-inch walkway, the block in the middle of the floor, or the exposed wiring which no doubt posed safety hazard on top of safety hazard.
An outsider wouldn't be able to take their eyes off the warzone-like interior. And here I was, having a fantastic weekend, completely unphased by the splintered plywood flooring and the lack of running water in the kitchen.
I had to ask myself… What was I doing paying thousands of dollars to have quartz countertops and new appliances installed, when my life seemed perfectly fine even when my kitchen looked like ground zero of the latest nuclear bomb detonation?
And how spoiled was I? That I gutted a working kitchen just to make things prettier?
In a fitting punctuation to that thought, the next week I traveled to Costa Rica. There, I drove past slum after slum, where entire families were obviously living on dirt floors with tin roofs.
And here I was ripping out hardwood flooring because the color wasn't just right…
Why are you renovating?
Ask your grandparents about home renovations. Back in the day, a remodel was something you did when appliances stopped working, termites ate the walls, or some other necessary disaster.
But a remodel for aesthetics sake? That was something only the wealthiest of the wealthy would even consider.
HGTV, to the rescue! Just like how every other aspect of our lives has grown out of control, the easy accessibility of comparison has completely warped what's considered normal.
The HGTV Syndrome has spread, and the average homeowner is now stuck with "home maintenance" budgets full of wants, not needs.
And worse, when the remodel is finished, most are silently struck with buyer's remorse. They realize that a different shade of countertop, a different finish of appliance, or new trim of cabinetry doesn't actually impact their life in any meaningful way.
In the end, I liked my new kitchen. But not for the reasons I expected.

I sit here typing up this article from the barstool of my new island. The laptop is resting on the quartz countertop, and my forearms are brushing against its beautifully polished surface.
And as I look back on my three months of new kitchen ownership, I'm hit with the confirmation of a long suspected thought.
I do actually love my new kitchen. But what's most interesting is why I love the kitchen.
The new cabinets are nice, but it's actually the doubled storage capacity that I appreciate so much.
The new countertops are beautiful, but I enjoy their heat resistant practicality more than anything else. (There's also enough of it that setting down one bowl and one cutting board is no longer a logistical nightmare, so that's a nice bonus, too.)
All the new appliances look impressive, but it's the time saved from adding a dishwasher that I really appreciate.
And the new layout looks great, but it's the improved floor plan, which allows for more interaction with friends and family, that's actually worth the price.
There's a trend to all these qualities, and it's not aesthetics. It's function.
How to Remodel and Actually be Happy
More than looking pretty, your remodel should fix functional issues.
If you're just ripping out perfectly functioning stuff, you're just wasting your own time and money.
Had I remodeled for solely for aesthetics's sake, I have no doubt I'd be cursing my greedy self for blowing so much money.
So, what have I learned?
If you're considering a remodel of any kind, double check that you actually want to remodel, and you're not just falling victim to HGTV syndrome.
If you can't find any functional complaints, then don't even bother. Good news, what you have is already great!
And if you just want something pretty to look at? Don't remodel. And buy a painting with your thousands of dollars in savings.
---
Related Articles: