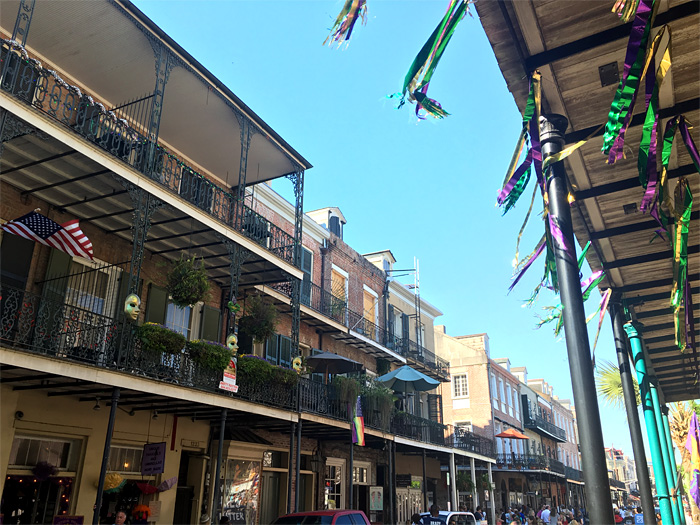 A little over a week ago, we celebrated this blog's one year anniversary . Of course, the party wouldn't be complete without the one year anniversary of net worth updates, too!
Welcome to that special update. Is it everything you dreamed?
If you're new here, every month I share my savings progress towards a goal of nearly $1 million and an early retirement by age 37. If you're not new here, you're probably tired of hearing me explain the purpose of the net worth updates. So, onto the update!
April showers bring May flowers, and as I sit typing this in the early days of May, I can indeed confirm this to be true for our season. As the Minnesota winter made one last push of gloom during April, we were hit with overcast days and a few bouts of freezing rain. But Spring fought back, with a ray of sunshine here and budding trees over there.
In the end, Spring prevailed, and we were rewarded with blue skies, green trees, and bright, colorful flowers glowing across the fresh green grass. In a strange way, living in a place with such cold winters has a certain knack for making the good weather that much sweeter.
It's a peculiar little note of the human psyche, that we tend to take the routine pleasures for granted until they're taken away from us for a while.
"Through suffering comes wisdom," said thousands of motivational pictures on instagram. I'll say, "through brutal weather comes an appreciation for nice weather." Feel free to overlay that text on a mountain or ocean photo.
In other April news, I spent a few days in New Orleans. The trip was 4 days of blissful, stress free relaxation. Getting there, was anything but.
I'll spare you the details, in order to keep myself from becoming that annoying traveler who bores you to death with complaints about airline delays. You know the type. "Whaaa! Whaaa! My vacation didn't go perfectly, and I had to spend time doing the incredibly strenuous task of sitting in a chair for a little longer than I expected." Airline delay stories are the worst, so I'll make mine as brief as possible.
Bad weather caused me to miss a flight for the first time in my life, and I spent an unplanned night in a Chicago hotel. Which sounds like a fun sidetrip, until I confess that "spending the night" is code for getting harassed by hobos on Chicago's L Train, and "a Chicago hotel" was actually a smoke tainted motel room.
Once I did finally get to The Big Easy, New Orleans was everything I've come to love about it. The trip was a fun filled blur, complete with delicious food, good drinks, more delicious food, cool music, and yet more delicious food.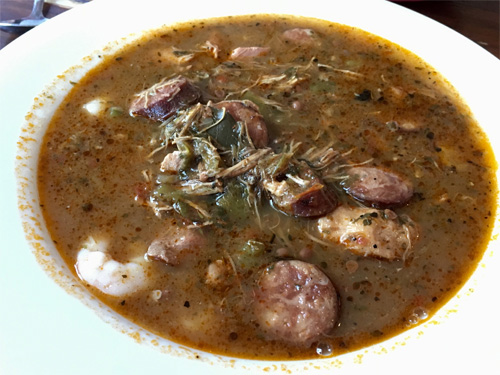 In other news, I got a promotion!
I'm now salaried at slightly over $80,000 per year, which will hopefully accelerate this whole savings process. I'm coming up on 4 years at this company, and in that time I've seen my salary grow by around $30,000. Definitely no complaints on my end, and I'm feeling very fortunate.
Outside the office, our landlord approved our request to get a dog, so the girlfriend and I started dog shopping. We're looking to find ourselves a nice, medium sized rescue who fits in our apartment and gets along with our sassy cat. We've met some exciting options, so hopefully he or she can make an appearance in the next update!
Net Worth Update – April 2017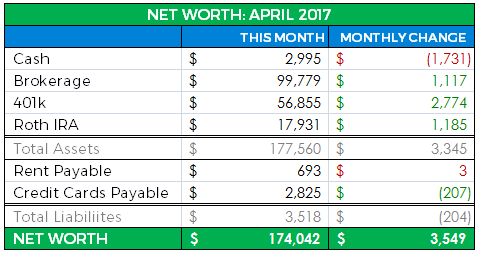 Now that we're officially on year two of the updates, I've made a few changes.
I've started tracking my net worth with Personal Capital, and it's as awesome as everyone says it is.
The Auto Loan is DELETED from the table, since I killed that sucker in March.
I'm now reporting all my taxable stock holdings (the Vanguard and Merrill Lynch accounts) together in the Brokerage line.
I've created a new line item just for the Roth IRA. The Roth used to be combined with the Vanguard account, which made no sense. Who makes the decisions around here, anyway?
All of these are minor nuisances. What actually matters, is my net worth increasing $3,500 over the month.
Cash: $2,995 (-$1,731)
I bought $1,100 of Roth IRA, which depleted the cash stack a bit. I'll attribute the rest to last month's absurd credit card bill, which I'm disappointed to report did not deflate as much as I hoped in this month. More details in the credit card section below.
Brokerage: $99,779 (+$2,338) 
So close! Almost 6 digits.
This newfangled category now includes the Vanguard Index Fund and the Merrill Lynch account. The Vanguard Index fund invests in VTSAX, while the Merrill Lynch account includes mostly Vanguard ETFs and a few individual large companies. The breakdown between the two by the end of April was:
$50,528 in the Vanguard Total Stock Market Index Fund.
$49,251 in the Merrill Lynch brokerage.
401(k): $56,855 (+2,774) 
I'm back on track to max out the 401k in 2017. This means contributing A TON to the 401k per paycheck. Especially because I reduced my contributions at the beginning of the year while I saved for other goals. With those goals out of the way, I'm making huge automatic contributions to make sure I contribute $18,000 in 2017.
Roth IRA: $17,931 (+$1,185)
My Roth is invested entirely in Vanguard's REIT Index Fund. I like this allocation, since I otherwise have no exposure to real estate and do not own a house.
$1,100 of the increase was a contribution made in the first week of April. The $1,100 contribution maxed out my Roth IRA contributions for the 2016 tax year.
It's nice to have my 2016 contributions finally taken care of. Now it's just time start building up for 2017!
Rent Payable: $693 (+$3)
Utilities are still low. We're in that nice spring season where neither the heater nor the air conditioning gets used much.
Our lease is coming due, and I breathed a sigh of relief when our landlord said he's only increasing rent by $30 a month ($15 per person) next year.
I couldn't be happier with our living arrangement.
Credit Cards Payable: $2,825 (-$207) 
Another higher credit card bill than I'd like to see. A couple reasons for the unusual spending:
The cancelled and missed flight fiasco meant I booked two last minute flights for $700. This cost was partially offset by some airline vouchers I can use in the future.
In April, I paid for some reservations for our upcoming Alaska trip in May.
I'm writing this update a week into May, which means an extra week of expenses added to the credit card.
One Year of Net Worth Updates
After one year of updates, my net worth has increased from $127,259 to $174,042 between April 2016 to April 2017. A $46,783 increase. Not bad!
The ultimate goal is still 10 years out, but so far I'm a little ahead of schedule. My career is progressing faster than I anticipated, my contributions have been steady despite a car purchase, and my portfolio has rallied higher than I forecast. The plan is working out!
Readers, how are you doing with your savings goals? 
---
Related Articles: