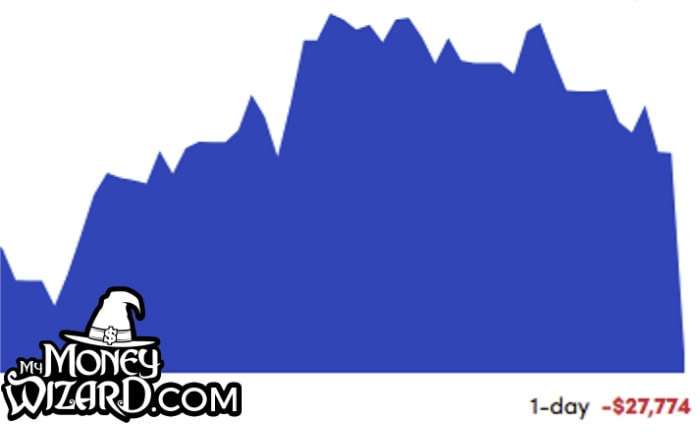 Hey Money Wizards,
So… I'm only a month late on this one.
I was actually planning on throwing in the towel completely and "getting them next time" (aka next month… or in other words, less than a week) but then I realized skipping a month creates two problems:
It would be the first time I've ever done that in the entire history of the website!
It would coincide with a pretty big market crash, which I realized is accidentally sending the wrong message, especially after I got a few reader questions along the lines of "Hey man, saw there's no net worth update. Have you completely given up investing in this down market?"
As we'll soon explain, no, I definitely have not given up on investing, and I'm still very much on the journey to quitting my office job within the next few years. Hopefully, that's thanks to a large-enough safety net provided by a decade or two's worth of investments.
For new readers, that means I'm currently 32 with a goal to reach financial independence by age 35. Let's check in on the progress!
Life Update: April 2022
I'll keep this brief since April is already so far in the rear-view that I'm having a hard time remembering!
I spent most of April wrapping up ski season, which then got me pumped to write about ski season. If I've been a little M.I.A. around here, that's because I was writing like a maniac over at my other hobby/blog, SlopeLab.com.
(Contrary to the rumors, one or two bad months in the market did not send me cowering in a corner and giving up on personal finance. Just a matter of other interests, temporarily. After all, Money Wizard is supposed to be a fun hobby of mine.)
Net Worth Update: April 2022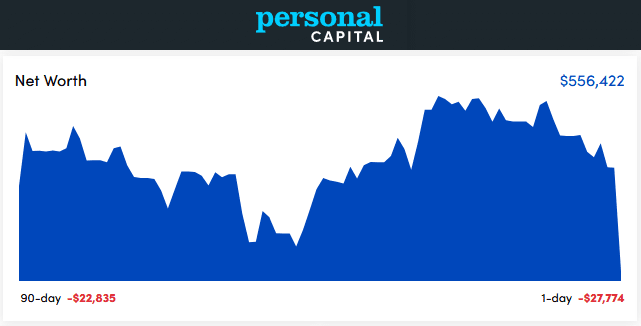 Whoa, what a drop!
As one reader mentioned, it might be time for me to update my old article. I'm not just poorer than I was six months ago, I'm now almost poorer than I was a year ago!
Here's a more detailed look: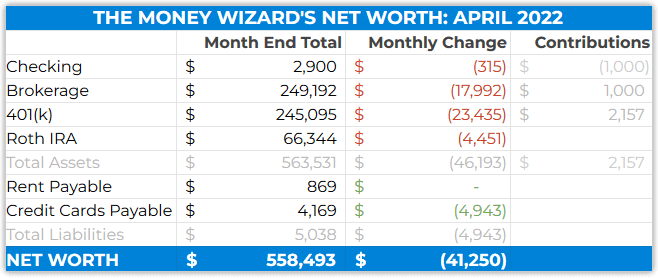 The numbers don't match up exactly, and at this point it's too far in the past to reconcile. But does it matter much? The important bit is at the bottom corner; in April, my Net Worth plummeted by over $40,000!
Leaving an allocation looking like this: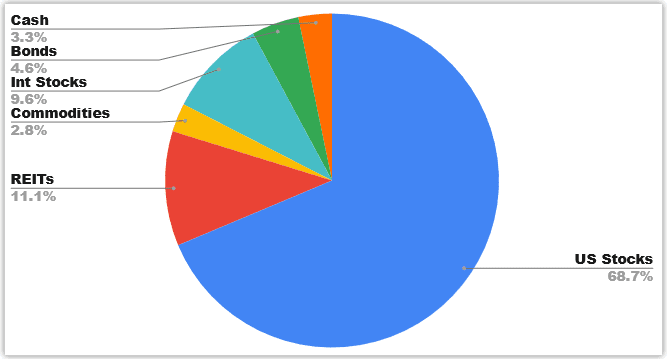 If I should oddly nonchalant about losing nearly a year's salary in a month, I suppose it's because I am.
Everything I said in that article about my recent portfolio losses still holds true. In the world of stock market investing, one month… heck… even one year, is too zoomed in to get worked up over. We're looking at the cracks of the Mona Lisa, not the full picture.
Plus, in finance, there's a concept of the risk/return trade off. The idea is that the higher the risk, the higher the reward.
In other words, if we want to make a meaningful amount of money investing, then market downturns like this are the price of admission.
If we wanted less risk, we could just throw our money under the mattress or invest 100% of our money into bonds. Both would ensure that we didn't ever deal with painful losses, but at the much bigger expense of never earning enough money to reach our financial goals.
The stock market, on the other hand, brings more volatility. But it's precisely the aftershocks of that volatility which create that juicy 7% average stock market return we all crave. (As long as we don't do anything crazy when those volatile times come!)
Checking Account, Brokerage , 401(k), Roth, Etc.
I'll keep it short… all down! Haha…
But more seriously, these accounts are already nearly a month old, so I won't bore you with all the details. If you're really curious, you can just check back in a whopping 6-7 days when I publish the May Net Worth Update.
Total Spending March 2022: $5,939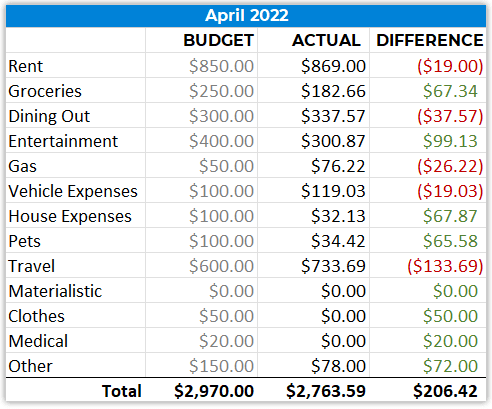 Nice to see spending return to somewhere in this solar system.
The April ski trip to Salt Lake City was helped along by plenty of stockpiled points from the full-blown pandemic days, although partially offset by super-crazy-high gas prices and some other random impulse spending.
A Closing Note
Yes, the market is down.
No, you shouldn't panic.
We can talk more about this next month, but this crash is mostly a predictable market response to The Fed trying to control inflation. Anyone who didn't expect a downturn when the powers-that-be raised interest rates was probably punch-drunk off a too-good-to-be-true bull market.
Stay the course, wizards!
PS – Want to track your net worth like this? Personal Capital's free net worth tracker is my favorite tool to do so. The free software is truly awesome, so just check it out already!
---
Related Articles: