Hey everyone!
Welcome to the end of 2019's first quarter. If I were a big publicly traded company, I'd release a massive quarterly report with all sorts of numbers and jargon to bore you to death.
But since I'm just a guy, we'll stick to our usual monthly net worth update. Around here, that means reviewing my spending, saving, and investing progress. The end goal? A roughly $1 million portfolio and a complete and total exit from the rat race.
Life Update: March 2019
What happened in March? Hmm, let's jog the memory…
For starters, the month began in an entirely different state. And I don't mean a spiritual or mental one either, I'm talking about an actual state! That's because I'd departed on the big annual ski trip, where me and 7 old college friends got together for nearly a whole week of skiing.
Regular readers will know how much I look forward to this trip every year, since I can't help but mention it in the 3-4 monthly updates leading up to the real deal.
This one took place in a destination I'd never personally been. Big Sky, Montana: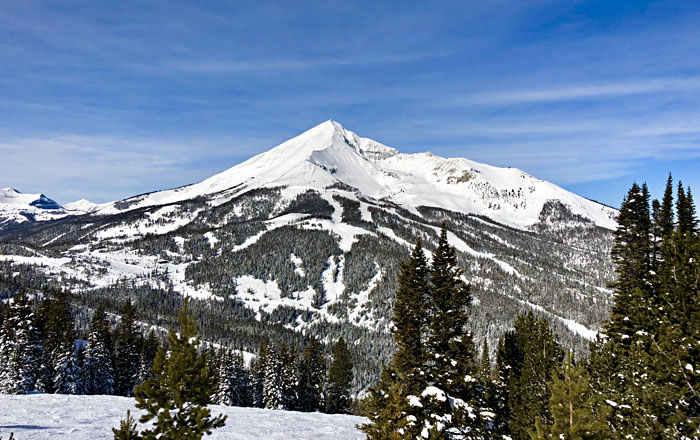 The eight of us spent the next four days skiing as hard as our slightly out of shape legs could possibly handle. I had a fantastic time catching up with old friends and exploring a new part of the country.
When I returned, I was greeted by this blind beauty: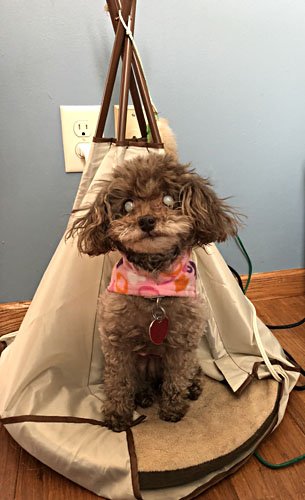 She's a miniature toy poodle that we regularly petsit through Rover. She weighs a total of four pounds, and I find this absolutely tiny furball pretty adorable, even as she blindly bounces from wall to wall like an Eufy Robovac.
She's become a regular visitor in the Money Wizard Castle, and at this rate could be the honorary fifth member of the family. Even as I type this out, nearly 30 days later, she's currently curled up on my lap. And while that sounds like quite the lengthy commitment, she's a breeze to care for, and the $30 a day she brings will certainly help offset the cost of the big ski trip.
Speaking of which, to close out the month, I was entirely prepared to pack away the gear and say good-bye to the 2019 ski season for good. And just as I was, work called to let me know I was taking an unexpected trip to Salt Lake City. So of course, I did what any reasonable addict would do. I parlayed the work-sponsored flight into one last extended ski weekend.
With the travel budget sufficiently blown, it wasn't long before I found myself in a shared dorm room in a rustic ski lodge at the base of Alta, Utah. There, I met lots of other enthusiastic skiers, and enjoyed one of the most unexpectedly awesome trips of the year.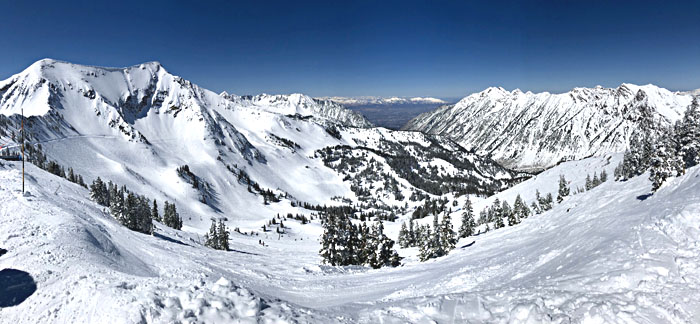 We'll assess the damage a little later in the spending report. But first, let's take a look at the investment progress:
Net Worth Update: March 2019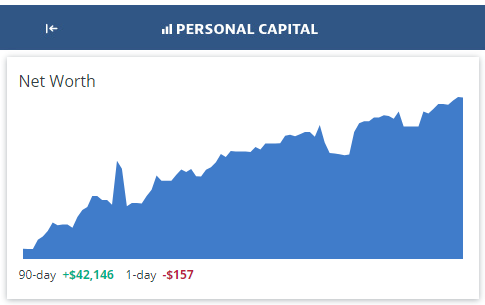 And the details:
All green! Nearly five figures of growth!
Which is surprising, all travel considered.
Cash: $18,429
(+$1,876)
I finally got paid for my deposit on the large guy's ski trip, which helped out the cash account quite a bit.
I'm still fighting an internal struggle between building up this cash balance high enough to afford a downpayment on a rental house, or instead abandoning the goal in favor of more passive investments. Stay tuned.
Brokerage: $127,462
(+$2,370)
Using the S&P 500 as a benchmark, the market grew 1.8% during March. My portfolio mirrored that pretty closely, which makes sense when you look at my brokerage account breakdown. It's roughly:
70% Vanguard Large Cap Index Funds (65% is the VTSAX fund and 35% is Vanguard's VUG and VTV etfs.)
20% Individual Stocks back from the when I was young and dumb and thought I could beat the market
10% Bond Index Funds (66% in Vanguard VBTLX and 34% in Vanguard's BSV etf.)
Not exactly my perfect allocation, but imperfect investing is better than not investing at all.
401(k): $107,242
(+$2,502)
Roughly $1,000 of my contributions and employer matching, with another $1,500 of market returns.
Last month I realized that my current allocation is slightly off from my desired allocation. This month… I did nothing about it. (You'll see that's a general trend in this update…)
In the coming months, when I spend more time working and less time skiing, I'll do some buying and selling to get back to my desired 401(k) allocation of:
50% Large Cap US Stock Index Funds.
35% Small Cap US Stock Index Funds.
15% International Stock Index Funds.
Roth IRA: $35,450
(+$1,499)
You might remember that I maxed our my Roth IRA earlier in the year. Initially, all $6,000 sat in a Vanguard money market fund, earning a tiny bit of interest. The plan was to convert that $6,000 into Vanguard's REIT index fund, $1,000 at a time.
I followed through with that plan for the first two months of the year, but dropped the ball in March.
The actual process is insanely easy, and I could have it done before I finish typing this sentence. So I have no excuse. Nonetheless, my excuse is that I got busy and lazy. I'll make up for it in the early days of April.
Maybe.
Rent Payable: $838
($27)
It's FINALLY warming up in Minnesota. So the heating bill returned from outer space and back down to earth, for a welcomed change. This should get significantly better in April, too.
For the newer readers, I live in Minneapolis in a house with my girlfriend. This cost represents my half of the mortgage, utilities, and anticipated home maintenance. (We allot 2% of the home's value to expected maintenance each year, or $300 per month, which lets us pay for any miscellaneous house expenses, stress free.)
Credit Cards Payable: $4,340
($1,534)
Still inflated thanks to a few straggling expenses from the group ski trip, plus reimbursable work expenses from the work trip.
Let's assess the real damage via my spending report:
Total March Spending: $3,329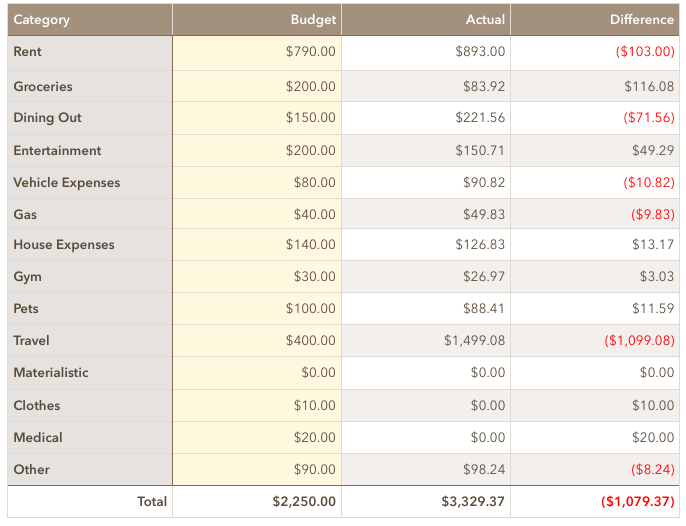 OUCH! Not a frugal month! I repeat, not a frugal month at all!!!
I already know the culprit, but let's get detailed:
Groceries: $84
I usually spend less than $35 a week on groceries. This month was even lower, thanks to all the travel. That said, we'll soon see the travel is about to make up for those "savings"…
Dining Out: $222
Blew the budget here, probably because it's just so easy to come back from a trip and drag your feet on getting a meal plan together.
Entertainment: $151
I got a little alcoholic with my entertainment of choice this month. I've recently gotten into mixed cocktails, which is cool because it's fun, and not cool because it's ridiculously expensive.
All it took was three nights out with friends/Lady Money Wizard to hit a $150 monthly bar tab.
Vehicle Expenses: $91
The usual car insurance, plus a car wash.
House Expenses: $127
For whatever reason, this was one of those months where we had to replace a bunch of stuff around the house.
The glamorous purchases included a broken wall mirror, some replacement parts for the Eufy, lost cell phone chargers, a new light for the front porch, and whole bunch of other stuff that was so thrilling to buy I can't even remember right now.
Pets: $88
Headed to Costco to re-up the dog and the cat food.
Travel: $1,499
Found the culprit!
Skiing is about the most expensive hobby ever, and even trying to split costs and keep it frugal, there's no escaping the painful bill. The five day trip to Big Sky totaled $1,000, and the weekend getaway to Alta/Snowbird ran $500.
How was your March?
Hopefully it was a little more frugal than mine. Either way, share it in the comments!
PS – If you haven't jumped on the bandwagon yet, I'm still obsessed with Personal Capital. Personal Capital will automatically track your spending, double check your portfolio allocation, and add up your entire net worth in one place.
---
Related Articles: