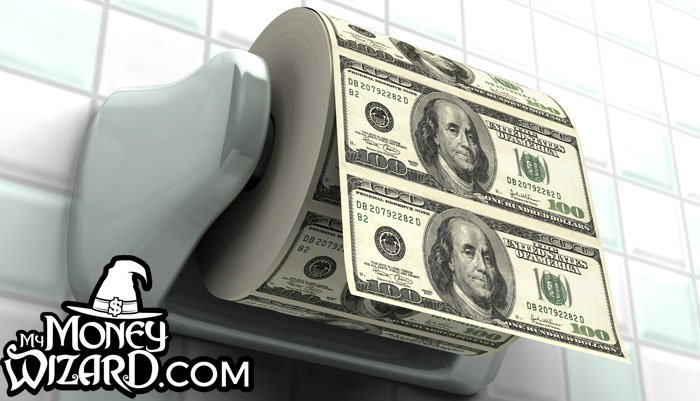 Ever wonder how much money you'd need to be considered rich?
Sure, there's rich in the, "I'm feeling pretty secure right now," sense of the word.
Then there's rich in the, "Hey, I might not even have to work any more!" (That's the type of rich I'm aiming for, btw)
But what about rich in the, "No matter where I go, everyone wonders which president is on my toilet paper" definition?
To quantify that level of rich, we'll have to turn to our stoic definers of all things finance:
The Banks!
It turns out, banks have special classifications for you, depending on how much money you've got. And at the top of their pyramid of dictionaries, sit what banks call the "High Net Worth Individuals." And their rich uncles, the "Ultra High Net Worth Individuals."
Curious where you stand?
I know I was. So today, I thought it'd be fun to explore these definitions, and while we're at it, see what we can learn from those one percenters.
What is a High Net Worth Individual (HNWI)?
According to the financial services industry, a High Net Worth Individual (HNWI) is a rich dude or dudette with liquid assets above a certain figure. The financial services industry doesn't universally agree on that exact figure, but on the whole, they get close enough to come to a general consensus.
Typically, a person with over $1 million in liquid net worth is considered a High Net Worth Individual.
We're talking about their investable assets here, so their house is not included. And that's US dollars… Sorry to break the bad news to any Peso-Millionaires out there.
Bankers also agreed that the High Net Worth Individual definition sticks with you so long as you don't get any richer than about $5 million. If you do, well then you get the privilege of jumping into the banker's next social class. Cheers!
Speaking of which…
What is a Very High Net Worth Individual?
A Very High Net Worth Individual is defined as someone with over $5 million in liquid assets.
And if that's not enough? Well then we can go richer. Pinky's out!
What is an Ultra High Net Worth Individual (UHNWI)?
When "very" just isn't good enough, you gotta go "ultra." In the banking world, that means having over $30 million in net worth*.
Yeah, that's an asterisked net worth, because for this definition, the banks deduct your "passion investments" such as real estate, art, planes, and yachts.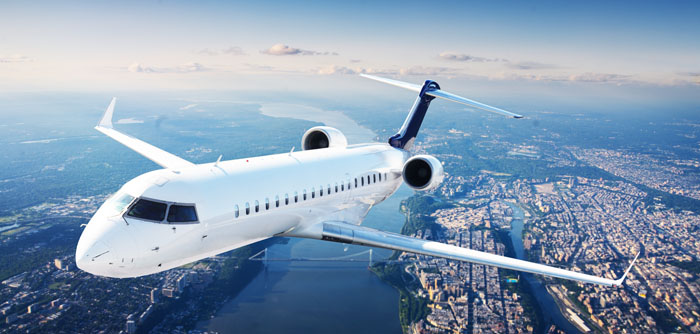 Don't worry though. For those ultra high net worth individuals among us who just can't keep their spending under control, most banks will let you into the UHNWI club if you have a steady stream of $20 million in annual disposable income.
What if I want to go higher?
Well, there's only one category above Ultra High Net Worth Individuals.
They're called Billioniares. And if you do happen to be a billionaire, well then good for you! And you can get out of here, because this post isn't about you!
Man… the nerves of these rich people…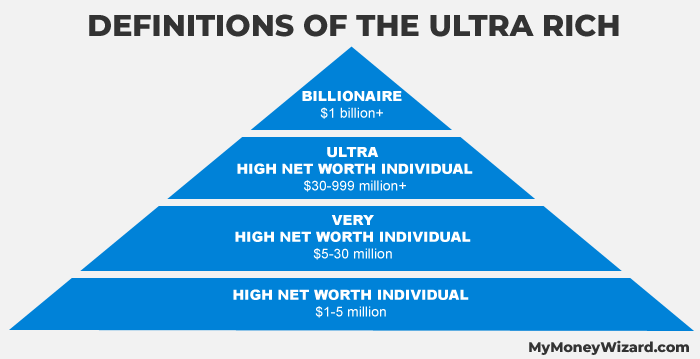 Where do High Net Worth Individuals and Ultra High Net Worth Individuals Live?
Where do you call home if you've got anywhere $1 million to over $30 million in investments? Let's take a look at the statistics…
High Net Worth Individuals by Country
| | | |
| --- | --- | --- |
| Rank | Country | HNWI Population |
| 1 | United States | 4,795,000 |
| 2 | Japan | 2,891,000 |
| 3 | Germany | 1,280,000 |
| 4 | China | 1,129,000 |
| 5 | France | 579,000 |
| 6 | United Kingdom | 568,000 |
| 7 | Switzerland | 364,000 |
| 8 | Canada | 357,000 |
| 9 | Australia | 255,000 |
| 10 | Italy | 252,000 |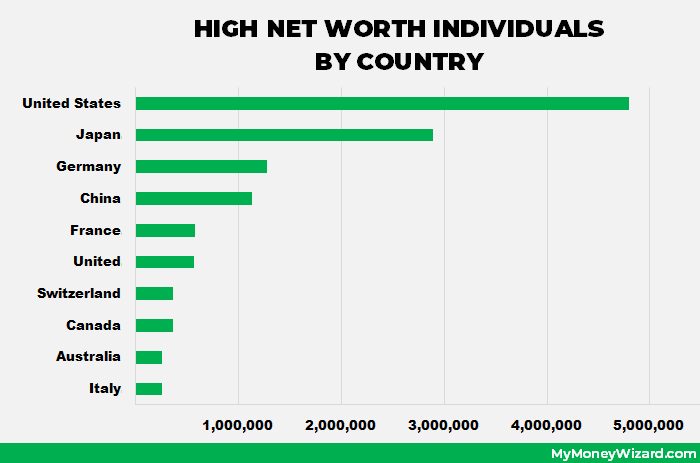 Source: 2017 World Wealth Report
High Net Worth Individuals by City
| | | |
| --- | --- | --- |
| Rank | Country | HNWI Population |
| 1 | New York City | 393,500 |
| 2 | London | 353,600 |
| 3 | Tokyo | 321,800 |
| 4 | Hong Kong | 250,700 |
| 5 | Singapore | 239,000 |
| 6 | San Francisco Bay Area | 220,000 |
| 7 | Los Angeles | 199,300 |
| 8 | Chicago | 150,200 |
| 9 | Beijing | 149,000 |
| 10 | Shanghai | 145,800 |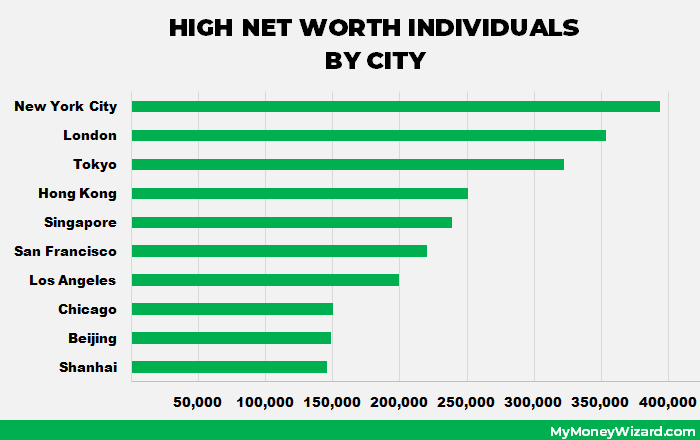 Source: Global Wealth Migration Review
Ultra High Net Worth Individuals by Country
| | | |
| --- | --- | --- |
| Rank | Country | UHNWI Population |
| 1 | United States | 73,110 |
| 2 | Japan | 16,740 |
| 3 | China | 16,040 |
| 4 | Germany | 13,420 |
| 5 | United Kingdom | 8,860 |
| 6 | France | 8,630 |
| 7 | Canada | 8,590 |
| 8 | Hong Kong | 7,650 |
| 9 | Switzerland | 5,940 |
| 10 | Italy | 5,530 |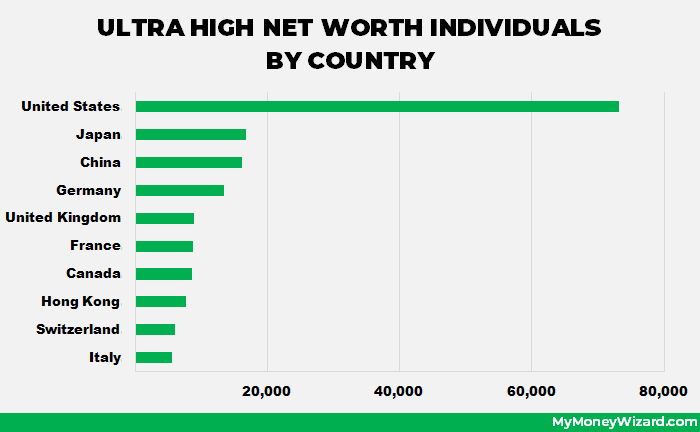 Source: Wealth X's World Ultra Wealth Report
Ultra High Net Worth Individuals by City
| | | |
| --- | --- | --- |
| Rank | City | UHNW Population |
| 1 | Hong Kong | 10,010 |
| 2 | New York | 8,865 |
| 3 | Tokyo | 6,785 |
| 4 | Los Angeles | 5,250 |
| 5 | Paris | 3,950 |
| 6 | London | 3,830 |
| 7 | Chicago | 3,255 |
| 8 | San Francisco | 2,820 |
| 9 | Washington DC | 2,735 |
| 10 | Osaka | 2,730 |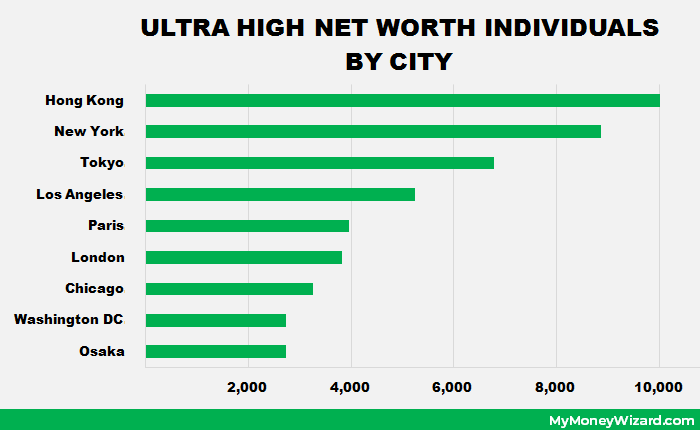 Source: CNBC – Wealth X's World Ultra Wealth Report
Go Figure: 11 Statistics about High Net Worth Individuals

15 Million Estimated Number of High Net Worth Individuals in the world
211,275 Ultra High Net Worth Individuals in the world
$29.7 trillion Combined net worth of all the UHNWIs in the world
0.003% Of world's population that classifies as UHNWIs
13% Of the world's wealth that they hold
65% The portion of the UHNW population which was self-made
16% The portion of UHNWIs who inherited their wealth as HNWI and grew their wealth to UHNWI levels
8 Number of cars the average UHNWI owns, according to marketing research completed by Rolls Royce
3/4 Of UHNWI who own jet aircraft
22% The portion of UHNWIs who built their wealth in finance, banking, or investment.
72% Of High Net Worth Individuals who admitted their primary motivation for building more wealth was to "help others through philanthropy," according to an anonymous survey.
And lastly, 4 lessons from High Net Worth Individual Surveys
Maybe the most interesting bit of information I found while researching this post was the result of Merrill Lynch's Wealth and Worth Survey. The survey anonymously interviewed over 800 high net worth and ultra high net worth clients, but the unique part is the sort of questions asked.
Instead of asking about cities lived or investments made, the survey instead focused on the experiences and perspectives of these mega rich clients. And in there, I found some fascinating nuggets from some of the world's richest people.
1. The average portfolio allocation of high net worth individuals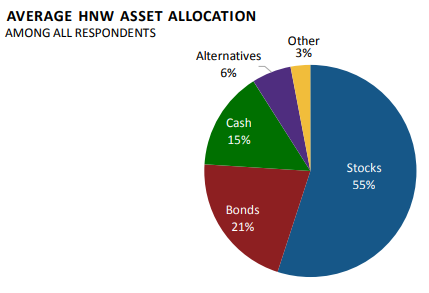 Although real estate wasn't included in this portfolio breakdown, it should come as no surprise that the rich are invested heavily into the stock market.
On average, stocks are the highest returning and most passive of all all the income producing assets. So it makes sense they would be the investment vehicle of choice for rich folks who want to efficiently put their money to work, and then get back to running companies. Or whatever it is that rich people do.
2. The rich agree that Buy and Hold is the best investing strategy

We've talked before about why actively trading stocks is a fool's game. And yet for some reason, I think we all still envision the ultra rich as your stereotypical Hollywood investor, channeling Gordon Gecko while explaining why Greed is Good, analyzing charts all day long, and waiting for a high risk, multi-million dollar bet to pay off.
The fascinating reality? 9 out of 10 rich investors believe in the exact same investing strategy I teach on this blog – buying solid companies or index funds, holding them forever, and letting compound interest work its magic.
Thanks for having my back, rich people!
3. If you're chasing money and stuff, you're doing it wrong.
Maybe the most insightful response in the entire survey hinges on this little question of self-reflection:

Talk about driving home a topic I've written about time after time over the years…
You should not be saving money and making investments to inflate a number, impress your friends, or add to your collection of stuff.
Instead, you should be building wealth for a much higher purpose. For me, that means buying myself time and freedom.
Freedom to chase whatever career strikes my interest. (Or leave one that doesn't.)
Time to make connections with people, outside of the tiny windows on nights and weekends.
The wealthy have seen the other side, and they know what's actually on the path to happiness.
They know that path is surrounded by perfectly laid traps, namely more money and more stuff. And they know you can spend a lifetime chasing those two tempting distractions. If you're not careful, you might wake up 30 years later and realize you've accidentally been walking in the wrong direction.
I wonder who is happier?
Is it the person who traded 30 years of time making lots of money and buying lots of stuff, but still can't make connections with friends and family outside the watchful eye of the corporate babysitter, who's sure to remind him, "No more than 2-3 weeks vacation a year!"
Or is it the guy who ignored those monetary and materialistic temptations, chose to invest instead, and now has the freedom to spend his valuable time as he chooses, connect with friends and family whenever he pleases, and finally free himself of the faceless corporate tyrant?
I know my answer, and apparently, so do the rich.
4. The ultra rich confirm that the topic of this blog is the most important step in reaching your life's goals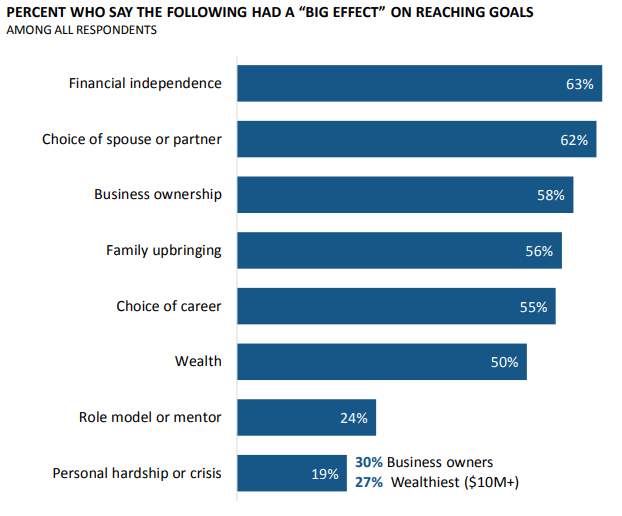 Wow, the rich choose financial freedom, aka the topic I've spent the last three years writing about, as the #1 most important life choice impacting their success.
I guess me and the ultra-rich have something in common after all!
This goes hand in hand with something I've long suspected. Financial freedom isn't the end goal, and it shouldn't be viewed as such. Instead, it's the launching point to so many bigger and better things.
Because once you free yourself from the shackles of constant worry ("How am I going to pay for this? How will I support myself and my family?") you free your mind to think about much bigger picture tasks. Namely, your own personal life goals, like finding meaningful work or making a long lasting impact.
---
Oh, and one last thing.
Did you know most high net worth individuals have entire teams of money managers tracking their finances for them?
Wouldn't that be nice…
Did you also know you can have your very own money management team? For Free?
Personal Capital brings sophisticated portfolio analysis to everyday people. Their free algorithms will automatically track your spending, give a second opinion on your investments, and best of all, help you avoid getting ripped off on fees.
So, you and I may not be ultra high net worth individuals, but at least Personal Capital can help us get a little closer…
---
Related Articles: