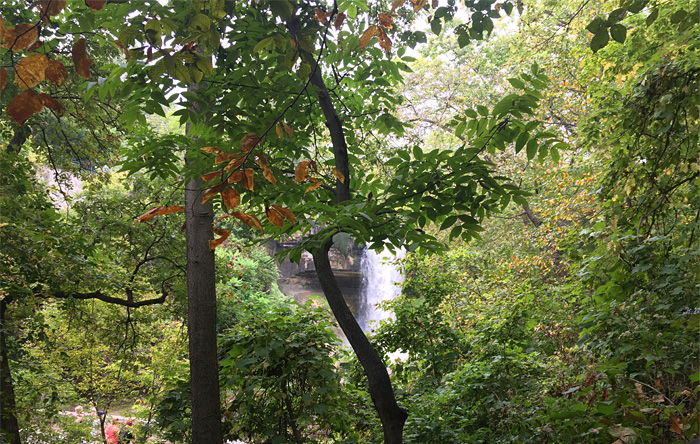 Crisp, cool air… fading leaves… me suddenly panicking about where the summer went…
Yep, we're officially heading towards Fall.
Welcome to the… September edition of my monthly Net Worth update? Yep, we're definitely heading towards Fall.
If you're new here, every month I share my progress towards a goal of nearly $1 million and an early retirement by age 37. If you feel like time traveling, check out the net worth updates page where I keep all the entries since April 2016. PLUS some napkin notes from even before then.
I started September off with a belly, I mean a bang, by indulging in the week-long gorge fest that is the Minnesota State Fair.
By average daily attendance, it's the largest state fair in the United States. By pounds added to a waistline, it's a runaway winner.
Between buckets of French fries, bags exploding with mini donuts, and anything and everything fried and then put on a stick, "the great Minnesota get together," sure knows how to cook. Or maybe they just fry…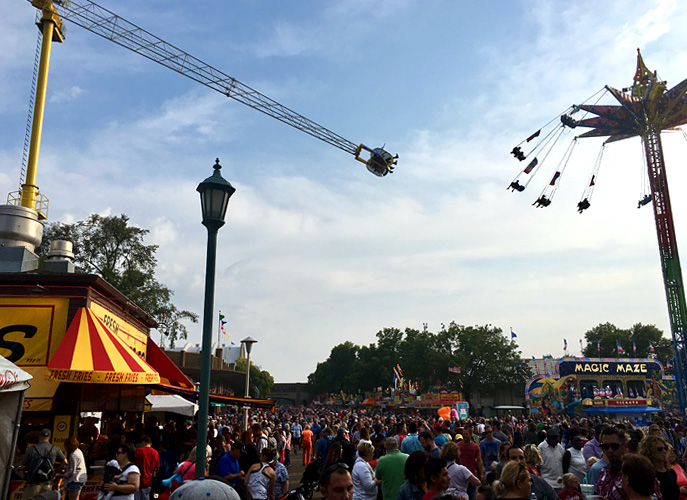 You'll have to go back to last year's August update if you want to see the world's fattest hog, but rest assured, this year didn't disappoint. I bought some discounted tickets and got to stuffing my face.
I also played a mean game of skee  ball, which to my surprise, was not rigged by the carnies. I actually walked away with a prize! I promptly gave the new toy to The Money Pup, who posed for an adorable photo right before he decided to rip the poor bear's eyeballs out.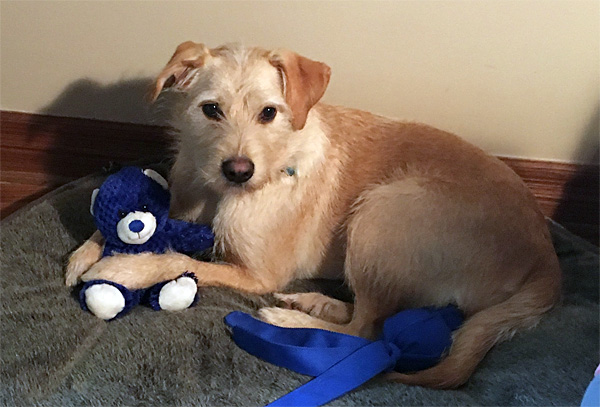 I soon worked off the food hangover by gratefully accepting an invitation to retreat to a friend's lake cabin.
I enjoy living in the city, but I'd be a huge liar if I didn't admit how jealous I am of people who get to see beautiful, unobstructed views of the night sky. While at the lake, I tried to capture a photo of the silent beauty for you loyal readers, but my camera's terrible quality photo was too embarrassing to post here.
It looked something like this: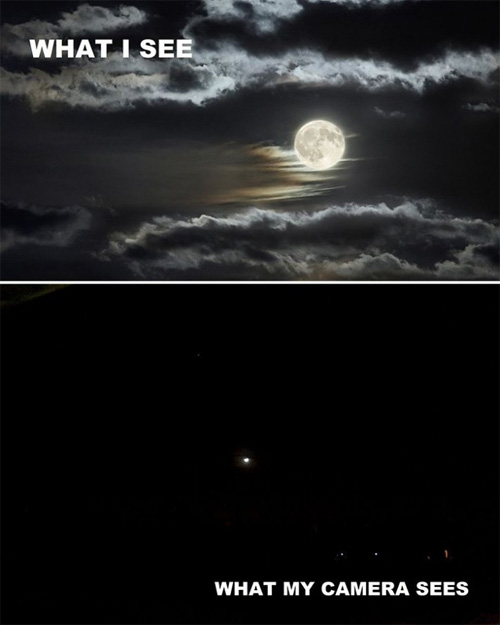 In the city, I can hardly open my windows at night unless I want to be startled awake at 3 AM by a blaring siren and maybe a gunshot or two. But here in Minnesota's northern woods, I can let the windows rip and still sleep like a baby.
It begs the question, how much are we sacrificing our sleep, and ultimately our health, to live near our careers?
Here's to reaching financial independence, and being able to live wherever we want. With or without a job.
The rest of the month was much less eventful. I mostly kept to my routine of work-gym-dinner-repeat, with a few weekend date nights thrown in between.
OH, and we bought a house.
?
More on that shocking development over the next month. Stay tuned!
Net Worth Update: September 2017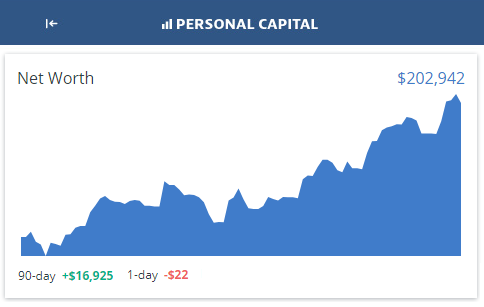 And the detailed breakdown: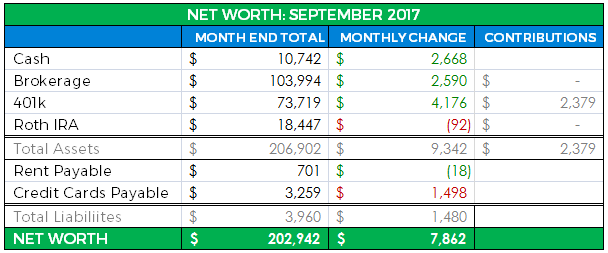 The market must have really gone mad, because September 2017 will go down as one of my least frugal months EVER.
To the details…
Cash: $10,742 (+$2,668) 
Cash went up because I haven't had to pay the piper yet; September's redonkulous credit card bill is going to be a serious cash drag on next month's cash growth, to say the least.
Readers of my emergency fund article would be fair to call me a bit of a hypocrite for carrying this much cash. Mostly this is money saved up for the downpayment on a potential rental property within the next year or so.
Brokerage: $103,994 (+$2,590) 
No contributions this month, but the account increased thanks to a little percentage shift up in the market.
At month end, my brokerage account included:
401(k): $73,719 (+$4,176)
$2,300 of automatic contributions and employer matching, and an almost equal increase from market movement.
After a slow start to the year, I'm still contributing almost 30% of my take home pay so that I make sure I max out my 401K in 2017.
Roth IRA: $18,447 (-$92) 
No contributions this month. Investing $5,500 sometime between now and April 2018 (the cutoff date for 2017 eligible Roth IRA contributions) is still a goal of mine. Each month I seem to comment about how I should take a little from my huge cash stash and place it here, and each month I drag my feet. Anyone want to give me a nice scolding in the comments section below?
My Roth is invested entirely in Vanguard's REIT index fund. I like this allocation, since I otherwise have no exposure to real estate and do not own a house.
Rent Payable: $701 (-$18) 
This number includes my utilities. The crisp fall air meant more open windows, which saved a little bit on the air conditioning bill. Even if that brilliant idea was brought back to reality by a 3 AM wake up from city noises.
Credit Cards Payable: $3,259 (+$1,498) 
Here's where the insanity of spending starts to rear its ugly head.
As usual, this number is a little over inflated due to some work expenses that I'll get reimbursed for. But there's no way around it, I spent a ton of money this month! Let's check out the details:
Total September Spending: $3,363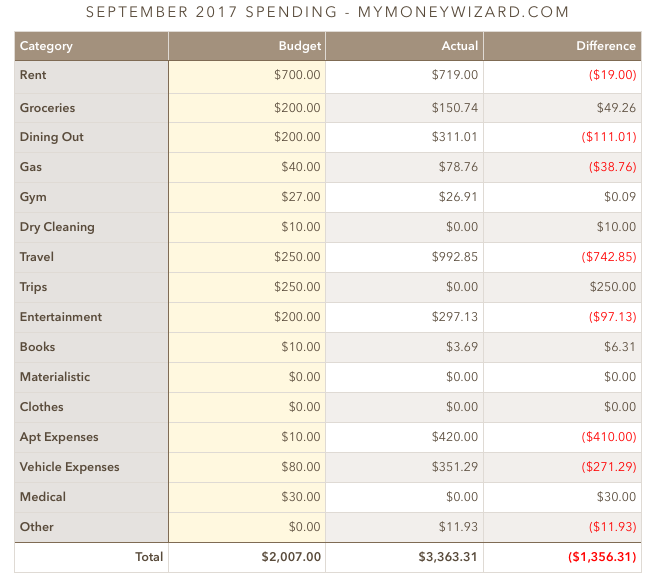 After two rock solid months of saving about 70% of my take home pay, I fell off the wagon hard in September.
In my defense, I had a few unusual expenses:
The $992 of travel includes $550 of reservations for a group ski trip next year. My real share of this bill is only $135.
That big travel number also includes $400-ish dollars that I prepaid for a December vacation.
I was taking a leisurely drive down the highway, when out of nowhere a huge rock flew off a semi and shattered my new car's window. A $260 windshield replacement later and I was just glad nobody got hurt
Having an offer accepted on a house (is this real life?) meant $420 spent on an home inspection.
With those weak excuses out of the way, here are some of the other categories worth highlighting:
Dining out – $311

Ouch… fell off the wagon on my New Year's Resolution to bring my lunch to work more. I also played host to some family who visited Minnesota during the month. Hopefully I should get this back on track next month.

Entertainment – $297

Also higher than usual (seeing a trend this month?) Major expenses included the previously mentioned state fair, an AWESOME food truck fest, an epic game of mini golf, and lots of trips to the breweries just because family was visiting. And definitely NOT just because I wanted a nice delicious cold one. 😉

Vehicle Expenses – $351

$77 of car insurance, a $9 car wash, and the dreaded $266 windshield replacement.
If you're not already tracking your own spending, I can say from experience it's probably the easiest way to start taking control of your spending. I recommend my new most underrated iphone app, or if you want an even easier and automated experience, personal capital.
Readers, how was your September? 
---