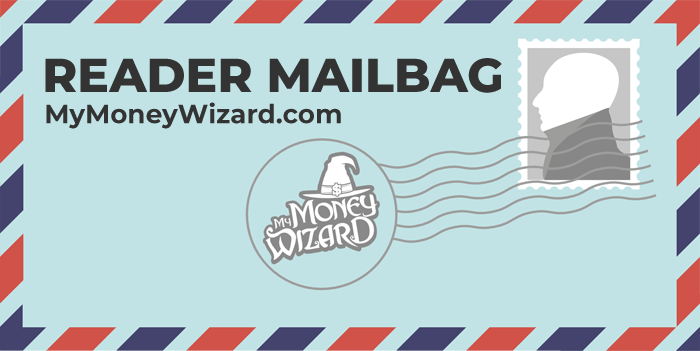 *Disclaimer #2: I am not a professional, and MyMoneyWizard.com is an opinion-based blog. Nothing on this website should be considered financial advice.
Hey all!
Welcome to the sixth sort-of-monthly reader mailbag.
Big thanks to everyone who's sent in questions. Hope these answers help you out!
And yes, that "hope" word choice is me covering for the fact that I was definitely stumped by question #6…
1. A Confession about Personal Finance Podcasts
Can you recommend any good finance/investing podcasts? There are so many and I'm hoping you have some good suggestions."
I've got a confession:
Despite my obsession with personal finance, I'm actually not a big listener to personal finance podcasts. I tend to prefer audiobooks.
That said, my blogging buddy The Financial Panther put together a solid list of money podcasts here.
I know a few of these podcasters personally and think they turn out good stuff. Maybe you'll see me on one of these things one day!
2. Habits
Hey, I stumbled upon this page merely by just looking up some info on what IRA's are. Pretty cool, I'm just starting my climb to where you are now.

Can you maybe suggest habits that I should pick up in order to get to where you are? Success is the KEY!"
I say tracking anything you want to improve. Tracking my spending has always allowed me to save tons of money, and I truly believe it's the #1 low hanging fruit when it comes to making massive changes to your financial situation.
From what I've seen, simply recording your spending tends to set off a chain reaction where people start looking for ways to save more and more money, which then builds an interest in how to invest that money, which over time leads to financial freedom.
These days I'm also realizing that tracking my time is making me more productive, and tracking my workouts is making me more healthy. So I truly think there's something to this habit.
3. Say what??
"第一借錢網擁有全台最多的借錢資訊"
Ummm… I think you might be in the wrong place…
(Anyone care to translate this for me?)
4. Rize has… fallen.
Have you noticed Rize the app you promoted is changing direction?"
It's true. Rize used to be one of my 5 favorite tools for saving money. I thought their tech for automating savings was a cool and unique idea from a new startup in the FinTech space.
Unfortunately, I guess the market didn't think it was as cool as I did, and at the end of 2019, Rize pivoted their strategy, shut down their savings app, and returned all money back to users. 🙁
5. 15 or 30 year mortgage? (Plus an awesome success story!)
Hey Money Wizard!

First, I would just like to thank you. Early in my career I thought I was doing a good job saving for retirement. Saving up to the employer match, saving for a downpayment on a house, etc. Then I came across your Yahoo! Finance article that had a headline something like "How a 26 year old built up $150K in savings". It made me realize I knew nothing about how to save, and I was jealous since I was older with far less saved. It got me to read your blog and to build and improve my savings strategy. I am happy to say that this year was the first year I hit over $50K in savings! That number still blows my mind. I don't know if I would have ever hit that number without randomly finding your article and reading your blog.

Ok, to my question. I am currently in the process of refinancing my house to take advantage of the low interest rates. What is your opinion on short term (15 year) vs long term (30 year) mortgage loans? When I do the math it seems to be better to go to longer term loan from a finance perspective. I can get a 2.875% 15 year loan or a 3.5% 30 year loan. Going longer term I can save almost $400 a month in mortgage payments. Thanks!"
First off, that is so awesome to hear success stories about the blog helping people out like that. Before you know it, that $50K will be $100K, $200K, $500K, and more! The beginning really is the hardest part! (By a lot…)
Back to the question. In general, I'm a fan of longer term mortgages for reasons I explained in the Correct Order for Investing article. Simply put, the chances of your investments outperforming the low interest rate of a mortgage gets higher over longer periods of time. That's why Lady Money Wizard carries a 30 year note.
The big catch is that you have to use that $400 of savings towards investing. If you use it as an excuse to spend more money, then you won't come out ahead.
6. Should I use a HELOC to fund a downpayment?
We bought a house 3 years ago and love it. We plan on moving in 5 years or so to an area with better schools and more expensive houses. (Usually three times the price of our current home.)

I am trying to figure out how to best save for the downpayment over the next 5 years. Should I put my savings into the stock market, or should I pay down my existing mortgage (4.25% interest rate) and then use a Home Equity Line of Credit to fund the downpayment?"
Hmm… I'll admit this isn't something something I've considered, since I don't have much experience with debt.
(Maybe some more experienced readers can weigh in under the comments!)
Paying down the mortgage is essentially a guaranteed 4.25% return, but it's more of a cash flow return. It reduces the amount of interest you pay, but wouldn't really give you any compounding effects as far as the size of the HELOC you could take out in 5 years. (Although technically, reduced interest payments mean you could contribute more and more to mortgage paydown, thus increasing the size of your eventual HELOC)
But, unless I'm missing something, going the HELOC route is also likely to leave you more leveraged. It's unlikely you'll be able to pay off your entire mortgage in three years. So at the end of the day, you'd probably have a mortgage + a HELOC with an outstanding balance equal to your downpayment on the new house.
On the other hand, the stock market which, historically, is a 7% (not guaranteed) return actually works to compound the size of your downpayment.
Similar result, different pros and cons to each.
This calculator from DQYDJ is pretty handy. If you input a 5 year time period, it shows the best five year period in the market returned 33% overall, while the worst loss is 13%.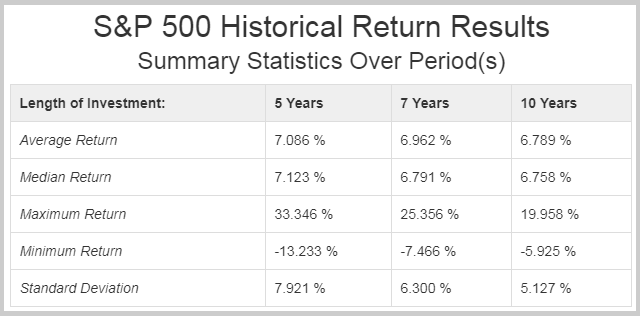 Maybe judge your own risk tolerance and debt tolerance, and then go from there.
Alternatively, you can always choose the middle option – investing in lower risk assets like bonds. Bonds are my usual recommendation for people saving for a downpayment in the near future.
Readers, do you have an opinion on what he should do?
Reminder Disclaimer #2, since it really just can't be said enough: I am not a professional, and MyMoneyWizard.com is an opinion-based blog. Nothing on this website should be considered financial advice.
---
Related Articles: