Hey Everyone!
Today, we're in for a treat. We've got an epic guest post from one of my all time favorite blogs on the internet, AssetBasedLife.com.
That blog's author, Paul, is the type of guy that younger guys like me aspire to be. He's early retired from a successful career, with a ton of money in the bank and a happy family to boot.
Considering I'm getting married in roughly half a year, I'm excited to hear some of his wisdom on this topic. Take it away, Paul!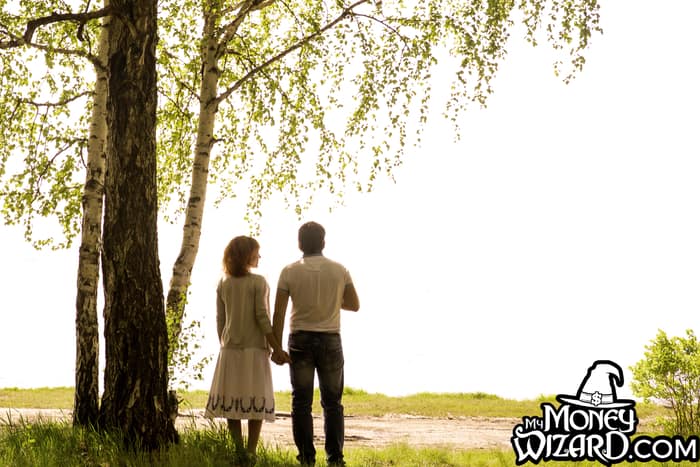 I made a decision tree to determine if I should marry my wife. And people say that romance is dead. 🙂
Before all of the ladies start throwing tomatoes at me and styling me as some emotionless robot, a bit of background is in order.
One of the most important bits of knowledge I picked up in my entire life was the decision science coursework I did in graduate school. It gave me a disciplined way for framing decisions, for analyzing and evaluating potential outcomes, for understanding the value of information, and for ultimately making excellent decisions.
Not every decision requires a ton of analysis, though. If you're weighing which item to order at a restaurant or choosing between cell phones, you can probably skip a detailed decision tree. But as a decision increases in importance, correctly framing and evaluating it is essential.
I've used decision trees in my work for every major corporate decision I owned. I certainly used one to decide which job I should take after graduate school. I made a comprehensive one to guide me when I quit a lucrative job after the birth of my first child. And when I finally quit the corporate world for good (let's hope…), you'd better believe I weighed all of the potential outcomes with a detailed decision tree.
The bigger the decision, the more important it is that you are fully informed and consider all of the potential outcomes.
And marriage is the biggest decision of your life.
If you choose the wrong college, or career, or house, or cell phone, you can recover from those mistakes. It may take a little money or effort, but you can still get back on the best possible path for your life. But if you marry the wrong person, particularly if you then add kids to the mix, you may never fully recover.
That's not to say you can't still have a happy life as a divorcee; it's just that it may never be as good as it could have been. Those aren't my words – those are the words of people I've known who've gotten divorced. Each of them has said it was the most depressing, soul-wrenching experience of their lives. Sometimes the divorce made them stronger, but it was a workout they wished they could have skipped. Given a choice, I don't know a single divorcee who would say, "Yes! I'm really happy I married that person and would do it all over again."
So divorce is bad and best avoided. Noted. The problem is that there is nothing you can do to guarantee you won't get divorced. Roughly half of marriages end in divorce, and every one of those happy couples thought they'd make it. People change and bad stuff happens; that's life. However, there are things you can do to improve your odds, and improving the chances of success on life's biggest decision is a pretty good idea.
But We Love Each Other!
I'll pause for a second to address all of the folks shaking their heads. You "just know" that he / she is "THE ONE!!!", right? You guys are going to be together forever. You'll go from being passionately in love, to buying a house, to raising wonderful healthy smart kids, to aging gracefully in lockstep, to finally sitting as wrinkly old folks in twin bathtubs holding hands while you watch the sunset. It's gonna be awesome, and there won't be major conflicts, because you guys are so compatible and love conquers all. "Other people get divorced, but they don't have what we have."
Let's tap the brakes for a second, lovebirds. In all of human history, guess how many marriages have had no major conflicts or challenges? How many young brides and grooms keep the exact same interests, values, physical shape, and personality for the next few decades? How many couples share precisely the same goals for the rest of their lives? None of them.
Staying married isn't really about building a super awesome bonfire of love that will burn for eternity. It's more like building a foundation that can weather the shocks that life will hand you, and that'll allow for two different people to grow and change but still be better off as a team than apart. That may not sound super romantic, but here's a newsflash: marriage isn't always super romantic.
I knew that going in. While my girlfriend and I seemed really compatible and had loads of fun together, I knew marriage would bring stress and challenges.
I needed to build a decision tree. The most important decision tree of my life. I considered all of the good and bad things that could happen (and assigned them probabilities, which I concede sounds a bit unromantic…). Things like kids, career, and finances were the biggest items, but there were so many things to consider, and so many potential paths to go down.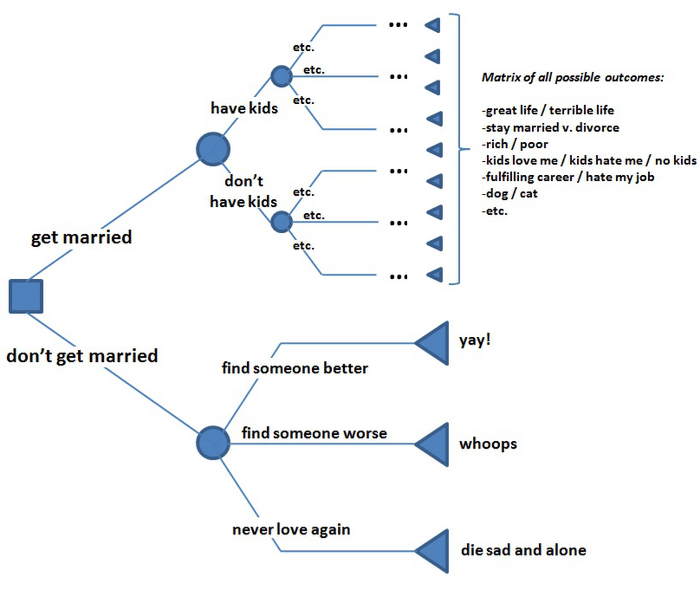 The Bulls*** List Is Born
As I built my decision tree, I realized I didn't know everything I needed to know about my potential spouse. I started to make a list covering all of the things I thought we should discuss before getting married – areas where I didn't want to make any assumptions, because not being on the same page could be an enormous stress or even a fatal flaw to our union. It took a long time, but I finally had all of the topics and questions identified. The hard work was done. Yeah! Now I just needed to run it by my lady.
She was ever-so-slightly less than receptive.
Apparently – and you gents should take note – ladies don't like when you make a due diligence checklist when you're considering marriage. She dubbed my hard work "the bulls*** list". Ouch. She said I was evaluating her like this was some transaction (me: "No! It's not like that at all!" while thinking, "Uhhhh…yeah.")
But she reluctantly agreed to look at my bulls*** list. And she liked it! Her comment, and I quote, was, "I'm sorry. I found writing this stuff is actually encouraging. I'm sorry I called it bulls***."
So I had a great idea, but I may not have been as sensitive or clever as needed in communicating it. I was ready to be a husband. 🙂
As we discussed our bulls*** list, we realized we had even more in common than we might have thought. Some areas that we hadn't fully discussed showed remarkable consensus. Some areas we simply hadn't thought much about, so talking about them as a couple was really informative. We each had a few "must-haves" that the other was cool with. Overall, it showed that we were really compatible. Or, in the language of romance, it revealed a high probability for a successful marriage.
Build Your Own Checklist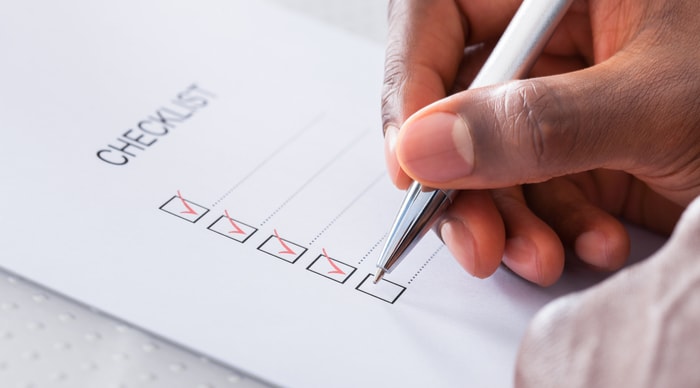 Every couple should build their own marriage checklist together (feel free to call it a bulls*** list if you like). The topics can and should vary by couple – what's important or relevant to one won't be to another. However, anything that could be encountered in a marriage should be discussed; making bad assumptions and then discovering a vast gulf on a critical matter can completely erode the foundation of your marriage.
As a tiny example of the value of such a checklist: what if a couple wants kids, but can't have them? Is that a minor setback, or a life crisis? What if the wife wants to adopt, but the husband says no way? Wouldn't that be a good thing to find out before marriage?
I've included the major areas and questions from our list below, but each couple needs to review and expand every topic specific to them. The key is to uncover the important things you need to know before marriage.
Children
Yes or no?
How many? (recognizing you're not fully in control of this – talk ranges and "what-ifs")
What's the ideal timing? If we wait, are we OK with a higher risk we'll fail?
What if we want children but can't have them? Fertility treatments? To what budget / limit? What if the infertility is due to just one of us?
Do we want to adopt? (could be instead of or in addition to biological children)
Will we screen for abnormalities during pregnancy? What if we find them?
Stay-at-home parenting versus working – will one parent stay at home? How do we decide who does?
If we both work, what will we do for child care?
What are our education expectations? Private versus public? College? Grad school?
Career – are there expectations / demands for a child's career choice?
What happens if our kid [fill in the blank with something bad you don't like]?
This could be anything – fully disclose any of your fears / concerns. If you'd freak out if your kid didn't go to college, or was a Yankees fan, say so now. This is an important discussion, and it can also tell you volumes about your partner.
Finances
What are your / my financial goals?
What are your / my career goals?
Will we have joint or separate accounts, or some hybrid?
Who is going to manage our finances?
What's your / my attitude toward saving?
What's your / my attitude toward debt?
What assets and debts are we bringing into the marriage? Do we need a pre-nup?
What if we need to prioritize one career over the other? How do we decide?
What are our financial priorities? (Retirement / early retirement, travel, hobbies, awesome house, vacation house, nice stuff, cool cars, enjoyable work, lucrative work, college for kids, grad school for kids, inheritance for kids, charity donations, etc.)
Budgeting and planning – how will we achieve consensus on our finances?
How will we work together / get each other's approval on purchases (big and small)?
How will we reconcile financial disagreements?
Will we need to help out other family members? What are the expectations / rules / limits?
Will other family members want to (insist on) helping us out? Helping our kids out? What strings are attached?
What will we give to charity? Which ones?
Extended Family / Family Obligations
Who will we visit, and when?
Who will visit us, and when?
How do we prioritize across two (or more) families?
What boundaries do we need to set with parents?
Will we need to take care of elderly parents or other relatives? What form will that take (purely financial, move in with us, etc.)?
Social Issues
I'll let you and your partner flesh this one out. My missus and I were pretty close on most social issues, so we didn't have too much to cover. If you and your partner have major differences on key social or political issues, it'd be good to discuss that now. I've known some couples where stark political differences served as minor background entertainment; I've known others where it's been a real source of marital stress. If there are potential issues here, agree on ground rules to minimize conflicts.
Religion
Are we going to practice? Which one(s)? How often?
Are there any expectations from parents or other family members?
How do we reconcile any differences in beliefs?
What will we teach the kids?
Communication / Conflict
Are we good at resolving conflict? ('Cause there will be conflict. Lots of conflict.)
Are we willing to get outside help / counseling if needed?
How well do we communicate? What problems do we have?
What are our attitudes toward divorce? What situations / scenarios could prompt it?
Cultural
This was an area my future wife and I needed to explore in some depth because we're from different countries; our questions were pretty specific to us.
But this is an area that brainstorming together will help any couple. Even if you're from the same country and general culture, you still may have some very different traditions and experiences. Just figuring out when you open Christmas presents could be a landmine. (For reference, the correct answer is: immediate family on Christmas Eve, Santa and other family on Christmas Day.)
Household Expectations
Who will do what work around the house?
What will we do ourselves, and what will we outsource?
What developments (e.g., one of us stops working, we have a big increase in income) could change the answers to the above?
Geographic
Where will we live?
What will prompt a move? Career opportunity, boredom, global warming, gold rush, etc.
Do we need to live close to any family members? Will any family members move to live close to (or with!) us?
Where is our ideal location?
Where do we refuse to live?
Health
A good rule for this area is to answer, "Is there anything I need to know?" For example, if you have a personal or family history (e.g., substance abuse, clinical depression) that might concern a future spouse, say so now. If you know you might have trouble having children, let's go ahead and disclose that.
Some people hide critical health information from a spouse with the hope that love will conquer all once they're married. That seems like a really bad way to start a marriage.
Entertainment / Interests
What do we like to do together? What will we do for fun when we're young and kid-free? Once we have kids? When we're old / retired?
How do we decide between competing activities?
What do each of us like to do alone? (Pro tip: an answer of "nothing" is a concern.)
What will we do to maintain our individual friendships? (If you want to have an annual trip with your buddies, or a weekly night out, or a monthly golf outing, say so now. It's a lot harder to negotiate post marriage.)
Do we have problems with any of the other's friends?
Broaching this may require some sensitivity, but it should be discussed. If you think once you are married you can kill off any unapproved friendships, you may be setting the stage for a brutal early fight.
Pets
Will we have pets?
How many?
What types?
Any pets on the must-have or veto list?
What will your checklist reveal?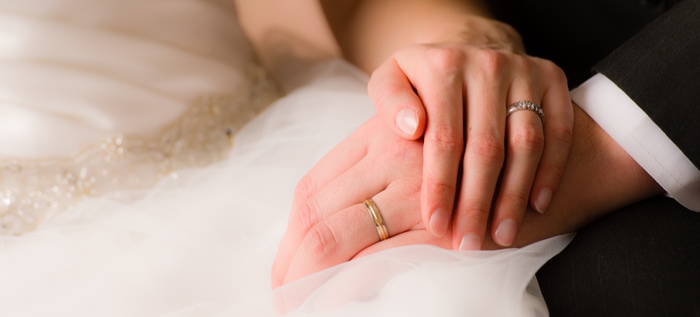 Your checklist may include questions and topics far beyond ours. Anything that is important and relevant to your future life together should be discussed, especially when you could be making very different assumptions.
There'll still be plenty of surprises once you're married, but you'd like the surprises to be like, "Oh wow. I never knew you cut your pancakes that way!" rather than, "Wait, you're into swinging?"
Any couple going through a comprehensive checklist will discover valuable things about each other. Some may be good, some may be bad, and some may be fascinating. While this process could reveal potential deal-killers, there's a chance that by openly and honestly discussing contentious issues, you can resolve them and have a plan in place before you marry (this is way better than surprise ultimatums later). If you can't resolve them, don't think that this process killed the marriage. It was already dead. You've just saved yourself a ton of grief (and time, and money, and chances with someone else).
One charge that could be levied against such a thorough checklist is that it could force people to confront very difficult issues that may never arise. You might even love your partner a little less based on how they answer one of these questions. If you end up not having to face that issue, wouldn't it be better to never have known?
I would say no. Marriage (and a decision tree…) asks you to prepare for better or for worse. You're deciding to hold hands with someone and face every one of those potential paths together. If you want to hide from one of the "worse" paths in the hopes it won't happen, are you really getting married? Or are you just taking an option on the "better" paths?
Final Thoughts on The Romance of Decision Trees
When you're young and full of lust for someone, it's pretty easy to get excited about marriage and skip over the details. The idea of discussing a boring checklist to vet long-term compatibility sounds incredibly unromantic and maybe even a little bulls***.
But you know what's even less romantic? Divorce.
There are many potential surprises when you marry someone, even if you've dated for a long time. If you skimp on your diligence and fill in the unknown with your hopes and dreams of what a perfect spouse should be, you may be setting yourself up for failure.
Using a checklist to discuss topics and scenarios that don't usually arise during courtship will ensure the person you think you are marrying is close to who they actually are. If you spend the time to find out everything – the good, the bad, and the ugly – about your potential spouse, and you still choose to marry them, it's not just giving you a high probability of success. It's also pretty romantic 🙂
Thanks again for the guest post, Paul!
Readers, what do you think? Is his list bulls*** or a actually great idea?
(I vote the latter)

---
Related Articles: