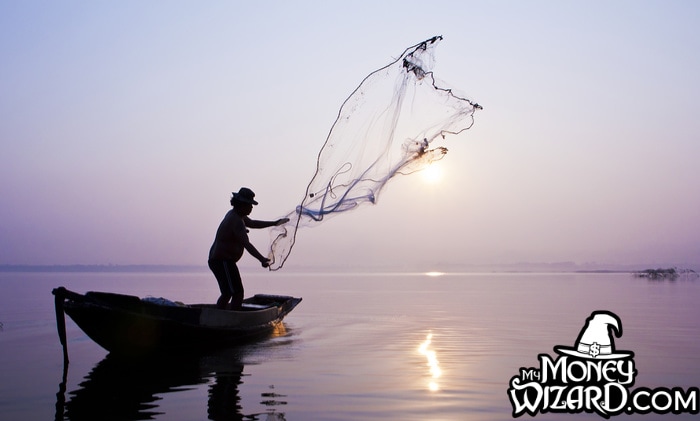 You've heard the story of the Mexican Fisherman, right?
It's an ancient parable passed down for generations. Well, either that, or it's a short story written by German Author Heinrich Boll, and then adapted for an American audience to take place near our southern neighbors.
No matter, its lesson is profound…
The Parable of the Mexican Fisherman
An American investment banker was at the pier of a small coastal Mexican village when a small boat with just one fisherman docked. Inside the small boat were several large yellowfin tuna. The American complimented the Mexican on the quality of his fish and asked how long it took to catch them.

"Only a little while," the Mexican replied.

"Why don't you stay out longer and catch more fish?" the American asked.

"I got enough to support my family's immediate needs," the Mexican replied.

"But what do you do with the rest of your time?" the American asked.

The Mexican fisherman said, "I sleep late, fish a little, play with my children, take siestas with my wife, Maria, stroll into the village each evening where I sip wine, and play guitar with my amigos. I have a full and busy life."

The American scoffed, "I am a Harvard MBA and could help you. You should spend more time fishing and with the proceeds, buy a bigger boat. With the proceeds from the bigger boat, you could buy several boats, eventually you would have a fleet of fishing boats. Instead of selling your catch to a middleman you would sell directly to the processor, eventually opening your own cannery. You would control the product, processing, and distribution. You would need to leave this small coastal fishing village and move to Mexico City, then LA and eventually New York City, where you will run your expanding enterprise."

The Mexican fisherman asked, "But, how long will this all take?"

To which the American replied, "15 – 20 years."

"But what then?" Asked the Mexican.

The American laughed and said, "That's the best part. When the time is right you would announce an IPO and sell your company stock to the public and become very rich, you would make millions!"

"Millions – then what?"

The American said, "Then you would retire. Move to a small coastal fishing village where you would sleep late, fish a little, play with your kids, take siestas with your wife, stroll to the village in the evenings where you could sip wine and play your guitar with your amigos…"
My Experience with the Mexican Fisherman
I had a recent encounter with The Mexican Fisherman. Only this time, the fisherman had moved to the mountains, just 50 miles from the Canadian border.
I was in Whitefish, Montana. I'd carefully planned a quick, two day ski vacation during a slow time in the office. Eager to get the most out of my limited vacation days, I'd paid extra for a ski lesson with a ski instructor.
On the first day of my trip, I met my instructor, Nate.
Nate and I shook hands, discussed our plans for the lesson, and jumped into it. Nate immediately took off down the mountain, skiing with the grace and fluidity that only comes from spending half of your waking winter hours playing in the snow.
In between pointers on how my ugly, rusty ski form could look more like his perfect ski form, we got to chatting.
By trade, Nate was a seasonal construction contractor. Each year, he worked for 7-8 months remodeling houses. In those few months, he always saved enough money to spend all winter skiing.
As we skied together, Nate radiated happiness. It seemed half the mountain knew him by name. Every few minutes, our chairlift chats would be interrupted by a friendly shout, an excited wave, and a big smile from someone he recognized or someone who recognized him.
(To be fair, things weren't perfect in Nate's world. At the moment, he was frustrated; a kitchen remodel recently expanded in size, which meant his work had, for the first time in years, extended into his precious ski season. He promised he'd work less next year to make up for this…)
As we chatted, Nate politely asked me what I did for a living.
"I work in Finance," I said. Then, I continued with my auto-pilot response – the same response that had yet to fail me in any of my hundreds of interactions with fellow white collar professionals.
"It's a good job. It pays the bills, so I can go skiing…"
I stopped and laughed at myself.
Two short days later, as I boarded my flight and mentally prepared for the next week's busy schedule in the office, I thought of Nate, the parable of the Mexican Fisherman, and the misguided American investment banker.
Which one was I?
Story Source: Anekdote zur Senkung der Arbeitsmoral by Heinrich Boll (adapated to The Fiserhman and The CEO)
---
Relates Articles: