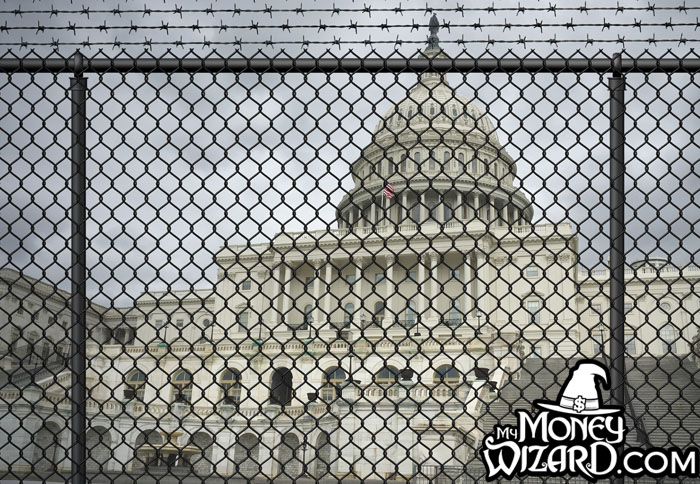 If you've followed the news at all, logged into twitter, or even just stepped outside from underneath a rock, you've no doubt heard about the ongoing government shutdown.
Today, the shutdown hits its 30th continuous day, which places this closure a full week longer than the second longest shutdown in government history.
The lock up has brought certain government functions to a halt, caused various national monuments to remain unopened, and even left national parks either closed or overrun with trash and vandals. It's terrible.
But the topic that seems to be getting the most airtime is personal finance related: The sad story of the nearly 1 million government employees going without pay.
The situation, according to everybody, is getting dire. CNN reports there's tens of thousands of government contractors out of work, over 380,000 furloughed Federal Employees, and another 420,000 working without pay.
The situation is getting so bad, Federal Employees are now lining up outside of food banks. This VICE report shows the devastation:
The video shares several firsthand accounts of how bad things can get:
I'm eating 1-2 meals a day, trying to make my food stretch as far I can make it go…"
I might have to talk to family, for [monetary] support…"
It's like a nightmare that won't end…"
I'm not too proud to ask for help during this time…"
First, a disclaimer:
It's easy for me to write this article from the plush padding of my continued employment.
Since I started my career, I've never had to experience a month long gap in paycheck. And without question, if I was a TSA agent, air traffic controller, or any other one of the half million workers required to work without pay, I'd be piiiiisssed. (I think we have a name for being forced to work without pay, and I'm not thinking of volunteering…)
BUT, since everyone else seems to be weighing in with their opinions about the effects of a missed paycheck, I thought I'd throw in my two cents.
If one missed paycheck sends you to the food bank, you need to get your financial life together.
Funny enough, this couldn't be more evident than in the previously linked VICE video, which I picked completely at random thanks to its position as Youtube's #1 search result for "federal workers shut down."
But when I did a double take, I saw the icing on the cake that so perfectly sums up the REAL issue at hand, the one nobody wants to talk about, far more succinctly than I ever could with the written word.
The key lies in the video's poster child, whose portrait doubles as VICE's featured thumbnail.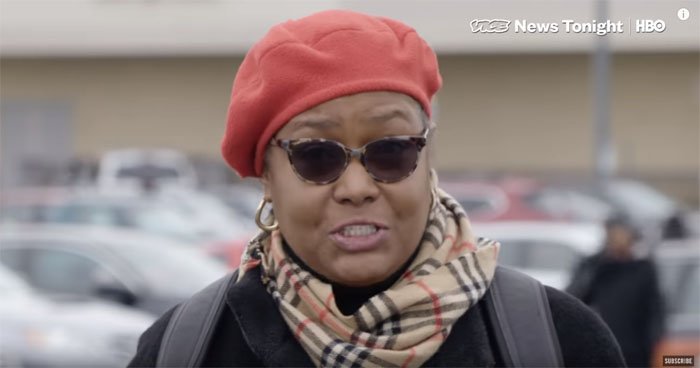 To the tune of emotion inducing piano music, she faces the camera and explains why she's standing in line at the food bank after one missed paycheck… WHILE WEARING A $430 BURBERRY SCARF.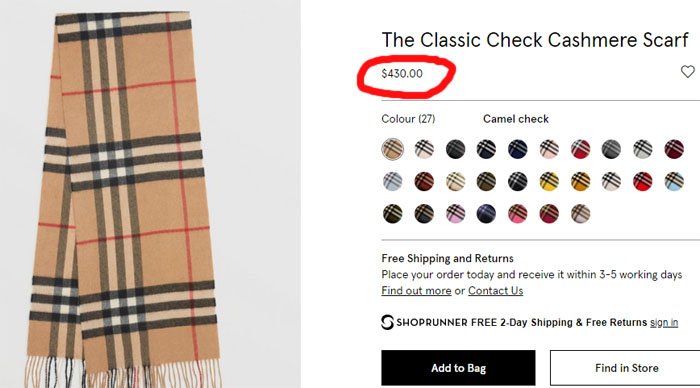 Maybe it's a knock-off…
But then, in a one-two punch that would make Mike Tyson proud, the video immediately cuts to this guy, who explains that he's been passing the time by binge watching a lot of Netflix. If the shutdown doesn't end soon, he says, he may have to ask his family for support. Most likely of the monetary kind.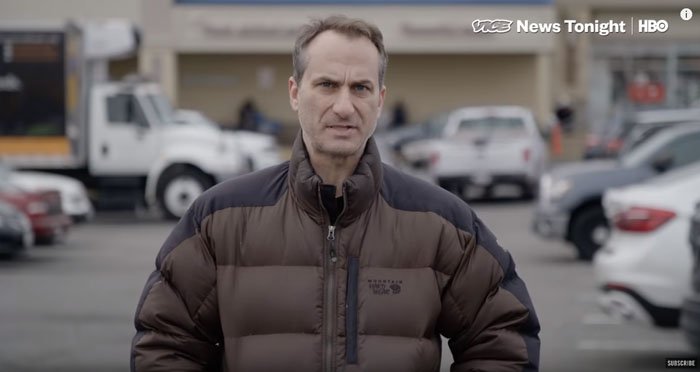 Did you see it though?
It's the small logo above his heart, nearly camouflaged with the rest of his outfit. That's the Mountain Hardware logo, a luxury brand name for outdoor gear. I only recognize it because I lusted for weeks over their ski jackets before finally deciding that $300 for a jacket was way more than I could reasonably afford.
Live within your means, or prepare for the consequences.
There's nothing wrong with buying nice things. If you can afford it.
But these people, with their luxury goods and even louder complaints, clearly cannot.
The average Federal Employee earns 50% more than the private workforce. Unlike the private workforce, they also work a job that's essentially immune from layoffs. According to federal legislation, the 380,000 furloughed employees are guaranteed backpay, and so will the 420,000 workers in the extremely unfortunate spot of working without pay.
In other words, the least that federal employees should do is build their financial lives responsibly enough to last a couple paychecks in the event of a shutdown.
I'm not the world's biggest fan of emergency funds, but a few paychecks is well within the range of standard financial advice. If you instead choose to ignore that advice, and you decide you'll sacrifice the foundation of your financial life in exchange for luxury scarves, jackets, or whatever else floats your boat, then you've assumed that risk.
Do not choose to design your budget on a knife's edge with steep drop offs to either side. All it takes is one change in the wind to get knocked off balance, and then the whole house of cards comes crashing down.
You want your financial picture to look like this: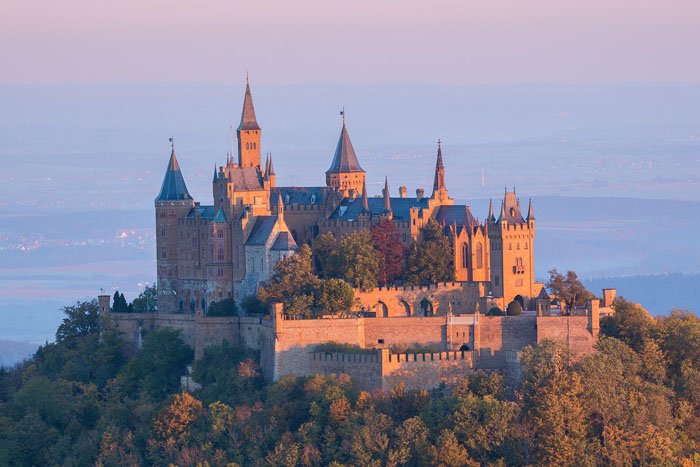 Not this: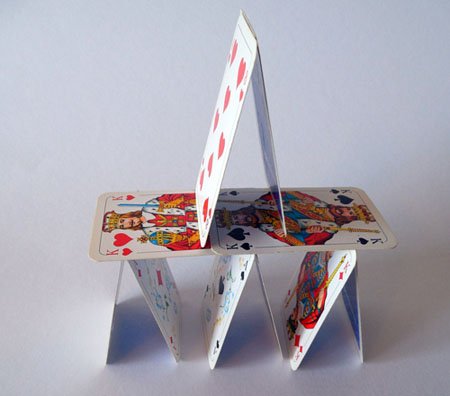 Always consider the possibilities
Until you've saved enough money to be completely financially independent, you need to be on high alert. Always be asking yourself what could go wrong, and plan according.
Whether that means an expanded network of contacts on speed dial, a part-time job to revert to, or a host of side hustles to cash in on, do not put yourself in a position of no options.
When you're a corporate worker, and there's even a whiff of layoffs, you should immediately make arrangements for a plan B.
If you're a federal worker, and you'll never get laid off, but the government has hinted at a shutdown every year for the past five years, bump up your emergency fund just to be safe.
If you're a federal contractor, and an openly anti-government dude gets elected into the White House, consider the possibility that your contract gets terminated.
The beauty of financial responsibility – negatives become positives
Here's the best part about living a little differently than the masses. When you reject the idea of money being a temporary token to blow on stuff, and instead view it as a tool for eventually purchasing a lifetime of freedom, a few amazing things start to happen.
For one, you'll start saving more money. Duh.
But the interesting part is how those savings impact not only your day to day life, but those rare events that everyone else calls "catastrophes."
Consider these scenarios:
1) You're a federal employee, and you get forced away from a work for a month or so.
If living paycheck to paycheck → Your house of cards comes crashing down, and you're soon begging for food donations or shuffling to your family, hat in hand.
If saving aggressively for financial freedom → Knowing that backpay is coming, your furloughed situation is suddenly a free vacation, an opportunity to pick up a side hustle, or a chance to spend time with family.
2) You're an index fund investor, and an economic crisis hits.
If living paycheck to paycheck → Stocks are tanking! With nothing in savings, you start to panic, and you do one of the 3 things you should never do.
If saving aggressively for financial freedom → Hey! Stocks are on sale. Looks like a great buying opportunity.
3) The big one… You get fired or laid off.
If living paycheck to paycheck → Total disaster. File for unemployment, and pray you can survive.
If saving aggressively for financial freedom → Chances are, you've already made serious progress towards your financial freedom number. It may not be ideal, but you've got months, or even more likely, years of living expenses already saved up. You take a break, reevaluate your position in life, and consider pursuing a dream or making other positive life changes.
Two Choices. Which do you take?
Look, I get it. Not everyone is going to be as obsessed with planning out their money the way most readers of this site are. And there's a huge portion of the population living paycheck to paycheck.
That does not make that population dumb, stupid, or bad people. In most cases, it means they weren't exposed to the right ideas, and then they got surprised by a situation they never expected.
But this shutdown should serve as a reminder for everyone. Because at the end of the day, we're all given two choices with our financial lives.
Accidentally or not, we can design our lives as a high wire act, juggling mortgages and credit card bills while hoping our situation never encounters the slightest wind gust.
Or, we can build up our options for dealing with adversity, and ultimately, our options for reaching freedom.
I know which choice I'd rather take.
---
Related Articles: