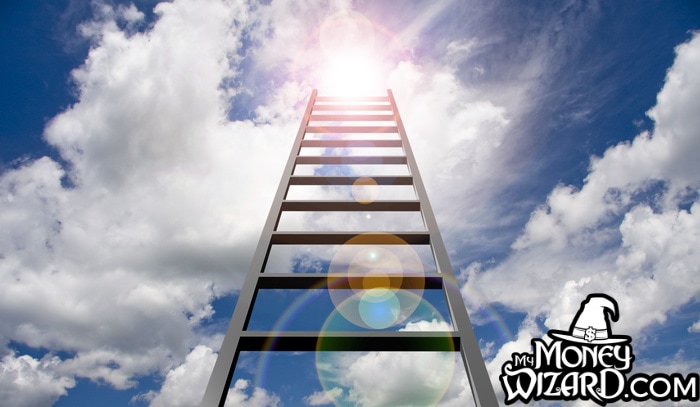 Last month I sat down for my annual performance review, and I was in for a shock.
For the newer readers, I graduated in 2013 with a dual degree in economics and finance, and I now work a mundane office job in that field.
That said, on the income scale, my earnings started around "well-paid elementary school teacher" for a few years before jumping to "successful electrician" for the past several, all while staying far behind the "$250K investment banker" pay of some of my similarly degreed peers.
In fact, I've never even clipped the prized six-figure mark that seems to be the barometer for high-pay, at least in certain circles of society.
But that all changed last month, when my boss ended my performance appraisal with the following surprise.
"I know you recently put in for that promotion," he started, with a dejected tone, "and starting today, you got it!" he finished.
I had to ask him to repeat what he just said.
When it finally sunk in, I nearly fell out of my chair.
The new position came with a big pay bump, and there was now no getting around it. I'd soon be firmly cemented as "well-paid." No matter who you asked.
Exactly how well-paid? We'll get to that.
Why I'm Not Lying About My Salary
Some close friends who know about the blog even suggested I ignore or hide the raise. They said earning six figures would make the blog "unrelatable" to many people.
But you know what? Screw that.
This blog has always been about documenting my journey to financial freedom. And that journey means being honest.
I could "round down" like a lot of other bloggers do, in a dishonest attempt to relate to the biggest audience possible. I could smudge my numbers or leave out key details along the way, so that I maintain the illusion of being in the middle of the bell curve. (In one famous instance, one personal finance blogger loved touting their "modest nonprofit salary" which some internet detectives discovered was… $225,000 a year.)
But I made a conscious decision that this blog wouldn't be ran like a sell-out business when I turned down multiple offers to sell this site. Then I reinforced that decision when I decided not to bombard my readers with sponsored posts or endless display ads. (This website's ad settings are literally on the lowest frequency possible, and I still worry that's too much.)
So, I'm sharing the one HUGE detail that so many personal finance bloggers love to ignore, even if that means taking a risk.
And you know what else? I'm kind of proud of the promotions I've scored.
I started my career as a fresh-faced college graduate with an intentionally chosen degree, earning $50K a year. Since then, I've busted ass to consistently impress my bosses. I've spent nearly seven years gutting it out with the same company, even when tough times had me wanting to quit or jump ship. I've put in extra hours when needed. I've traveled across the country, often leaving my personal life behind far more than I'd prefer. And I've even navigated B.S. office politics time and time again.
From all those efforts (mixed with a little luck, of course) I'm proud to say that my salary has doubled in my first 6.5 years on the job.
Am I incredibly fortunate? You bet.
Am I going to hide from that fortune? Absolutely not.
So here it goes…
In 2020, I should make around $105,000.
Phew. That feels wild for me to even type.
Especially when I remember my starting salary, which was less than half that. Nobody in my family ever made that much. (That I know of…) And I always envisioned 6 figures as the "holy grail" of salaries.
In fact, when I originally set out to become financially independent by age 37, my calculations assumed I'd never make more than $75K or so.
So when I see that startling number, I realize that my strategic moves to increase my salary have actually paid off. Which I hope does one of three things:
Gives people an honest view of my financial picture. The last thing I want to do is mislead anyone.
Makes me more relatable to so many of my readers that I know make even more, including families with combined incomes that blow mine out of the water.
Inspires people hoping to build up their earnings to keep chugging along, because it just might pay off.
Some people won't have any reaction whatsoever to that number. Lady Money Wizard makes a fraction of my salary, but she loves her job and doesn't envy my paper shuffling in the slightest.
Other people might see that number and wish they made more. If that's you, I'd give you this word of encouragement. Your salary IS in your control, no matter how many people try to claim otherwise. While every career path is somewhat limited by certain averages, there's nothing stopping you from playing the game a little more strategically, hopping to a higher paying position (or company), and if all else fails… jumping into a completely different field or starting a lucrative side hustle.
Remember, there's two types of people in the world. People who look at something and immediately come up with reasons why they can't, and people who look at something and immediately ask how they can. I've always strove to be the latter, and I think the world would be a better place if more people did too.
What does this mean for the blog?
Does my higher salary mean that all of my advice about money is now worthless?
I'd like to think not, but I guess only you can be the judge of that.
Personally, I think a much better barometer of someone's financial situation is how much they spend, how much they save, and how they invest. Lots of high income people have financial situations that are total disasters. Being rich is not the same as being wealthy.
Hopefully, knowing exactly how much I'm bringing in makes it easier to compare your situation to mine, which I know a lot of readers of the Net Worth Updates enjoy doing.
If you make or save less, you might want to adjust your expectations for when you can reach financial freedom. If you make more, feel free to show me up. (Don't forget to send me an email when you beat me to freedom!)
On that note, I plan on funneling the new raise into maxing out my 401(k) next year. Previously, I'd dialed back my 401k contributions to build up a cash pile, so that I could either invest in real estate or shift my portfolio towards more conservative cash/bonds. But with a higher salary, I now have the luxury of doing both.
Between maxing out my 401k, receiving my generous 7% employer match, maxing out my IRA, and continuing to avoid lifestyle inflation while I plow money into Vanguard index funds, I'm shooting to save $60,000 next year.
401k max: $19,500.
Employer match: $7,000
IRA max: $6,000
After Tax Index Fund Contributions: $27,000
5-6 more years of saving at that pace means that I should definitely be able to accelerate my financial freedom goal, from my original target of age 37 (with $750,000 saved) to a new target of age 35 with closer to a million: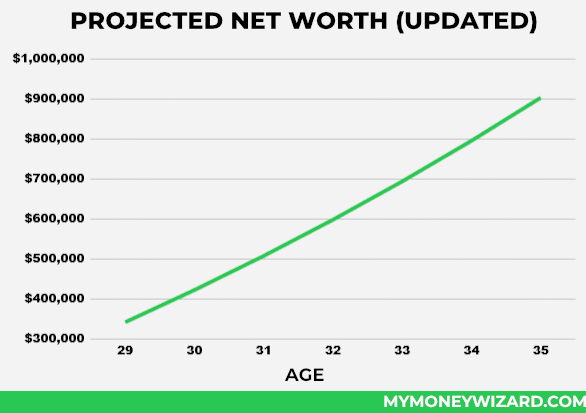 But do you even understand frugality anymore?
As someone who started this journey spending no more than $22,000 a year, I'd like to think I'm still in touch with what it takes to be frugal. But I've certainly increased my spending over the years. (Last year, I spent $34,000 while enjoying the first-world privilege of remodeling my kitchen, and this year I'm on pace for $29,000 or so.)
That said, unlike a lot of other personal finance bloggers, I don't think frugality is the be all, end all metric to life. To pick on a peer… Mr. Money Mustache believes everyone would be happier splitting their own firewood and biking to work every day.
I disagree. I think frugality is a great start, but as I've always said, it's just one level in the game of money.
To me, the game is much more interesting when you also try to maximize your earnings, build multiple income streams, and… brace yourself for this one… strategically spend your money to actually make you happier. (Hold the gasps!)
Would my $1,000 ski vacations have me laughed out of the room of most early retirement groups? Probably. But it's hard to imagine a time when I'm happier, and those ski trips are some of my favorite memories.
Is cutting your expenses to the bone unbelievably powerful in achieving your financial dreams? You bet. But so is building up a side hustle, or dare I say… getting a promotion at work.
What do you think? Do I make too much to still run a down-to-earth blog about saving and investing money? Or do you wish more bloggers were honest about their earnings?
---
Related articles: