Hey fellow Money Wizards!
It's time! Time to see how I did on my progress towards nearly $1 million and an early retirement by age 37 35. I recently turned 29, so let's check in on the progress so far!
Life Update: April 2019
Looking back, April was a pretty low-key month. No major headlines, no travel.
So, what did I do without the glitz and glamour of any trips?
Well, mostly, I enjoyed the simpler stuff around town.
Lady Money Wizard and I dusted off the bicycles, and we started enjoying the beautiful Spring weather here in the Twin Cities. Me and The Money Pup took a few extra walks, which also coincided nicely with our newfound blue skies.
On one such walk, we spotted our daily dose of "awwww!" when this police puppy was learning the ropes in his little police vest.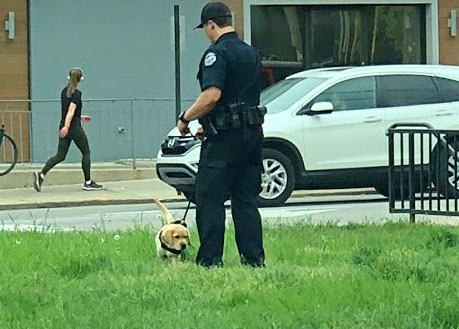 I watched him work his way through the field, alternating between seriously sniffing the ground like a good police dog in training, and clumsily pouncing through the grass with an undeniable puppy's enthusiasm.
Eventually though, he decided he'd had enough of the working lifestyle, and would rather just get bellies: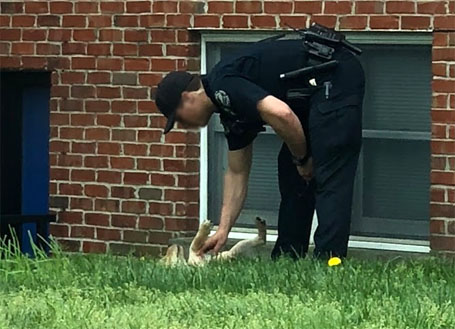 I can relate.
Elsewhere in the month, Lady Money Wizard and I resorted to a lot more dinner and drink dates. One of those dates was definitely an interesting one – we bought tickets to the World's Largest Bloody Mary Bar!
I was skeptical of the claim at first. But once I got there, I'd never seen anything like it.
This thing was 100+ feet of vegetables, cheeses, meats, and yes, even hamburgers… all to skewer on top of your meal in a glass.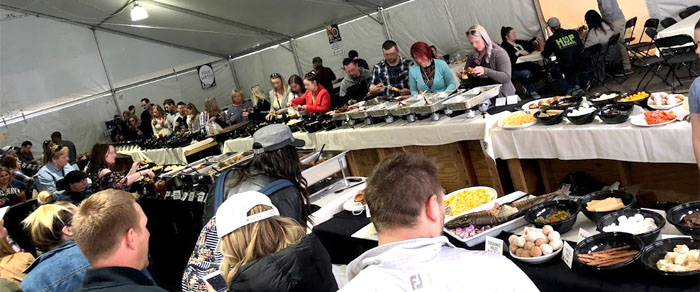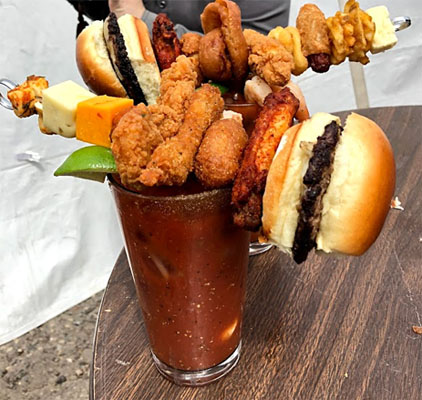 To say we enjoyed ourselves would be an understatement. Probably not as good for the health as a bit of travel would have been… but at least all the drinks and ubers were still cheaper than airfare and hotel rooms!
All that said, there was one kind-of-glamorous splurge to the month. At the beginning of April, March Madness college basketball was coming to a close, and to the shock of the world, The Money Wizard's Alma-Mater (Texas Tech) somehow made it to the College Basketball National Championship!
AND… that championship, by pure dumb luck, was being held in Minneapolis!
At this point, I knew my hands were tied. Within a few minutes of learning about Texas Tech's surprise moment in the national spotlight, I had my $150 nosebleed seats in hand.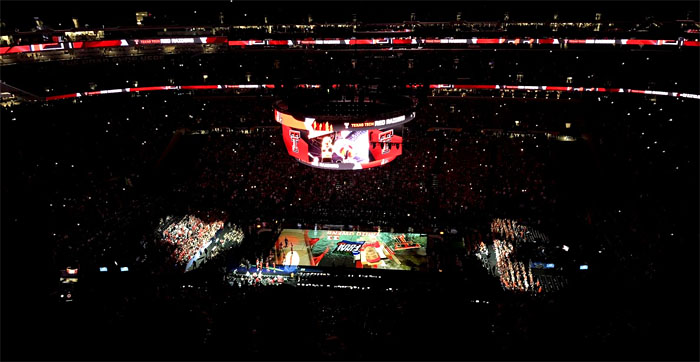 I've gotta say, it was pretty surreal to walk into the former home of the NFL Superbowl, over one thousand miles away from my college town, and see my school's colors projected on the jumbotron.
Ultimately, they lost, which was a real bummer. But it was still a great time. Seeing your team play for the national championship… in person… in your city… could be a once in a lifetime experience. I'm proud of the showing either way.
Net Worth Update: April 2019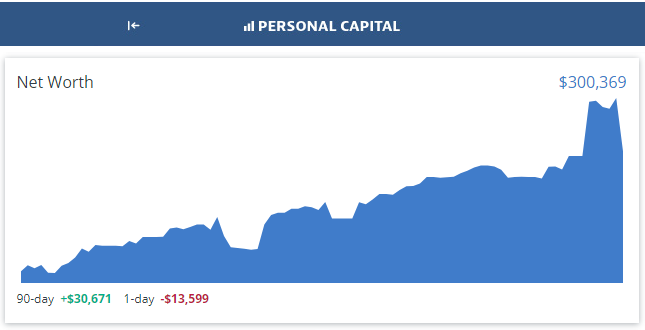 And the details: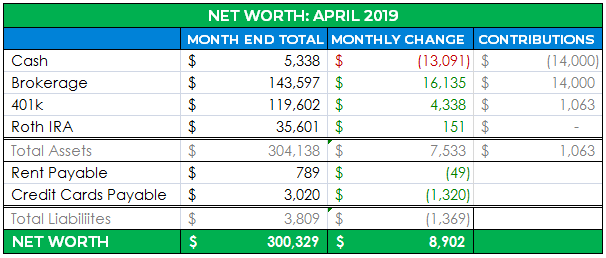 $300K! Just barely!
A cool little milestone. Let's just hope it holds up.
Cash: $5,388
($13,091)
We've got movement, people.
Earlier this year, when I looked at the best ways to invest your cash in 2019, I decided that money market accounts were the way to go. I also decided that since Vanguard charges zero fees for purchasing and selling their funds, that it makes perfect sense to funnel all my extra cash into Vanguard's money market index funds. (At least temporarily.)
So you can probably imagine my surprise when I blinked, realized the end of April was approaching, and then realized I still had not once made good on my strategy.
So, towards the end of the month, I moved $14,000 from my checking account to Vanguard's Federal Money Market Index Fund. With a current interest rate of 2.3%, I should make an extra $330 per year from this move alone, at least when compared to letting that cash sit in a checking account.
Not nearly as good as the stock market, but not bad while I build up a potential rental property downpayment or otherwise consider my next move.
Brokerage: $143,597
(+$16,135)
Most of the $16,000 increase is due to the previously mentioned $14,000 cash transfer.
After the cash contribution, my brokerage allocation now sits at:
68% Vanguard Large Cap Index Funds (65% is the VTSAX fund and 35% is Vanguard's VUG and VTV etfs.)
15% Individual Stocks back from the when I was young and dumb and thought I could beat the market
10% Vanguard Federal Money Market Fund
7% Bond Index Funds (2/3 in Vanguard's VBTLX fund and 1/3 in Vanguard's BSV etf)
Still might not be my perfect allocation, but I like to say – imperfect investing is better than no investing.
401(k): $119,602
(+$4,338)
$1,000 of automatic contributions including employer matching, plus $3K of market fluctuations.
I still need to do some balancing to get this exposure more in line with my desired allocation.
Roth IRA: $35,601
(+$151)
A little bit of shuffling here. You might remember that I maxed out my Roth IRA earlier this year. At the time, I put all $6,000 into Vanguard's federal money market index, then planned on converting $1,000 a month to Vanguard's REIT index.
Last month, I forgot to do that conversion. So this month, I converted $2,000 from VMFXX to VGSLX.
Rent Payable: $789
($59)
The first housing payment below $800 since the start of winter! A good sign for the local weather.
For the newer readers, I live in Minneapolis in a house with my girlfriend. This cost represents my half of the mortgage, utilities, and anticipated home maintenance. (We allot 2% of the home's value to expected maintenance each year, or $300 per month, which lets us pay for any miscellaneous house expenses, stress free.)
Credit Cards Payable: $3,020
($1,320)
Always an inaccurate total due to the timing of billing cycles and the presence of reimbursable work expenses. As usual, let's look at the spending report for better info:
Total April Spending: $2,238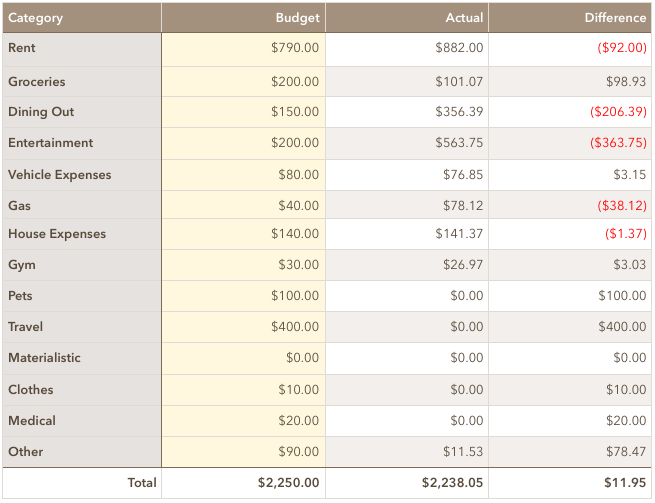 My new year's resolution was to spend less than $2,250 a month. So far, I'm 2 for 4 on meeting that goal through April.
Groceries: $101
Dug into the freezer leftovers quite a bit this month, which helped keep costs down.
There's also a darker factor contributing to this low total, and it's this next category:
Dining Out: $356
Yikes! We definitely dined out quite a bit this month, so I'm actually not surprised. Which is kind of embarrassing to say when looking at a $350 bill…
Entertainment: $564
The even bigger one this month. Major items here included $50 to watch the Final Four game at a local sports bar, $300 for two National Championship tickets, $60 for tickets to the World's Largest Bloody Mary Bar, and nearly $100 in cocktail bar/brewery trips! 😬
House Expenses: $140
Of which, about $130 from my most controversial expense – a maid.
How was your April?
My April certainly wasn't perfect. Then again, it's not necessary about perfection, just progress.
I hope you're meeting your goals! Don't give up on those 2019 resolutions just yet!
PS – If you haven't jumped on the bandwagon yet, I'm still obsessed with Personal Capital. Personal Capital will automatically track your spending, double check your portfolio allocation, and add up your entire net worth in one place.
---
Related Reading: