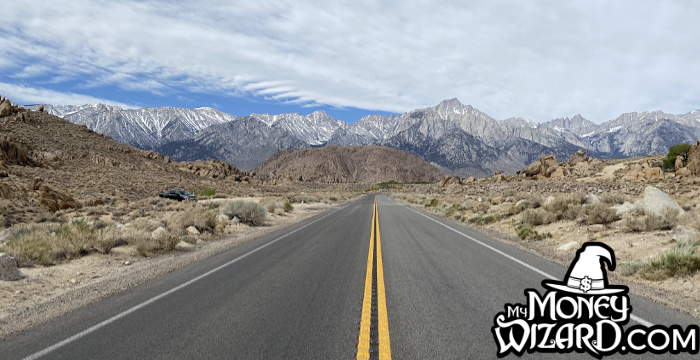 Welcome to another monthly net worth update!
Every month I track my progress to my goal of about $1 million in net worth, which I'm hoping will allow me to take an early retirement from my white collar office job. I'm currently 31 and hoping to retire within the next 4 years. (We're getting close!!!) Read on for the latest progress!
*As always, I am not an expert or financial advisor, so nothing on this site should be considered financial advice. These are just like, my opinions, man. Always do you own research, and always abide by The Dude.
Life Update: April 2021
April was the month of travel.
I can't believe I'm typing that!
All vacc'ed up, we strapped on the N95s and got to flying. For the first time in over a year!
Gotta say, it's always surreal to experience something you've done a thousand times for the first time again. You start to appreciate so many small things you used to take for granted.
For me, that was mostly the hype and anticipation of an upcoming trip. It was weird to actually have travel to look forward to again! And then even weirder to have pictures to look through of somewhere that isn't my home office.
So with that… I think we can just close out this section with some of my photography from Death Valley National Park (and also, Alabama Hills, just a few hours outside the park limits.) Both places were truly underrated and otherworldly parts of this crazy country of ours.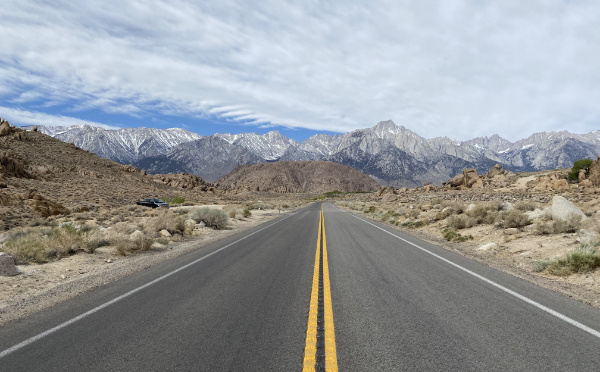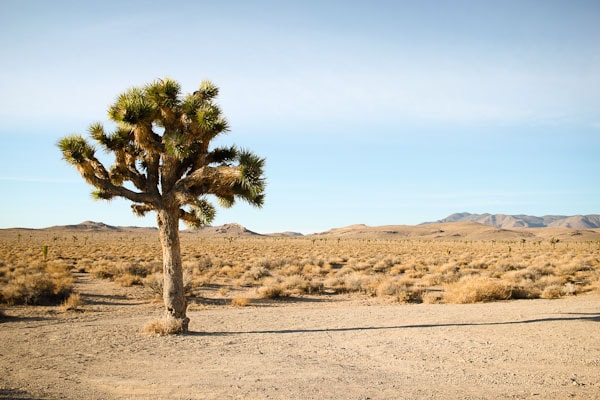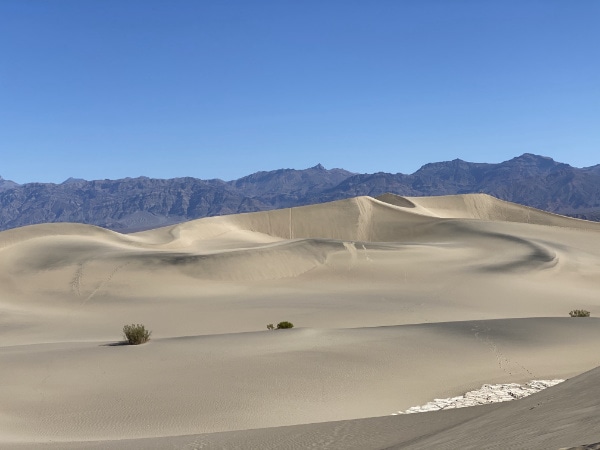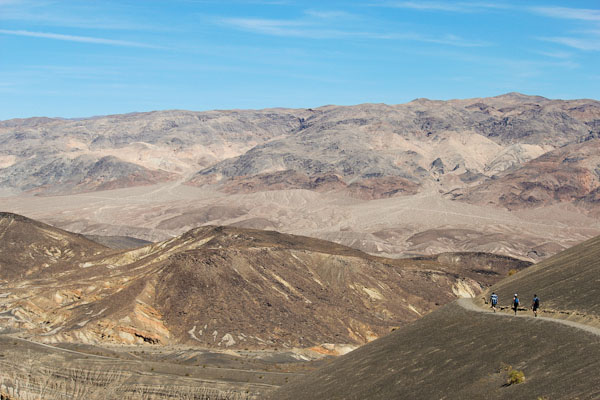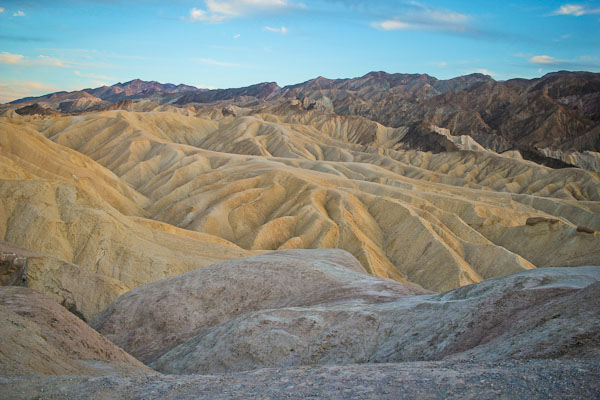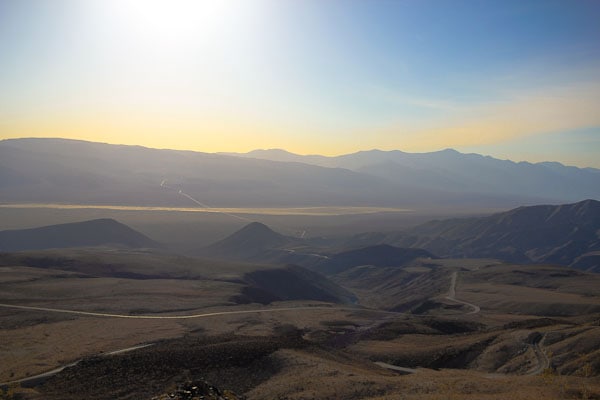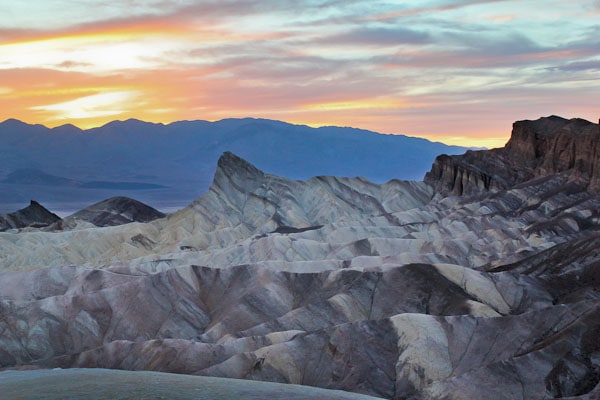 Net Worth Update: April 2021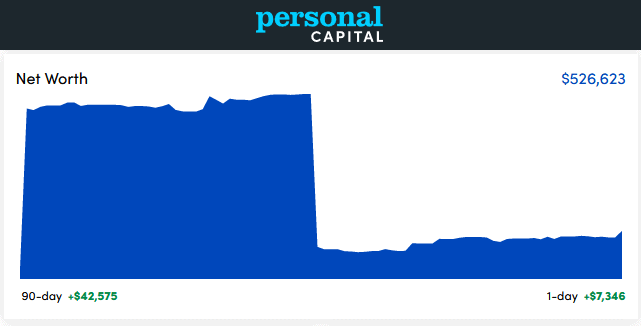 Don' fret! That cliff of a chart is actually just a weird glitch between Vanguard and Personal Capital a few months ago. (Thankfully, I did NOT lose $100,000 in a day, like that wall of doom would have you believe!)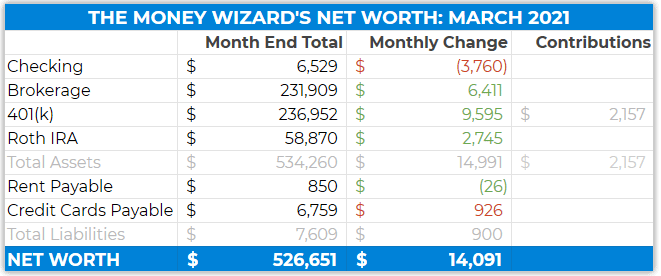 And the latest portfolio allocation: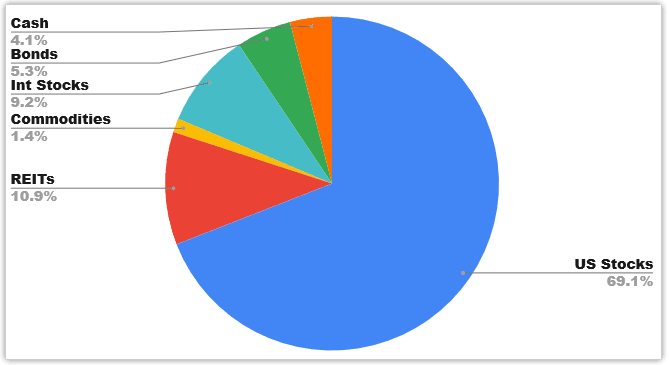 At the request of readers, I'm still considering adding my crypto exposure to this pie chart. That hard-to-ignore investment has rallied its way to about 10% of my net worth, but I'm not sure about the safety of discussing it publicly. (Don't want to get hacked!)
Checking: $6,529
($3,760)
Checking account is way down this month, mostly from the sting of paying a big fat tax bill. Plus another $2,000 invested into the brokerage account.
Brokerage: $231,909
(+$6,411)
I think my chart up there is wrong – I did actually make a $2,000 contribution to the brokerage to increase my commodities exposure (Gold).
For newer readers, the brokerage account is mostly just general stock market index funds, like VTSAX. (If you're ambitious or craving particulars, you can rummage through previous net worth updates where I provided exact numbers.)
401(k): $236,952
(+$9,595)
Between my paycheck contributions and employer matching, I'm still contributing a hefty $2,200 per month to the 401k.
My contributions are still invested like so:
50% S&P 500 Index Fund
30% Small Cap Stocks Index Fund
20% International Stocks Index Fund
With my total portfolio's international exposure dropping below 10%, I plan on changing my future contributions to be a higher percentage of the international stock market index fund.
Plus, if Elon Musk succeeds in using satellites to get the whole world 5G internet, that's gotta be good for the stock market of developing countries, right??
Roth IRA: $58,870
(+$2,745)
Just more market movement here, since I maxed out the Roth in January.
The Roth is still about 75% VGSLX and 25% VTIAX.
PS – here's why I like VTIAX more than VFWAX.
Rent Payable: $850
($26)
Actually a little disappointing here – our utilities savings from spending $5K to insulate our whole house look to be less than expected. Sad. But at least the house is more comfortable!
Credit Cards Payable: $6,759
(+$926)
Now this is just infuriating.
There was a glitch in my credit card's auto payment which had me paying double on my credit card statements some months. The bank promised they took care of it, but then this month my auto pay didn't even go through, and I got hit with a late charge + interest fee.
I'm currently gearing up for battle to get that resolved, with all fees reversed.
Total April Spending: $2,605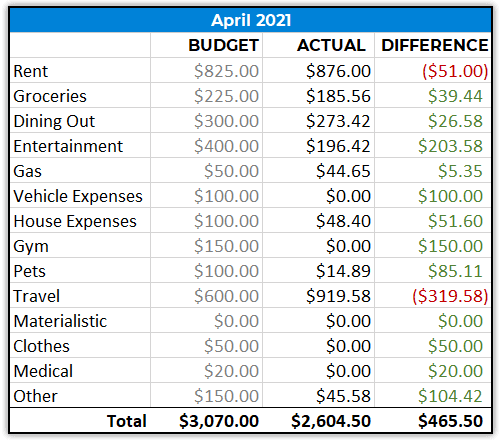 Pretty usual spending this month, with two exceptions…
Travel: $919
Looks like a big bill, but not bad compared to most travel options. National Parks are once again a pretty frugal win!
Entertainment: $196
A few hang outs with friends. Could things actually be going back to normal!?
How was your April?
Both financially and not…? financially.
I always appreciate hearing from you all!
-Sean aka The Money Wizard
PS – Want to track your net worth like this? Here's my favorite tool to do so.

---
Related articles: