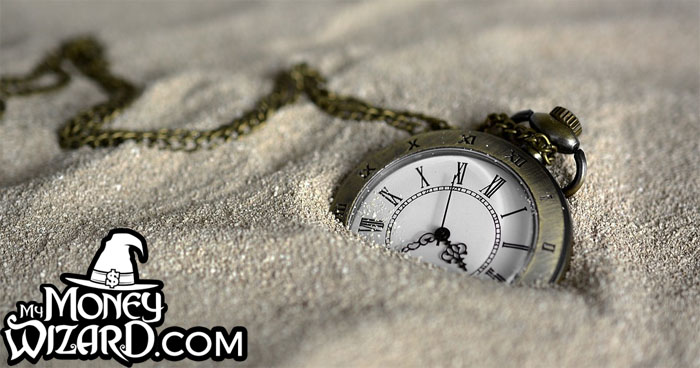 I have a coworker with an obnoxious habit.
Just about every morning, this coworker stops in my doorframe with a complaint. "I'm so busy!" they remind me, before spending the next few minutes explaining how much work has been dumped on their desk.
Then, they do something bizarre. They walk a few offices down, and repeat the process again with another coworker.
And again.
And again…
One day, I did a sneaky experiment. I tracked my coworker's path of complaint around the office, jotting down how much time was spent with each person.
All told, my coworker easily spends nearly an hour each morning explaining to the world how much work they have to do! Which seems like an awfully long time for somebody so busy.
I laughed at this, right before I got back to surfing the internet to avoid my own mountain of work.
How much time do you waste each day?
The average American watches 5 hours and 4 minutes of TV a day. They spend another 5 hours per day on their cell phones. And that's not counting the 54 minutes they admit to wasting at work each day.
And it's not just the obvious time sucks. I have a full time job and a blog that's turned into a full time side hustle, and I know I'm just as susceptible as anyone to working inefficiently, having my breaks turn into siestas, or "researching" (aka convincing myself I'm working on something when I'm actually just mindlessly clicking through the internet.)
In any case, we'll be generous. Since we're not envious of work-a-holic robots around here, we'll cut that 11-hour figure in half.
That still leaves nearly 6 hours of wasted time every single day.
That's 40 hours a week. Another full time job!
We're talking 87 days a year! 3 straight months!
I call taking advantage of these lost hours Time Hacking, and I'm convinced harnessing it's power is the most effective way to building wealth.
How much is your time worth?
To find out, we can start with your hourly wage.
If you've got a bachelor's degree, that's usually $20 an hour minimum. Maybe around $30-40 if you've chosen a higher paying field, or even more if you have a couple years of experience under your belt.
At this rate, you could earn an extra $40,000 to $70,000 per year! Just from watching less TV and realizing that your life will be okay even if you never beat that next level of Candy Crush.
Is that it though? The average reader of this blog is south of age 40. Most are in their 20s or early 30s.
If that's you, wasting time is even more of a tragedy. That lost income is money that you could invest early, and then let the powers of compound interest carry you towards millions.
For those reasons, I don't think it's unrealistic to value your time today at a minimum of $50 an hour. (Even if you make less)
If there's 40 hours of wasted time per week to reclaim, that's 2,184 hours a year, or $109,200 per year!

You're already rich. You just haven't capitalized on it yet.
Everything compounds.
You might be thinking those figures sound a little high, but hear me out.
We all know investments compound. But so does success.
The time you spend learning skills, creating a side hustle, or building something valuable, nudges the boulder into movement. And over time, that heavy boulder builds up speed and starts carrying some serious momentum.
Skills you learn today can be marketed for sale in the future.
Business you start can eventually be sold.
Side hustle money can be invested and compounded.
Eventually, that boulder of success moves away from the crowd. Instead of complaining about money like everyone else, you become a remarkably high achiever. You shift your frame of reference from hoping to maybe-one-day retire, to escaping the rat race decades before anyone else thinks is possible.
You have no idea what you're capable of.
I'll admit, I find it disturbing to realize how much my hours of youtube'ing really costs me. Nobody wants to learn that they're leaving hundreds of thousands of dollars on the table.
But I also find it incredibly encouraging to recognize my unlocked potential.
Few humans ever actually reach their potential. But occasionally, an example comes along who shows the world what can be done when you use your limited time on earth to its maximum ability.
Warren Buffett famously reads 500 to 1,000 pages per day. Yeah, that's insane…
But after a lifetime of that kind of productivity, he's said to know details about all 3,700 publicly traded companies. And thousands more internationally.
While that might sound like a far fetched myth, it's not impossible when you consider the compounding effect of an ultra-productive lifetime. From the man himself,
Read 500 pages every day. That's how knowledge works. It builds up, like compound interest. All of you can do it, but I guarantee not many of you will do it." – Warren Buffett
Productivity like this leads to huge riches. Our free market society rewards exceptionalism, which is exactly why folks like Buffett, Gates, Bezos, Oprah, and Elon Musk have the fortunes they do. They took action on their time, and they found amazing results.
Of course, you don't have to build the next great American business or become the world's greatest investor. Simply shifting some of your down time from unproductive to productive can have astounding and long lasting results.
Find your hack, and astound yourself with the results.
If you need an example, you're looking at it. I replaced watching TV and wasting time on forums with writing articles to help people. The result is an exponentially growing website that's accidentally earning some meaningful income. And with hundreds of thousands of readers, I can see its effect ripple out and inspire change. That change not only impacts my life, but compounds in the lives of all those readers, too.
It's the most rewarding thing I've ever done.
And that's just one example. In the age of the internet and sharing economy, side hustles are everywhere. We have more options than ever for cashing in on our downtime:
Picking up a part time job
Using skills you already have to provide consulting services
Freelance writing
Selling crafts on Etsy
Creating YouTube videos
Writing a book
Flipping furniture, tickets, etc. on Craigslist or Facebook Marketplace
Any of these other easy ways to make an extra $11,000+ in one year.
I could go on and on, but nobody knows better what you have to offer the world than you do.
So, the choice is yours. Are you going to hack into your lost time, and reclaim the value of that time? Are you going to cash in on your $100,000 side hustle?
Everyday is a bank account, and time is our currency. No one is rich, no one is poor, we've got 24 hours each." – Christopher Rice
---