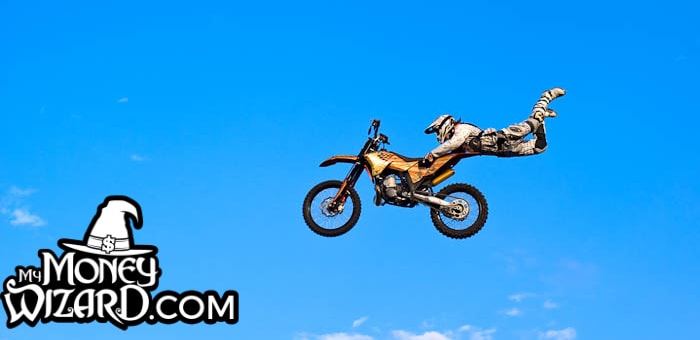 As someone who's been tracking his spending every single month for years on end, I've noticed a few expenses consistently stick out like sore thumbs.
And since times are tough right now for everyone, I thought I'd highlight those areas, and then show some truly extremely ways to slash those costs to the bone.
But first, a warning:
Kind of like the overweight doctor who smokes, I don't exactly practice any of this advice, but I can still admit it'd certainly help!
If you're in the mood for serious savings, no matter the (non-monetary) cost – here they are!
1. Move to a no-income tax state.
Here's the biggest expense that you probably don't realize you're playing.
Taxes.
I mean, here in Minnesota, if you earn a $50,000 a year salary, you'll be giving 7.05% of your last dollar over to the state.
If your spouse does too, that's about $7,000 per year, or $580 a month.
Yes, this is a simplified example to prove a point…
So, here's a more real example that should drive it home for yours truly: The Money Wizard household's state income tax payment is larger than our mortgage!
By contrast, there's nine states that don't charge you for the privilege of working there: Alaska, Florida, Nevada, New Hampshire, South Dakota, Tennessee, Texas, Washington, and Wyoming.
Sure, moving ain't easy. But that's some serious savings!
*To be fair, income tax is just one factor in how much a state costs. That's why I calculated exactly how much it costs to live in every state for 30 years.
2. Downsize your house.
Okay, I realize moving across the country might be as extreme as it gets.
So here's a compromise:
Get rid of that extra square footage.
Most home owners don't regularly use 75% of their house's square footage, and since 1950, the average home size has increased from 983 square feet to 2,675 square feet.
(More info on that in my article about home prices.)
And considering that housing expenses are THE number 1 expense for the average spender, this is the most obvious place to start saving the most money.
Want to get truly extreme with it?
Live in a house boat for a couple hundred bucks a month, or live in a van for even less.
3. Don't drink alcohol.
Every month when I tally up my own spending, I'm shocked at how much my drinking habit costs me.
I pretty much only drink during social events (ironically, this is more expensive) but here's an example from the first net worth update of 2022:
Trip to a distillery: $31
Trip to a brewery: $35
Ubers for the previously mentioned trips: $37
A bar visit for two before dinner: $60
Drinks at dinner: $24
A separate night of drinking with friends: $75
Total cost of drinking for just one month: $262
I wish I could say that was an outlier, but if I'm being honest, this happens more months than not.
If I was sober as a bird, that's a several-hundred dollar per month expense that I could save. Or at least cut down significantly, since even the fanciest bars have nonalcoholic options for about half-price.
4. Go camping.
I spend a fortune on vacations, especially hotel rooms.
Even a two-day ski trip this winter, staying in a budget motel, ran me nearly $200 a night
But here's a vacation idea as old as the good U.S. of A.
Go camping.
Sure, the initial investment in the gear could cost you a pretty penny. But once you've got that tent and sleeping bag, you're in business!
Campsites cost just dollars a day. Even better, the act of camping encourages free activities like hiking, campfires, and lounging with friends and family!
And if you're doing it right, you'll replace those hundred-dollar traveling steakhouse dinners with $1 hot dogs and 75 cent 'smores around the fire.
5. Become a workaholic.
Probably not ideal, but you can't argue its effectiveness in building wealth!
Most of the highest income people I know are accidentally the most frugal, too.
Why?
They're too busy working to spend their money!
Was The Shoe Dog blowing hundreds of dollars a night at the club or sporting events while he was building Nike? Nope, he was too busy flying to Japan to haggle with shoe manufacturers.
Is Warren Buffett spending his fortune traveling the world in old age? Nope, he's too obsessed with reading books and researching his next company to buy.
Even my own friends who are doctors, lawyers, and startup employees are usually too busy working 80 hour weeks to spend their remaining time doing anything except eating and sleeping.
Sure, there's something to be said for balance being the key to a happy life, but I did promise that these tips would be extreme!
6. Go vegetarian.
Food is one of The Big 3 Expenses, and pound for pound, there's one food that consistently costs more than any other.
Meat.
Look, I love a tender steak as much as the next guy, and it'll be a hard sell before I ever give up meat completely, but I can't help but admit that even just cutting down my carnivore habits has saved some serious cash at the grocery store.
I mean, have you looked at the price of beef lately?
And since this article is all about taking things to the extreme, the logical conclusion to this tip would mean going entirely vegetarian. Need I remind you that beans cost just pennies!?
7. Sell your car.
Transportation makes up 18 percent of the average budget, and there's one surefire way to slash that cost to the bone:
Ditch the car.
Allow me to introduce exhibit A to the courtroom:
Cost of a brand new fully loaded Toyota RAV4, the best selling SUV in America last year: $26,535

Cost of ongoing insurance: at least $100 per month
Cost of ongoing maintenance: at least $500 per year
Cost of typical gasoline: almost $2,000 per year
Vs.
Cost of a comparable road bicycle: $900
Cost of a bus pass: $75 per month
Cost of walking: $0.
8. Kick it old school with a flip phone.
Do they even still sell these?
I have no idea, but I do know that the average iPhone now costs more than a car.
I know, I know… I can hear you typing from your touch screens as we speak:
"But the iPhone is a necessity!"
Is it?
I mean, just 10 years ago only 1/3 of adults owned a smartphone.
Have our needs changed that much since then?
I'm not sure. But I do know you could save some serious cash if you decided not to buy a $999 iPhone 14 pro with with a $65/month unlimited starter plan.
Thoughts on extreme money savings?
Do you have any other extreme money savings tips?
A word of warning: they're more fun to brainstorm than put into practice.
🙂
---
Related Articles: