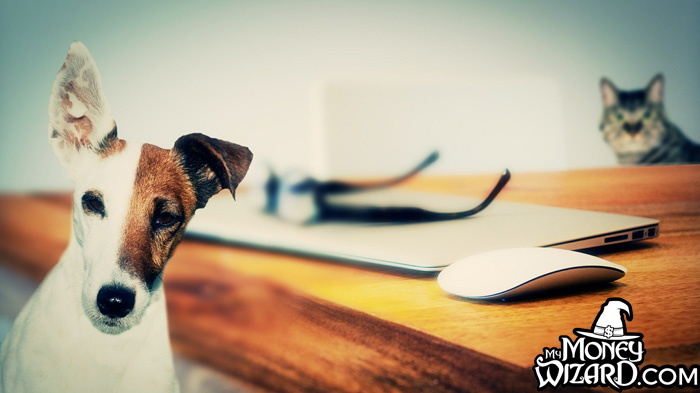 I have a confession.
Like most people on the internet, I have the entirety of human knowledge at my fingertips, and I usually find myself using it to watch cute pet videos.
Whenever I find myself sucked into the videos' never ending comments section, I can't help but notice one piece of advice from well-intentioned pet owners popping up again and again:
Get Pet Insurance.
The line of thinking is reasonable enough. At some point, the experienced pet owners will say, your cat or dog will eat something poisonous, blow an ACL while having too much fun at the dog park, or age themselves into a rare disease requiring expensive treatment.
When that inevitable event happens, you'll be thanking your lucky stars that you signed up for pet insurance.
As someone who recently adopted a dog, this all made logical sense. Right until I looked a little harder.
Breaking Down Pet Insurance
Now, anytime the masses agree in unison about something, I start raising an eyebrow.
When that something is money related, the eyebrow gets raised a little higher. When that something is money related AND on a topic pumped full of emotions, my eyebrow starts to make Dwayne "The Rock" Johnson proud.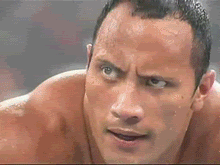 For emotional decisions that humans consistently turn into a financial fail, see:
And, dare I say… insurance for cute, furry animal members?
The trouble is, when it comes to emotional topics, natural human tendency tends to override our system. Midway through a rushing dose of oxytocin, dopamine, adrenaline, and serotonin, we feeble humans lose our logical reasoning and replace it with knee jerk, caveman instincts.
A few enterprising individuals spot this business opportunity, and they wedge themselves right into this market. They'll happily sweep up our money for as long as we nervously throw it on the floor.
When we find ourselves in these potential emotional money traps, our job is simple. We have to go where no couch potato has gone before: spending 5 minutes crunching the numbers.
So, let's get crunching.
A Quick Review of Insurance
Before you close out that browser because I threw up a headline so boring it'd make your 9th grade history teacher proud, let's spend two seconds zooming out on the insurance industry.
Here's how insurance works:
Insurance companies collect mountains of information about different people (or pets!) in almost every situation imaginable. Then, they hire a team of Actuaries, one of the highest paying college degrees.
These math geeks spend all day every day analyzing statistics, running complex math problems, and then carefully setting insurance premiums high enough to pay your expected claims, plus their huge salaries, AND making the insurance company as much money as possible.
The result? 10 people pay the insurance company $1,000 a year. 9 people enjoy peace of mind for a year, and one person faces a disastrous $6,000 bill.
The insurance company pays the $6,000 bill and pockets the leftover $4,000 as profit. And maybe gives their actuaries a fat bonus for doing such a well-calculated job.
This all sounds like the captian obvious explanation of the century, but it's worth highlighting.
When people say things like, "I don't want to pay for that expensive procedure!" they're implying they're coming out ahead by carrying insurance. Or that they're in such good hands that their provider pays out claims out of the goodness of their heart.
Not how it works, amigo.
Insurance companies have carefully stacked the deck against you. Much like walking into a casino, you will lose money if you play the game long enough.
For me, this is motivation enough to save up enough liquid assets to handle emergencies myself.
That said, insurance does provide a benefit… sometimes. Peace of mind is a real service, and if it can be had for a worthwhile fee, maybe it's worth it?
Let's take a closer look.
Crunchin' Numbers for The Money Pup
Unfortunately, I wasn't able to find a LendEdu for Pet Insurance, so I was stuck manually inputting The Money Pup's information to each insurance company's website.
Here's my first quote: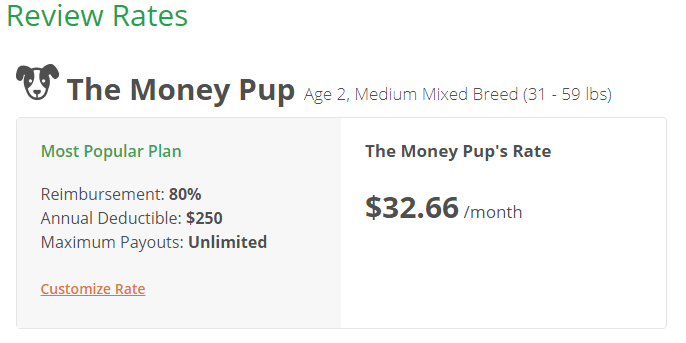 Wow, a little more than I expected.
Before we start math-ing, let's speed date a few insurance terms:
Deductible: How much you'll have to pay out of pocket, before the insurance company starts paying.
Reimbursement level: listed as a percentage. How much of the total bill an insurance company will pay.
Maximum Payout: self explanatory – you'll be responsible for anything above your plan's maximum payout.
Premium: how much you pay each month/quarter/whatever your plan's terms are.
So in The Money Pup's plan above, we're looking at $396 a year, minimum.
Now, $396 isn't bad for total coverage. Not bad at all…
EXCEPT THAT DOESN'T ACTUALLY COVER ANYTHING.
What Pet Insurance Covers
It might be easier to list what it doesn't cover.
With human insurance, if I'm insured and I visit my doctor for an annual checkup, I pay my $20 copay and get on my merry way.
With pet insurance, even after paying $396 a year, I'm still on the hook for:
All exam fees
Medication (heartworm and flea meds alone cost about $200 per year)
Vaccinations
Dental care
Diagnostic tests
Grooming
I could continue…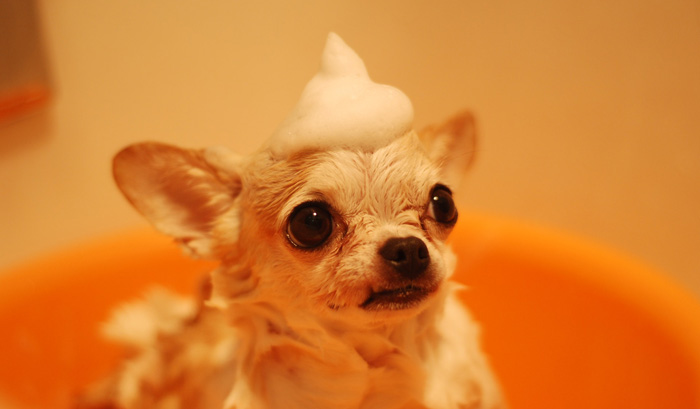 Looking back through my records, the first 6 months of dog ownership cost me $1,300, and approximately zero of that would have been covered by an insurance policy.
Catastrophic Coverage
Now we're getting into the bread and butter of these pet plans. Surely pet insurance has my back here…
So let's imagine a somewhat worst case, yet somewhat common vet bill scenario.
Imagine 'ole Money Pup is having a great time at the dog park, when suddenly I hear him yelp a strange noise I've never heard before.
Worried, I take him to the vet, who shares the bad news: torn ACL… One of the most common and costly procedures a pet owner could get slapped with.
Without insurance, the standard doggie ACL repair costs about $3,000.
What do my costs look like under the above policy?
Total Vet Bill: $2,950
Office Exam Fee: $50 (not covered, remember.)
Annual deductible: $250
My 20%: $540
Amount Insurance Pays for: $2,160 (80% reimbursement, remember?)
My annual premium: $396
Total out of pocket cost: $1,186
In the one instance where pet insurance might be useful, you're still on the hook for more than 1/3 of the bill!
(And the number crunching gets even uglier for any of the cheaper procedures.)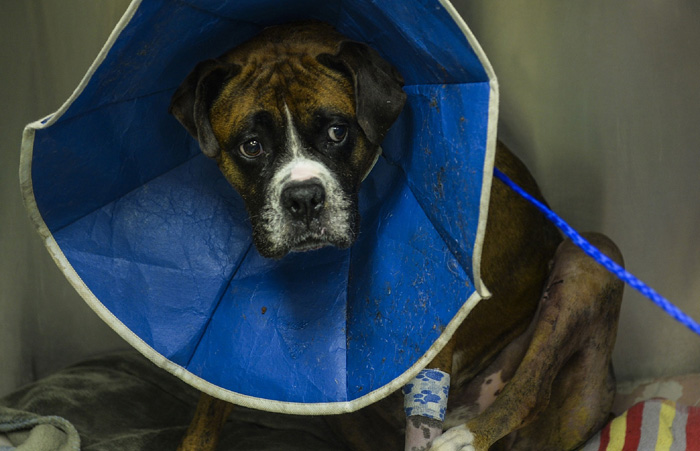 But hey, at least the insurance will help you front the money for those expensive bills.
"Yeah, Pet Insurance doesn't help there either…"
WHAT?? Show me THAT in the fine print…
The Fine Print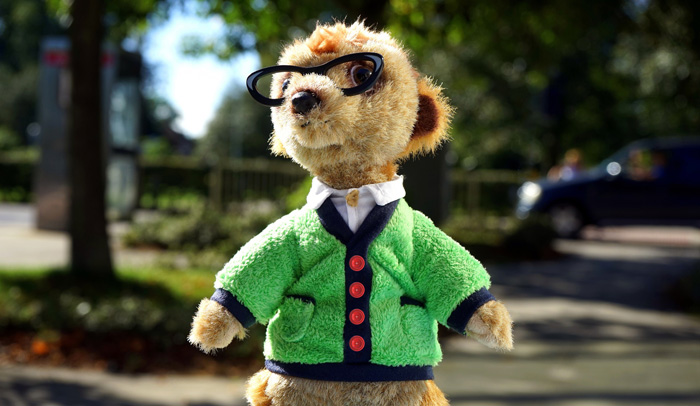 Read through the details of these plans, and you'll find a unique quirk to pet insurance.
It's all ran as a reimbursement based system. So if you're carrying insurance because you think it will help you front the money for an expensive vet bill, I've got some bad news for you.
The way pet insurance works, you pay the costs first, then submit all your receipts to the insurance company. They him-and-haw over the payment for a while, investigate any reason they could get out of paying you, then reimburse your claims "as quickly possible." Which is usually about 2 weeks.
And speaking of reasons they could get out of paying you, prepare to put your lawyer reading glasses on, because these guys have all sorts of weird stipulations included in their fine print:
Claims from a lack of preventative care. Aka, if It's been 366 days (not 365) since your last vet visit, you're S.O.L.
Pre-existing conditions: Even if they're from before you obtained ownership.
Certain injuries within the first 12 months of owning the policy: Now they're just being cheap…
Certain bone or joint conditions: Why not?
Parasites: ???
Diseases preventable by vaccines and medications. Aka, everything?
Okay, pet insurance is starting to look like a racket. A big racket.
Surely we can do better.
Better Alternatives to Pet Insurance
Yes! We can! There are quite a few better options for insurance against animal disaster:
1. Liquid Assets
Liquid assets still remain the ultimate emergency fund.
Index fund holdings can be turned into cash in less than 3 business days. And while human emergencies like job loss could be more likely to happen at a time when those index fund prices are lower, Fido doesn't really care what the economy is doing when he decides to eat a poisonous berry.
2. Vet Office Payment Plans
If it's the upfront costs you're worried about, we already established how pet insurance does little to solve this problem.
Instead, many vet offices will allow repayment plans over an extended time frame. Best to check before Fluffy is laying on the operating table, though.
3. Credit cards
I know, I know, the big ugly. But even a month of full interest on a big vet bill is likely to be the same or less than your annual pet insurance premium.
4. A Healthy Pet
Seems silly at first glance to include this, but a sad majority of cats and dogs are overweight or under exercised, which leads to all sorts of expensive complications.
If your little guy or gal is fat, step up the walks. Whenever he's chewing on something, always supervise. If he's aggressive, be smart in situations with other dogs.
What If I Still Want Pet Insurance?
I won't totally blame you. Because while The Money Wizard's job is to crunch the numbers and make poker-faced decisions on those numbers, I also share my animals with Lady Money Wizard, who would happily mortgage everything to save her animals, no matter the cost.
And while I could afford pretty much any animal emergency thrown my way, having to fork over a five figure vet bill could cause some serious relationship strain for me.
So I can relate to the desire to pass off some responsibility to the insurance company. I'll still self insure for now, but if you do decide to go the insurance route, just promise me you'll run the numbers and find out how much the peace of mind is really costing you.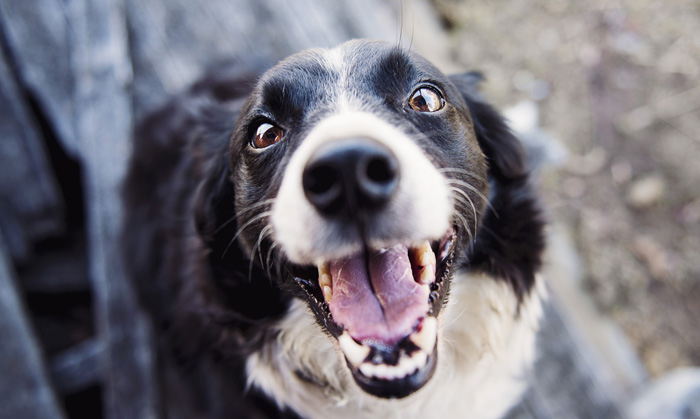 My final suggestions?
Choose a company who's inclusion list doesn't look like a trollface. Nationwide exclusion's are pathetic, while PetPlan's coverage and premiums look to be some of the best.
And remember, we're protecting against that complete freak-of-nature $25,000 bill, not the run of the mill couple hundred dollar procedure.So adjust the maximum payout higher, pick the highest deductible you can stomach, and lean towards the highest reimbursement percentage possible.
You'll probably lose money in the long run, but you already knew that. 😉