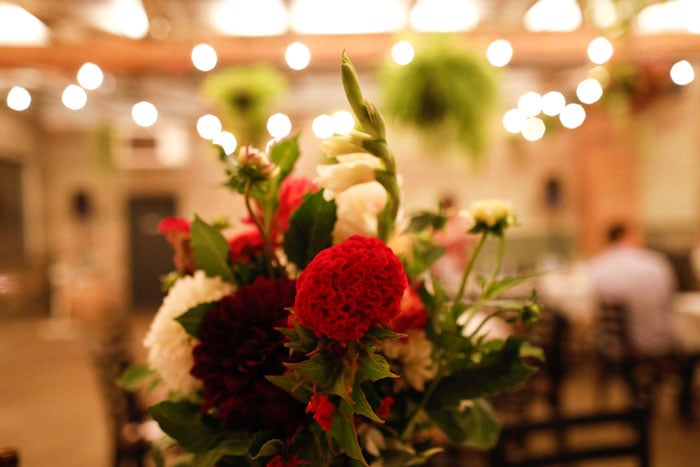 I now pronounce you, Mr. and Mrs. Money Wizard!
Okay, that's not exactly how the ceremony went, but I am happy to report that The Money Wizard is officially hitched!
A brief update on the life of yours truly.
A long, long time ago in a state not-so-far away (Colorado) The Money Wizard met a lady. Lady Money Wizard.
The two hit it off, and a little over a year later, the two moved in together all the way up in Minneapolis.
By the end of year three in the relationship, Lady Money Wizard bought a house. By year five, the two were officially engaged to married.
Wedding date – Summer 2020.
We got to planning, and I wrote a post about how we were planning the wedding of our dreams for just $2,750.
Or so we thought…
Just a few months after writing that post, the world threw our all of our plans a curveball that'd put Sandy Koufax to shame. It was called "COVID-19" and as it turns out, it's pretty hard to get married when all the venues are closed and nobody is allowed to leave their house!
The Original Plan
Originally, we planned for a courthouse ceremony with just our immediate family, after which we'd invite 58 total guests to a tiny little party-boat.
Here was the original budget I'd written about two years ago: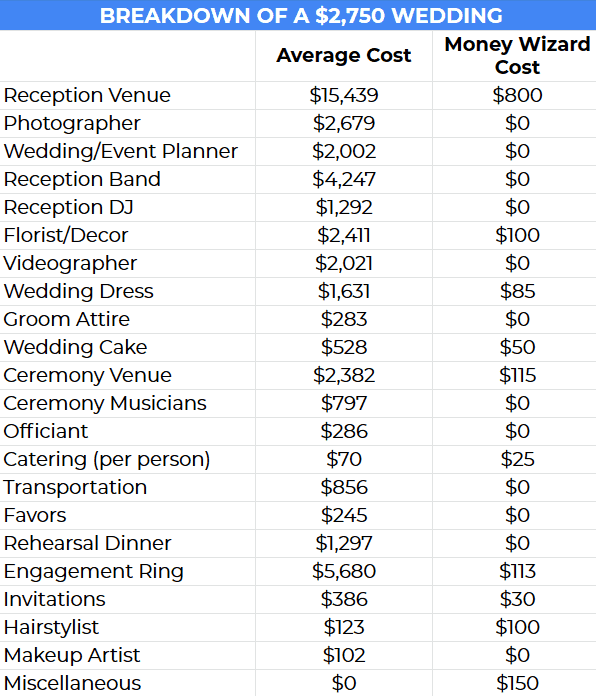 2020 Plot Twist – Wedding Cancelled!
After COVID shut down our original date, we had to go back to the drawing board.
Like the rest of the world, we sat around wondering if things would ever go back to normal. At the time, it was expected to be years before a vaccine was ever ready, and in light of that, I couldn't imagine a worse scenario than getting all my favorite people into one place and then promptly getting them sick.
We wanted people to have a good time, but it was hard to imagine people letting loose at a time when everyone was more concerned with masking up and keeping the 6 foot double-yardstick in check. It seemed like happy wedding receptions were something people got to do "back in the day" – remnants of a bygone era when the world didn't have a deadly virus spreading uncontrollably.
For a few months, we had zero wedding plans. At all.
And then, some hope.
2021 – The party is back on!
2021 turned the corner, and we started getting positive news left and right. Vaccines were rolling out, masks were coming off, and cases were dropping.
After some long talks with our guests, The Party Planning Committee decided this thing might actually happen, but we wanted to make some changes.
We cut the guest list down further, and as awesome as our tiny boat was, it was, well… tiny. Adorable as that is, it's probably not the best for a big event in the middle of pandemic…
We found a local distillery with a big, open party room – plenty of space for people to spread out – and for good measure, a nice outdoor patio.
It'd mean some changes to the budget, though.
But if you remember, we originally planned to side hustle $2,750 to pay for the wedding. Except by this point, that side hustle tally had reached $7,149, so we definitely had some extra money play with.
"Worth it," we said.
So we started booking.
The Big Day
Here's how the big day eventually went down on one cool Summer weekend.
9:00 AM – Photographer takes tons of beautiful pictures of Mr. and Mrs. Money Wizard (plus the pets!) in their wedding attire.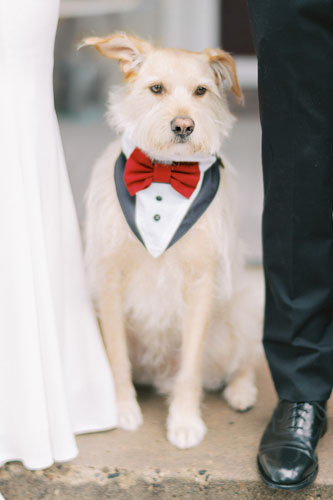 12:00 PM – We meet our family at the courthouse, and the judge pronounces us husband and wife.
12:30 PM – Time to party! We load up on a beer bus which takes our immediate family (about a dozen of us in total) to three of our favorite local breweries!
5:00 PM – The Money Wizard and new wife say goodbye to their immediate family and meet up with some other family in town.
The Big Day Pt. 2
Did I mention this is a two part event?
On the second day, we rallied after yesterday's beer bus and started setting up the actual reception venue.
With string lights hung, plants watered, and speakers tested, we prepped for the incoming parade of catered food.
There was a full taco bar from our favorite local Mexican restaurant, multiple flavors of fried rice from our favorite Chinese and Thai food restaurants, and a gallon or two of my all-time favorite Thai curry, for good measure.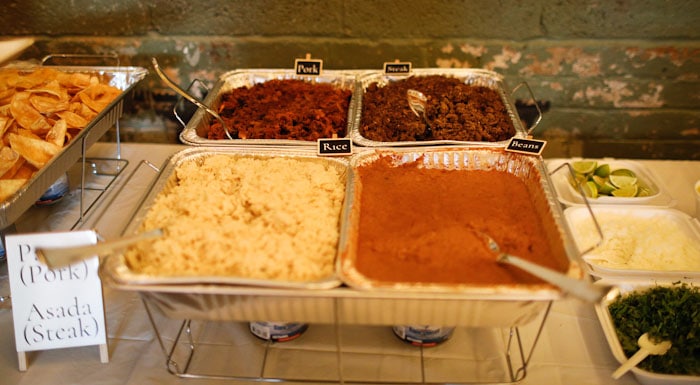 For dessert, we had my favorite glazed donuts in the Twin Cities. And then a surprise late night visit from a New York-style hot dog cart!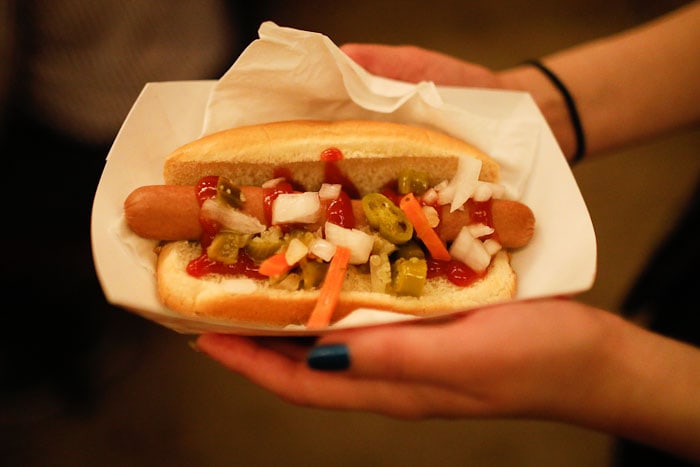 And since all this was happening in a distillery, naturally we had an open bar with 10 different craft cocktails, plus a few coolers of beer. Because why not?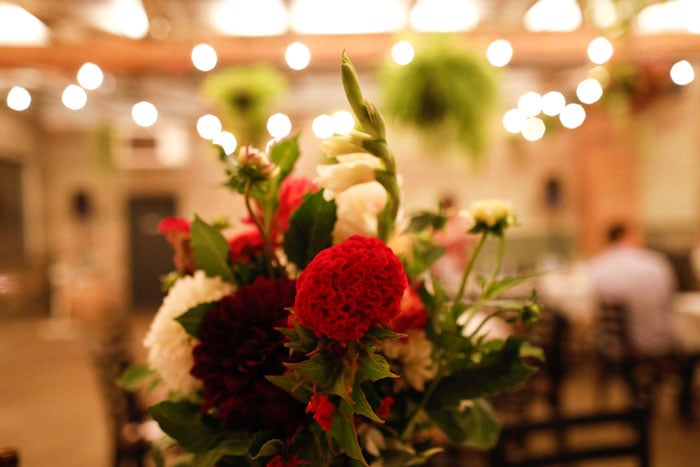 By all accounts, everyone had a grand 'ole time. I know I sure did!
Final bill for all these shenanigans?
Total Wedding Cost – $5,894
I warned you that we blew the budget!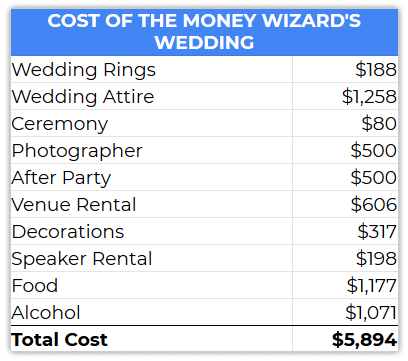 Rings – $188
We had a family heirloom for Lady Money Wizard's ring that only cost $113 to get resized, and I got a $75 piece of titanium.
(Full disclosure, I planned on getting an $8 silicone band from Amazon, but in my typical fashion, I procrastinated and then panicked it wouldn't come in time, or I'd order the wrong size. So I went to the jeweler, who couldn't stop laughing at my lack of prepardness, but happily got me a ring in time.)
PS – I've always got to throw in my P.S.A. that diamond rings are kind of a scam created in 1948.
Wedding Attire – $1,258
Admittedly, a bit of compound spending here.
After we hired the photographer, we realized we wanted some classic wedding clothes, so Lady Money Wizard upgraded her $80 dress to something closer to a grand. Then I realized I didn't want to look like a bum next to her beautiful dress, so I rented a tux for $150.
And of course, the most important part of all – bow ties for The Money Pup, The Money Meow, and The Money Meow II.
Ceremony – $80
It was actually $75, but I didn't have exact change for the courthouse, so whatever.
Photographer – $500
We originally budgeted $0 for this since a friend was doing it, but halfway through the planning we realized we just didn't feel right paying nothing for her talented services. So we insisted on paying at least a discounted version of her usual rate.
After Party – $500
The beer bus!
Originally this wasn't in the picture, but the venue change spread out the event over two days, and it just didn't feel right to tell our guests "See ya tomorrow!" after kissing the bride.
Plus, it just sounded like a lot of fun. So we booked it. Honestly it might have been my favorite part of the wedding.
Venue rental – $606
This was $200 cheaper than our original plans for the party boat, but those savings were a bit of a trap, since we had to upgrade our original alcohol strategy of "beers in coolers" to "beers in coolers + an impressive craft cocktail bar with a private bartender."
Speaking of which…
Alcohol – $1,070
Honestly, less than I was expecting for an open bar of craft cocktails, especially as, in my jolly and slightly inebriated state, I happily encouraged our guests to slam back yet another old fashioned!
We also had a couple of enormous coolers filled with more craft beer than any small wedding party should ever need.
Food – $1,176
As previously mentioned, we got catering from five of our favorite local restaurants:
Full taco bar
Wontons and Chinese fried rice
Thai curry and Thai fried rice
Donuts
New York style hot dog cart
Honestly, any one of those five options would have probably been enough to feed our small group, but we went a little crazy to make sure nobody walked away hungry.
On the plus, I now have a freezer filled with enough fried rice and Thai curry to last me through the next few pandemics.
Decorations – $316
We threw up some string lights and filled the space with tons of plants. (We saved money on the plants by literally growing them ourselves all summer.)
Speaker Rental – $198
Another new cost, since the new venue didn't have speakers like the old one.
That said, we still saved some money by relying on DJ Spotify. The dancing crowds didn't seem to mind.
Final Thoughts – Was it worth it?
Yeah, we blew the budget. In fact, we doubled it!
Although I guess that shouldn't be surprising, considering we doubled the days of the event thanks to COVID curveballs.
That said, the final price tag still came in $1,256 less than the $7,149 that we'd side hustled specifically for wedding spending.
Could we have gone cheaper? Definitely.
The formmal attire, professional photos, big venue, high-end open bar, and more leftover food than I know what to do with were obvious luxuries.
But could we have spent more? You bet!
Even the most splurgy wedding we could muster still landed light years away from the national average wedding price of $30,000 to 40,000. Although had we spent an extra $23,000, I'm not sure how much better the memories could have been.
Either way, I had a blast, and the memories seem pretty priceless.
Might as well have some fun with it!
---
Related Articles: