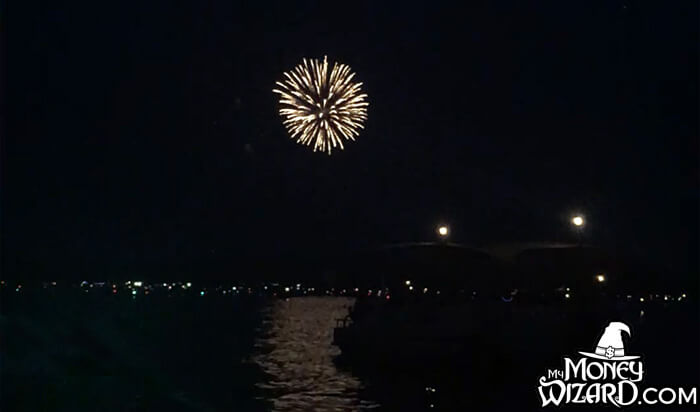 Hey everyone, welcome to The Mid-Summer Classic – another net worth update!
Money tends to be a pretty taboo subject IRL, but I hope that by sharing all my details here, you just might find something helpful towards your own situation. So, every month I share my progress towards a nearly $1 million portfolio and an early retirement by age 37.
This update isn't like all the other months though. Because I just hit a quarter of a million in net worth! We'll get to those numbers right after a few updates from The Money Wizard headquarters.
Regular readers know that I'm nearing the end of a kitchen remodel, which has been going on for so long I'm sure they're sick of hearing it. After our contractor / family friend had to take a couple month hiatus, we've been sitting on a 90% completed kitchen for over a month. The good news? We've cut the final check, so we've finally escaped the ~$13,000 of remodel expenses. The bad news? Our contractor lost all motivation to finish the project once he got that final check, haha!
He's actually making his glorious return later this week, and should be able to knock out the final cosmetic touches in a couple days. Stay tuned for the final update!
In other July news, we got our 'Murica on over The Fourth.
In Minnesota, that means a statewide tradition of heading up to the nearest lake cabin that you can coax your friends and family to letting you crash in. I actually managed to squeeze in two lake weekends with generous friends/family.
The first was packed with all the July 4th festivities you could expect, as The Money Pup can attest: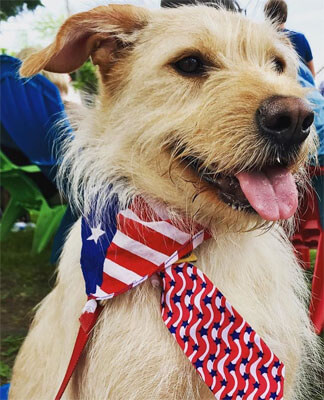 And the second trip was a more relaxing, event-free getaway. There's something about running away from the busy city to the silence of the woods, and staring over the calm lake water. Find yourself a dock and a good book, and I could sink in there all day.
And I did! In one weekend, I crushed through nearly 600 pages across two books.
The first, Dollars and Sense, is written by Dan Ariely, the author behind one of my favorite books of all time, Predictably Irrational. Dollars and Sense takes a interesting look at all the irrationality we have with money (backed up with evidence from behavioral psychology and economics) and then offers the most practical advice for avoiding those traps I've come across.
On round two of my book marathon, I finished Flash Boys. It's a fascinating glimpse into the world of high frequency stock trading, told with the movie-like storytelling skills Michael Lewis is famous for. If we ever needed even more ammo in the case against active trading, the book does a great job explaining how much those of us without multi-million dollar high speed internet connections are just the suckers at the table.
To round out the weekend, we trekked to a nearby town for maybe the most bizarre and interested sporting event I've ever been to. The Lumberjack World Championship!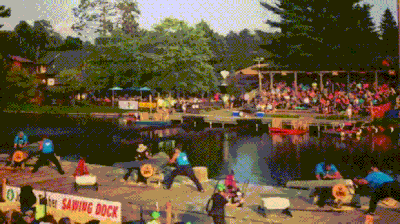 Avid 1990s viewers of ESPN 2 will recognize this event, and I'll just say that watching lumberjacks slicing up giant logs with the ease of a hot knife through butter might be even more addicting in person than on TV.
And on that note, to the numbers!
Net Worth Update: July 2018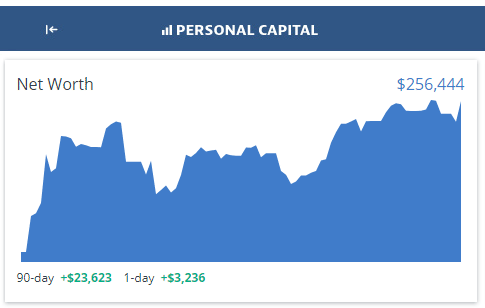 1/4 of a Million!!! Let's check out the details: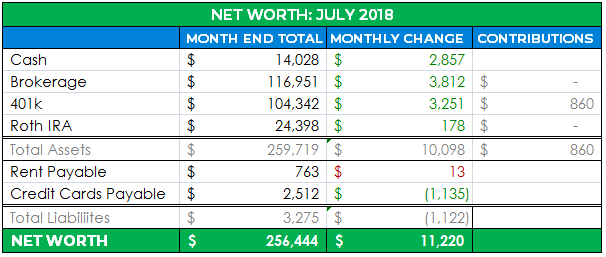 Lots of green across the board! And a crazy exciting milestone.
I'd already reached the staggering realization that with just 5 years of "sacrifice" the investments I've built in my 20s means I'm already set for life. To be honest, I'm still having trouble wrapping my mind around that, and the recent aftermath is even more boggling.
Since I wrote that post, barely 3 months ago, my net worth has shot up another $25,000.
And even crazier, when I wrote the post, my portfolio was expected to grow to $1.5 to $2.0 million by age 60. Now, again just three months later, that same portfolio is expected to grow to $1.6 to $2.2 million by age 60. An eventual $150,000 to $230,000 increase from just 3 more months of savings.
How crazy is that?? The snowball effect of compound interest is seriously blowing my mind, and leaving me even more motivated to continue saving, investing, and building income streams.
Also crazy: when I started the site a few years ago, most monthly increases were $1,000 or so, and the unbreakable record for the longest time was a $9,000 increase, back in December 2016.
Now, I just had an $11,000 month, and the monthly increases seem to keep getting larger and larger. Just goes to show the power of having a large chunk of assets working away for you.
Cash: $14,028
(+$2,857) 
Still building up a cash reserve as I look to dip my toes into real estate investing. I'm hoping to have over $20,000 saved by the end of the year.
Brokerage: $116,951
(+$3,812)
Not making any contributions to my index funds until I build up enough cash to start playing with real estate.
As usual, my breakdown remains:
401(k): $104,342
(+$3,251) 
I've bumped down my 401k contributions to just receive the employer match, which is 7% of my salary.
As discussed in the post where I realized my 401(k) is bursting at the seems, after years of maxing out my 401(k) for the amazing tax breaks, I've shifted my focus towards investments to build cash flow for an early retirement.
Like my brokerage account, the 401(k) is invested in a mix of low fee index funds tracking the US and International Stock Markets.
Roth IRA: $24,398
(+$178) 
I still plan on contributing the full $5,500 to my IRA each year, for the eventual tax benefits.
Credit Cards Payable: $2,512
($1,135) 
As usual, a little inaccurate due to some reimbursable work expenses. So let's take a look at the detailed spending breakdown:
Total July Spending: $1,991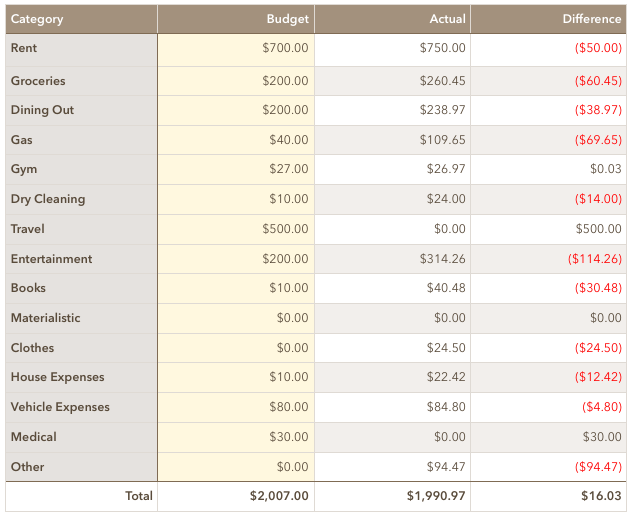 Despite all the red marks, July was a good month!
Rent: $750
My half of the mortgage plus utilities and expected maintenance. For the new readers, I split a house in Minneapolis with my girlfriend.
Groceries: $260
A little over budget this month, mostly likely because of a mammoth $70 Aldi trip on the last day of the month. Hopefully August will be lower thanks to that head start.
Dining Out: $239
Fell back into my bad habit of eating out at lunch. Gotta work on this one…
Gas: $110
Way higher than usual, probably due to road tripping to the lakes.
Entertainment: $314 
Mostly expenses related to the cabin trips, which of course included tickets for the Lumberjack Championship! I also pre-ordered two tickets for an all-you-can-drink August Beerfest, at $50 a pop. I've been before, and it's sure to be a blast.
$250,000 Later…
That's a wrap on the best month of net worth growth since I started this site.
I can remember years ago, reading about $250K and thinking what a crazy huge, unattainable number that was. And yet, just a few years later, I'm there. I still can't believe it.
If you're just getting started, I hope you find this fact more motivating than discouraging. Because believe me, if I can do it, you can too!
BTW – if you're looking to start tracking your own net worth, I still think Personal Capital is the way to go.
Readers, how was your July? 
---
Related Articles: