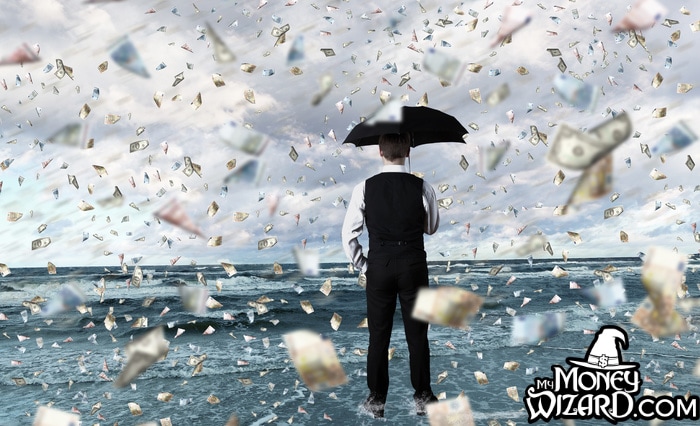 For the past 6 years or so, my money strategy has been pretty simple.
Bust a$$ at work to impress the bosses and line myself up for promotions.
Try my best to productively use free time to side hustle.
And most importantly, spend as little money as humanly possible.
Okay, number three might be a bit of an exaggeration. I'm definitely not Jacob from Early Retirement Extreme (the guy who happily lives of $7,000 a year) but I've certainly exhausted a lot of effort to keep my spending down.
The result is that for the past 6 years, I've consistently saved anywhere from 40-60% of my take home pay.
Coupled with the early start I got on investing, that's a "sacrifice" which, barring a colossal job loss or other life altering event, had re-calibrated my default life path towards leaving my job in my thirties… and still somehow reaching my sixties with a few million in the bank.
And all that was before I found myself with a $15,000+ raise fall into my lap.
As you can imagine, that surprise led me to some serious reflection.
Coupled with the recent holiday break from work, where I spent time with family (and unplugged from this blog for the first time in three years) that reflection morphed into epiphanies. Epiphanies about where I want to go with my life, and what all this money is even for.
Budget Planning Step 1 – Figure out where you are, and where you want to go.
In the past, this was an easy task. I was young, without much of a clue about my future. The only thing I knew for certain was that 30 years in a cube sounded oddly similar to a mandatory life sentence.
So, the budget planning part was easy; I didn't have one. Instead, I spent as little as possible and saved as much as possible.
Now that I'm nearly in my 30s with a portfolio whose value is getting tougher to ignore, the question gets a little more complex.
Three possible scenarios for the future of The Money Wizard
So, I started running doing some planning to figure out what to do with the rest of my left. (No pressure…)
Here's the calculation I kept running.
As a 29-year-old who's frugal'ed his way to a six figure salary and about $29,000 of all-in annual spending, I'm looking at about $60,000 of annual savings from here on out.
Coupled with the $350,000 I've already saved in my 20s, it doesn't take a finance major to realize that's some serious fuel for the fire of compound interest.
1. The default path – mega millions.
Warning: oversimplified predictions ahead, using neat and clean average market expectations. If the economy gets wild along the way, I'd obviously reevaluate.
For fun, I started off wondering what would happen if I just gutted it out until age 62, like so many of my fellow Americans.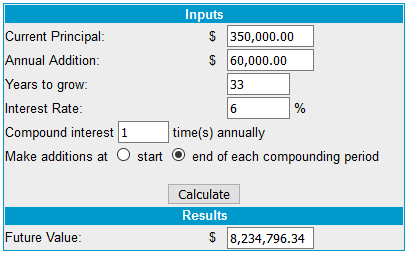 Whoops, $8.2 million dollars. Or assuming a 4 percent withdrawal rate, at least $328,000* per year in retirement. While still giving any future offspring enough inheritance to completely ruin their lives.
That seems totally overkill. Let's try again.
*Yes, this even accounts for inflation!
2. Retiring at age 35. (With a few options)
To avoid three decades of indentured office servitude, what if we push that retirement goal up to age 35?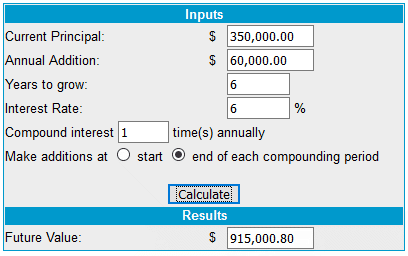 Now we're looking at a still healthy, yet much more mortal portfolio of $915,000.
Which, at a 4 percent withdrawal, would be enough to produce $36,600 per year in passive income.
If I found a hobby job that made enough to cover my expenses (a salary of about $40K a year, aka $20 per hour) I could avoid even avoiding touching that $915,000 stash entirely. Off the top of my head, I could get pretty close to that income with some freelance writing, growing this blog, coaching a high school baseball team, bartending, or whatever else captures the imagination of a bored 35 year-old retiree.
If I let the $915,000 ferment, it should bubble into $4.4 million by age 62. Aka, still more money than I know what to do with.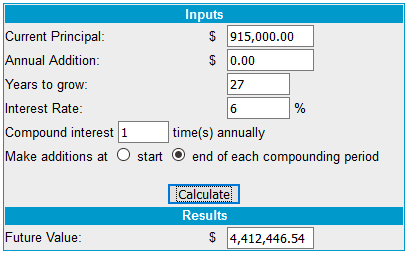 3. Still aiming for 35, but living it up a little on the way.
For fun, I reduced my annual savings for the next few years, from $60,000 to $50,000.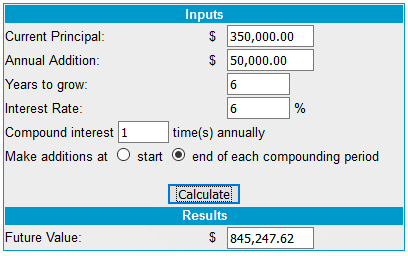 In this case, my $915,000 early retirement stash falls to… a surprisingly similar $845,000.
Now that's interesting…
The difference becomes a little more noticeable if I let the $845K compound while I stay hobby-employed for another few decades. That would mean reaching age 62 with a couple hundred thousand dollars less. ($4.07 million instead of $4.41 million)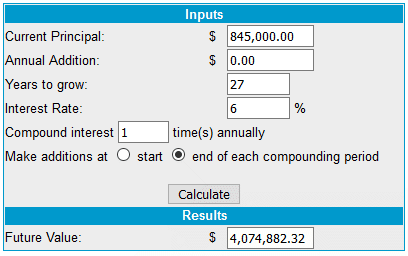 But it still leaves the gaping question…
Will my life be any different if I'm a 35 year old with $915,000 instead of $845,000? Or a 62 year old with $4.4 million instead of $4.1 million?
I really don't think so.
On the other hand, reducing my saving from $60K to $50K over the next several years (aka, increasing my annual spending from $29K to $39K) would be a colossal shift. It'd be a massive 35% increase in my annual spending.
Even more, because I'm holding my housing expenses constant, that means an increase in annual discretionary spending.
To use up $10,000 of discretionary spending, we're talking multiple thousand dollar vacations, massive nights on the town, the highest quality groceries money can buy, and I don't even know what else, because it's such an unfathomable number to me.
What's going on here?
I can hear what you're probably thinking.
"Uh, Money Wiz… haven't you spent the last three years writing about how every dollar matters, because of how powerful compound interest is?"
Yes, and aside from that little diversion about blowing thousands of dollars, I think this unexpected result is actually more proof of that.
Because I've focused on saving so much for so many years, the money that I've built in my 20s is starting to have some serious momentum. The snowball is in motion, and with three decades of compound interest still ahead of it, it doesn't seem to matter if that snowball has to run over a tree or two along its path. It looks like it's just gonna continue getting bigger and bigger, almost no matter what I do.
What's this really mean? That what we've always talked about continues to hold true. You want to save up as much money as fast as you can. Because as you do, you continue to build freedom and create options for yourself.
One of those options for myself, apparently, is to actually increase my spending. Or not. Neither path seems to have a huge impact on how much snow continues to build.
Obviously, if I moved out of our modest house and decided to lease a Lambo, I could derail the snowball. But otherwise, it seems like the day to day expenses don't have nearly the impact on my future as they used to.
This would also be a different story if I was absolutely racing to early retirement as fast as possible. But I never have been. The Early Retirement Extreme types already proved you can retire in about 6 years once you hit around $250,000 in savings… if you're willing to live on $7,000 a year.
This blog has always been about a different experiment – walking away from work, while maintaining a totally normal lifestyle. And even occasionally splurging on the expensive stuff, if it truly makes you happier.
In other words, taking the scenic route. The one filled with amazing mountain views from a ski vacation or two, or whatever else it is that you decide is actually worth your hard earned dollars.
How this impacts my planning for 2020
Those were all the things running through my mind as I sat down and planned out my 2020 budget.
Quickly into the process, I realized there was probably no way I was going to be able to spend an extra $10,000, short of picking up a drug habit.
I also realized that in the past, thanks to hedonic adaptation and the nature of consumerism, the rush of buying a new TV or iPad usually wears off pretty quickly for me.
So instead, if this spending experiment has any chance of success, I need to create some rules on what sort of things I should strategically spend my money on. And that thought immediately leads back to square one, where you have to ask yourself, "What's the purpose of money, anyway?"
That answer, as far as I can tell, always goes back to freedom.
The most obvious example of this is building a huge cash pile, which can be used to create enough passive income to let you do whatever you want with your life. Meaning any time you spend money, you're essentially trading dollars today for less freedom in the future.
Taken to the extreme, this mindset can have you depriving yourself of all spending, in favor of living life "one day."
Taken to the other extreme, you can live shortsightedly, spending all your money today while wrecking havoc on your future.
The answer then lies somewhere in the middle. There's a balance between saving for the future and spending for today. You just have to make sure you're getting a good deal in the freedom trade…
For me, that means using money on things that:
Buy time.
Build health.
Create a memorable experience.
So in the end, this is the balance I settled on…
The Money Wizard's 2020 Budget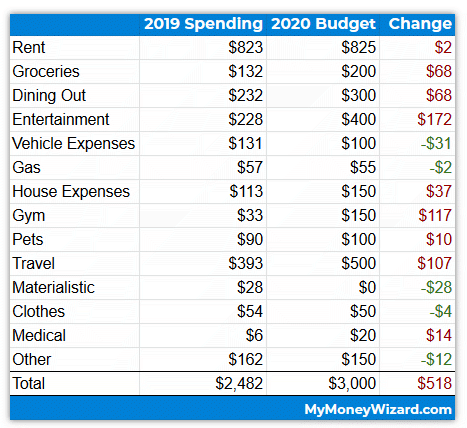 Rent: One of the great things about buying a house is that you mostly lock in your cost of living. So, there's very little change to this category year over year.
Groceries: A friend recently gifted me a trial to EveryPlate.com, which is HelloFresh's value conscious meal-delivery service.
I've tried the meal delivery thing before, and wasn't all that impressed. At $10+ a plate, I'd rather just grab some takeout on the way home.
But EveryPlate comes out to $6.33 per plate, which is decidedly cheaper than even the cheapest Chiptole bowl. And cheffin' it up with a new recipe is actually really fun!
Because it actually checks all three of my splurge boxes, I figured this might actually be a service worth giving a shot.
It removes a chore (meal planning/grocery shopping) that otherwise eats up a few hours a week.
It builds health, since a home made meal is definitely better than another takeout run.
And it creates a memorable experience, since Lady Money Wizard and I like to play chef/sous chef whenever we get one of these meals.
Dining Out: Increasing the budget about $70 a month here, which is basically equal to one fancy meal a month.
Because we really enjoy our dinner dates, this taps into a sense of freedom for us. Freedom to transfer an ordinary meal into a memorable experience together.
Obviously, you've got to be careful with this. Even the nicest restaurants too frequently can have you adapting to a new normal, and before you know it those special dinners will lose their appeal. But once or month or so, and I think we're still on the right track.
Entertainment: Increasing the budget $170 a month here. To be honest, I'm not even sure what I might spend that on. But this one's about creating experiences, although considering all the awesome things in this world for cheap or free, I wouldn't be surprised if I come in noticeably under budget here.
Vehicle Expenses: I don't anticipate any major maintenance on the Mazda 3 (knock on wood). As long as I don't lose another $300 set of keys this year, $100/month should be plenty for insurance and oil changes.
House Expenses: I've gotten some flak for my cleaning service before, so… time to up the frequency! A younger version of myself would laugh at my current self for this one, but this is definitely a service that straight up removes a chore and buys time.
If I was using the free time to binge Netflix that might be one thing, but most often, I use it to crank out a post and grow this blog. Money well spent, IMO.
Gym: I still love my $33 gym membership, but I'd like to explore other options as well.
I dipped my toes into this when I hired a running coach to help me learn proper form and avoid injury.
I'm also curious about some add-on workout classes. (Yoga, Kickboxing, etc.) We've tried a few and they certainly seem to encourage us to drag ourselves to the gym.
It seems like in the grand scheme of things, not batting an eye at thousands of dollars worth of dinners/travel/experiences, yet trying to reach maximum frugality on the exercise regimen seems a little misguided. Then again, this sort of logic is certainly compound spending in action, so we'll see.
Travel: I've found fancy hotels are usually completely overrated, so I don't see the value in going too wild with this category. Time off from work, not money, seems to be the only limiting factor in how much I enjoy my current vacations.
That said, we do have a honeymoon coming up, so either way, I figured this number would jump up this year.
Pets, Clothes, Other: Don't really expect any changes to these.
Materialistic: I just don't get the allure, so I'm still budgeting a whopping $0 a month for this. I'd much rather shift my spending towards any of the other categories.
Will Spending an Extra $500 a month actually improve my life?
We'll see. Maybe it will be some of the best money I've ever spent. Or maybe I'll decide a lot of the splurges aren't worth it, or I'll otherwise come way under budget.
So far, I've experienced both. To start the month, we added an EveryPlate subscription to our grocery plans, and we've loved it so far. On the other hand, we tried out a "luxury" gym trial, and felt that paying an extra $100 a month for chandeliers in the lobby was just ridiculous. (It turns out the experience of lifting a weight is surprisingly similar wherever you are, even if the locker rooms are lined with rare mahogany wood.)
The quote I'm living by in 2020:
Everything in moderation. Including moderation." -Ralph Waldo Emerson
To me, that means the key to happiness is balance. A million dollar home and constant luxury isn't balance, and neither is endless frugality.
There's a time to splurge. Just double check the value first.
Here's to a year-long experiment!
PS – My favorite free tool for tracking your spending continues to be Personal Capital. The free software allows you to automatically see all your accounts in one place, and generates nifty spending reports so you can easily stay on top of your money goals.
---
Related Articles: