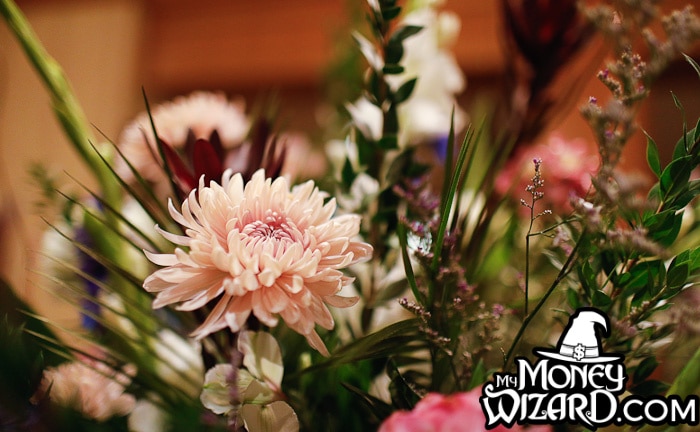 Hey all!
Long time no see.
I'll apologize upfront for my MIA-ness.
All of the sudden, we were already halfway through September, and I still hadn't published the August net worth update!
I believe this officially makes me the most behind I've ever been on the blog. But I have a good excuse for this one, I promise!
Before we get started, I've got to introduce the new readers to the whole idea of these net worth updates. Every month, I track and share my progress towards my goal of financial freedom. I am aiming for about $1 million in liquid assets, which is a number I think will allow me to walk away from mandatory work forever.
I hope that by sharing these numbers, I might inspire others. (Or at the very least, provide a cheap source of entertainment.)
I'm currently 31 and counting T-minus 4 years until I pull the plug, so let's look at the latest progress!
Life Update: August 2021
Well, this is a big one…
Lady Money Wizard and I got married!
After a 7-year relationship and a two year engagement, (thanks, COVID) the two of us finally tied the knot!
I'll have all sorts of juicy details about the wedding in a dedicated article, especially since I owe everyone an update about whether we stuck to our absurdly low wedding budget of just $2,750. (You'll get a teaser in the spending report at the bottom of this update, but spoiler alert: we blew the budget!)
For now, I can just say August was a wild blur of getting everything ready for the big day. Of course, it doesn't help that I'm a procrastinator by nature, so our "wedding planning" included me almost forgetting to buy a ring and the two of us definitely forgetting to bring the very important marriage license to the courthouse.
Maybe I'm naive, but I was also surprised just how much work goes into throwing even a modestly-sized party. And I don't even know what I'm complaining about… our total guest list was well below 50 people.
(Respect to anyone who hosts one of these 100-300 person mega-weddings. You people are bosses. Or psychopaths. I'm still not sure which.)
No worries though… the whole thing was a blast, and I'm definitely excited to start this new phase of life.
Stay tuned for some updates about all the wedding details, plus grown up stuff like combining bank accounts and a re-evaluation of where we stand on those early retirement goals, now that there's officially two people on Team Money Wizard.
Net Worth Update: August 2021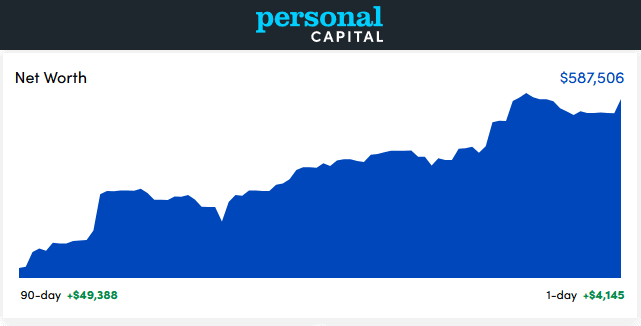 Of course, this is more like "Net Worth Update: August and half of September 2021" but that's what happens when this website's only employee spends the first half of the month completely unplugged on a Hawaiian beach.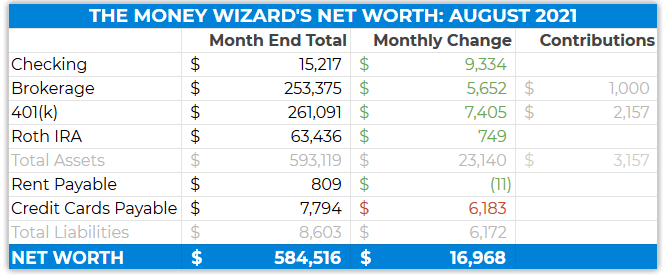 Lots of changes that I'll explain below, although most of the really crazy movement seems to be a product of this being an update for the past 1.5 months, instead of our usual 30 day window.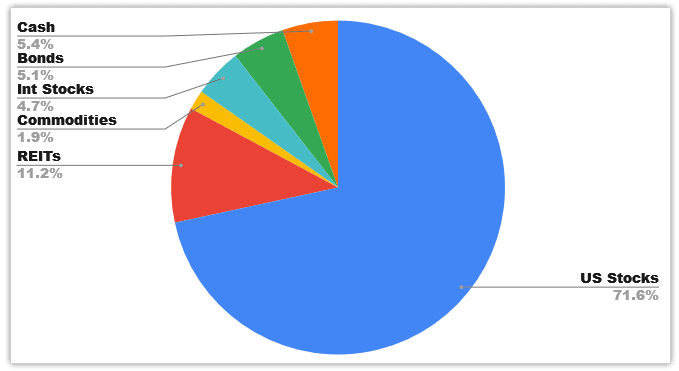 Checking: $15,217
(+$9,334)
A massive increase for a few different reasons.
This is 1.5 months of gain, so there's an extra paycheck or two in there.
I have a massive credit card bill that hasn't come due yet, so the cash balance should fall hard next month.
Despite our most sincere "no gifts" policy at the wedding, we did get a couple wedding gifts. Those old grandparents can be persistent!
Brokerage: $253,375
(+$5,662)
$1,000 of contributions this month, and the rest is market gains. I did set up those automatic Vanguard contributions into VTSAX, and I've gotta say it's pretty awesome to have your money automatically invested for you while you're busy getting married, or whatever else life calls for.
For more info, read my article Create a Wealth Building Machine by Automating Your Finances
You can also read previous net worth updates to see a more detailed breakdown of my brokerage account, but it's mostly just boring old index funds, plus some silly investments from when I was a teenager.
401(k): $261,091
(+$7,405)
I max out my 401k to the full IRS-allowed $19,500 each year. So, given the timing of this update, I think there were actually three (or possibly four) paychecks worth of contributions here.
Those contributions are still broken down as:
50% S&P 500 Index Fund
30% Small Cap Stocks Index Fund
20% International Stocks Index Fund
Roth IRA: $63,436
(+$749)
Just market movement here, since I maxed this one out in January. The portfolio still includes:
Vanguard's REIT Index (VGSLX) – about 75%
Vanguard's International index (VTIAX) – about 25%
I talk about why I like VTIAX more than VFWAX here.
Credit Cards Payable: $7,794
(+$6,183)
The big one!
Loooots of wedding spending (and honeymoon spending, but we'll get to that in the September update) included here.
It is especially worth repeating in a month where the credit card balance is unusually large: I never pay credit card interest, and you shouldn't either.
I'll include a total breakdown of the cost of the wedding in another article, but for now here's a glimpse at August's overall spending:
Total August Spending: $7,820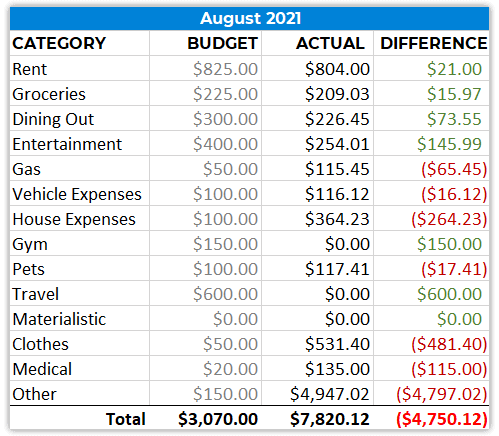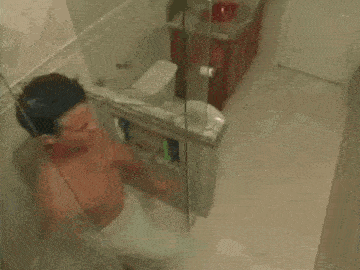 A new record!
Is it even worth discussing any category except for the "Other" category?
In August, that "other" category translated to the "Wedding" category. That said, it's too much to cover here, so stay tuned for a whole post about this.
Otherwise, I did go a little crazy in the clothes category. Here's what happened…
In preparation for the wedding, I tried on my trusty business suit, which for the past decade has been my wingman through college interviews, formal work meetings, and the rare suit-worthy event. After taking one look in the mirror, I just had to laugh at how much it didn't fit.
No worries, I thought, I'll just bring it to the tailor….
And that's what I did, except the tailor took one look at me, looking me up and down on a single pass, and simply said, "You need a new suit."
As it turns out, the healthier lifestyle of COVID work-from-home has changed my body type a bit, and my suit was beyond salvaging.
In other words, that tailor slapped me in the face with the epiphany that I might actually need a new wardrobe.
To the mall I went, and $500 later I'm a little better set up for looking presentable. Although I do still need that new suit…
How was your August (and half of September)?
Apologies for the update being so late this month. We'll have lots of fun new content coming out soon!
PS – If you're serious about tracking your net worth, here's my favorite tool to do so.
---
Related reading: