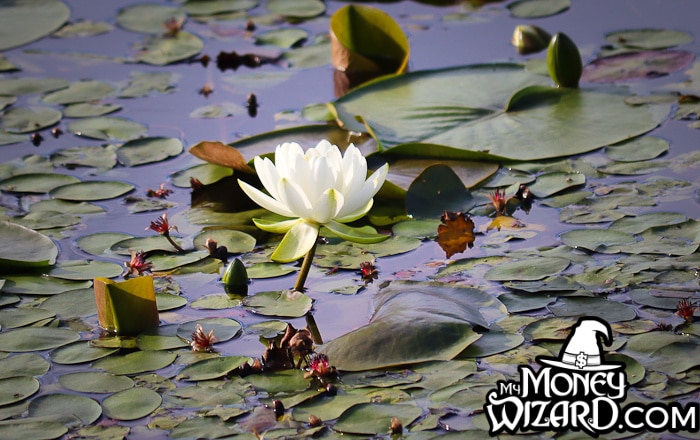 Well folks, we're officially halfway done with 2021.
If you met that sentence with a "WTF?" and a double check of the calendar, then I'm glad you and I are on the same page.
So, now's probably a good time to check on the latest portfolio progress.
If you're new here, every month I track my progress towards my goal of about $1 million in net worth. I'm hoping that amount will let me leave my white collar office job within the next 4 years.
*As always, I am not an expert or financial advisor, so nothing on this site should be considered financial advice. These are just like, my opinions, man. Always do your own research and consult a professional.

Life Update: June 2021
Some of my least favorite trends on the internet are those Instagram influencers who like to pretend their lives are all rainbows, sunshine, and rainbow sunshine cocktails.
In an effort to rebel against that unrealistic fantasyland, I'll be honest with you. In June, I didn't do a whole lot.
I can pretty much sum up the month into three main categories:
Grinding out that work-from-home life.
Working on chores around the house.
Meeting up with a few friends for some low key hangouts.
That repetition aside, the most exciting part of the month was probably putting the finishing touches on our wedding plans, which are now slated for August/September. Exciting stuff indeed!
Although that also reminds me that I need to do some research on the best way to combine finances and all that other grown-up stuff.
Back to the grind!
Net Worth Update: June 2021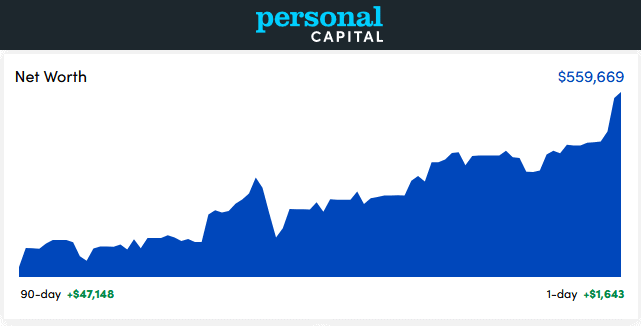 Financially, June was a home run.
Pretty much every category was up across the board: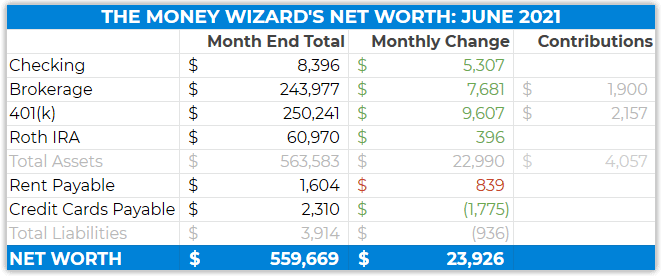 It was all fueled by a 2.7% monthly increase to the stock market, which was mostly fueled by the economy adding back jobs, economic prosperity, blue skies, and just a teeny tiny bit of inflation, at least according to the government's economists.
I've got my fingers crossed they're right and didn't accidentally mess up the inflation calculation.
In any case, the biggest monthly change to my portfolio was an increase in my cash amount, from 3.4% to 4.2%: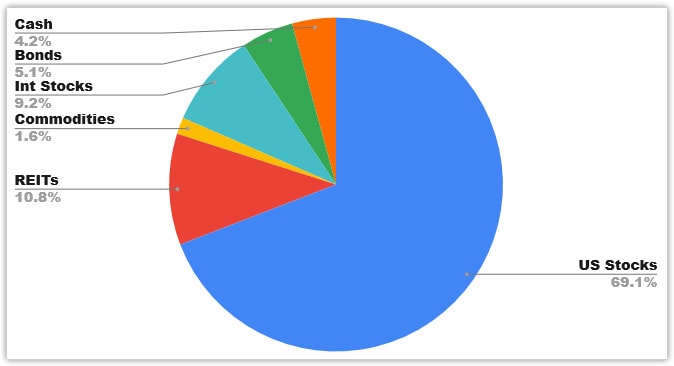 Checking: $8,396
(+$5,307)
The bad news is that I already failed my goal of keeping the checking account below $5,000.
The good news is that now I get to go on an investment buying spree. After I finish this post, I plan on transferring a decent chunk of this into VTSAX and maybe a little bit into bitcoin for the funzies.
Brokerage: $243,977
(+$7,681)
The brokerage account outperformed the market, earning about 3.2% on the month compared to 2.7% for the SP&500.
While I'd love to say that's because of my stock picking genius, unfortunately stock trading is for suckers. So this is just a matter of having a slightly different composition of index funds.
401(k): $250,241
(+$9,607)
It's crazy to see the continuous effect of maxing out your 401(k).
This month saw another $2,200 automatically invested through my personal contributions and employer matching, and the lump sum behind those contributions is starting to build some serious momentum.
Those contributions are still broken down as:
50% S&P 500 Index Fund
30% Small Cap Stocks Index Fund
20% International Stocks Index Fund
Roth IRA: $60,970
(+$396)
The Roth holding strong at barely above $60,000.
The portfolio itself is still about 75% VGSLX and 25% VTIAX.
I talk about why I like VTIAX more than VFWAX here.
Rent Payable: $1,604
(+$839)
Like a true deadbeat boyfriend, I forgot to pay Lady Money Wizard her rent last month. So this is actually two month's worth of rent. Thankfully, she hasn't kicked me out yet.
On another housing-related note, stay tuned for next week's article. By popular demand, I'll explain why I don't include the house in my net worth.
Credit Cards Payable: $2,310 ($1,775)
Glad to see the credit card down to a more reasonable amount this month.
For newer readers, I never, ever, pay credit card interest. If you have credit card debt, that's one of the first places you should invest your money.
Total June Spending: $2,328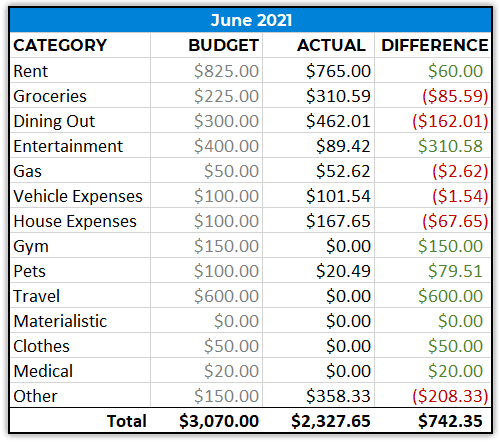 Wow, way under budget again this month, which surprised me. I guess those old quarantine habits die hard…
Dining Out: $462
Pretty much all the damage was done in just two $150 meals. But hey, they were delicious, and in these days of ultra-low spending, I'm not too worried about it. You can drive yourself crazy scrutinizing the details; sometimes it's best to take a step back and look at the big picture.
House Expenses: $167
We went a little wild on the garden in June, picking up all sorts of new plants, bark mulch, and even bird feeders. At this point our backyard is doing a pretty good job impersonating a National Forest, so we're probably set for the season.
Other: $358
I bought some gifts for friends, which oddly has become one of my favorite ways to spend money these days.
Gag you with a spoon right? But it's the truth, I swear!
How was your June?
And more importantly, how was your first half of the year!?
Hope you're doing great!
PS – If you're serious about tracking your net worth, here's my favorite tool to do so.

---
Related articles: