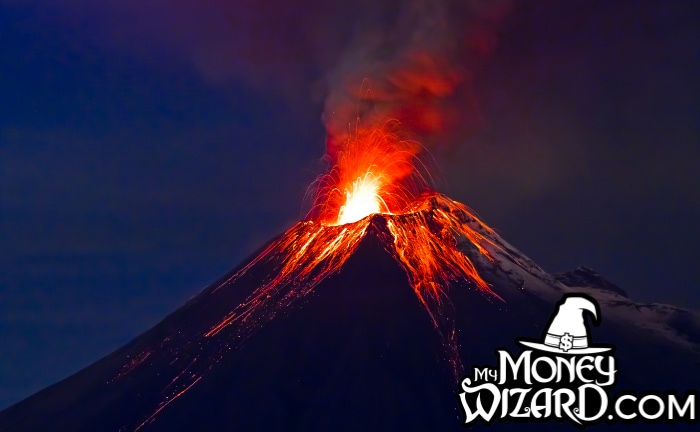 One of the most common complaints about investing your way to wealth is that it's too long of a grind.
As the story goes, you have to scrimp and save your way for YEARS, supposedly ruining your life in the process, if you ever want to get rich without hitting the jackpot.
I only have two responses to that.
Here's the truth most wealth "gurus" won't tell you.
To be set for life, you really only need to save seriously for 3-4 years. (And you can do so on an average salary…)
Sounds crazy?
Sounds like a get rich quick scheme?
It's not.
It's just about generating what I call a "savings explosion."
You only need one or two of these explosions to be truly set for life. From there, it's just simple math dashed with a small dose of patience.
The Secret Power of a Savings Explosion
Think about it this way:
The average person saves about 5% of their income each year.
The average income is about $50,000 per year.
Therefore, the average person saves about $2,500 per year.
If this is you, I hate to break the bad news. You might never reach a million bucks.
At average stock market returns, investing $2,500 per year ends a 40 year run with $534,000.
Nothing to sneeze at, sure, but in this case, the common complaint about building wealth being a slow, treacherous grind is absolutely true.
But it doesn't have to be this way.
Now imagine you make some significant life adjustments. You opt for a cheaper place to rent or own, eat out less, or trade the overpriced car for something resembling a lovable beater. (The Big 3 Expenses are really the only ones that matter)
Maybe you even throw in a side hustle for good measure.
In any case, you go wild. You save like a madman. And FOR JUST ONE YEAR, you manage to save $35,000.
(A whopper of a number, but this is actually similar to the amount of money I was saving shortly after I got my first $50,000/year salary.)
Here's the important part: If you were saving $2,500 a year and then somehow manage to save $35,000, then BOOM! You just saved 14 yeas of savings in a single year.
You just had a Savings Explosion.
This is how you generate serious wealth.
With a little bit of temporary sacrifice (which probably wasn't that much of a sacrifice, anyway…) you just bought 14 years of freedom.
Or did you?
How one saving explosion can actually get you 1/3 of the way to retirement
One of the more popular posts on this site is the chart I made showing how much every $1 you invest is worth at age 60: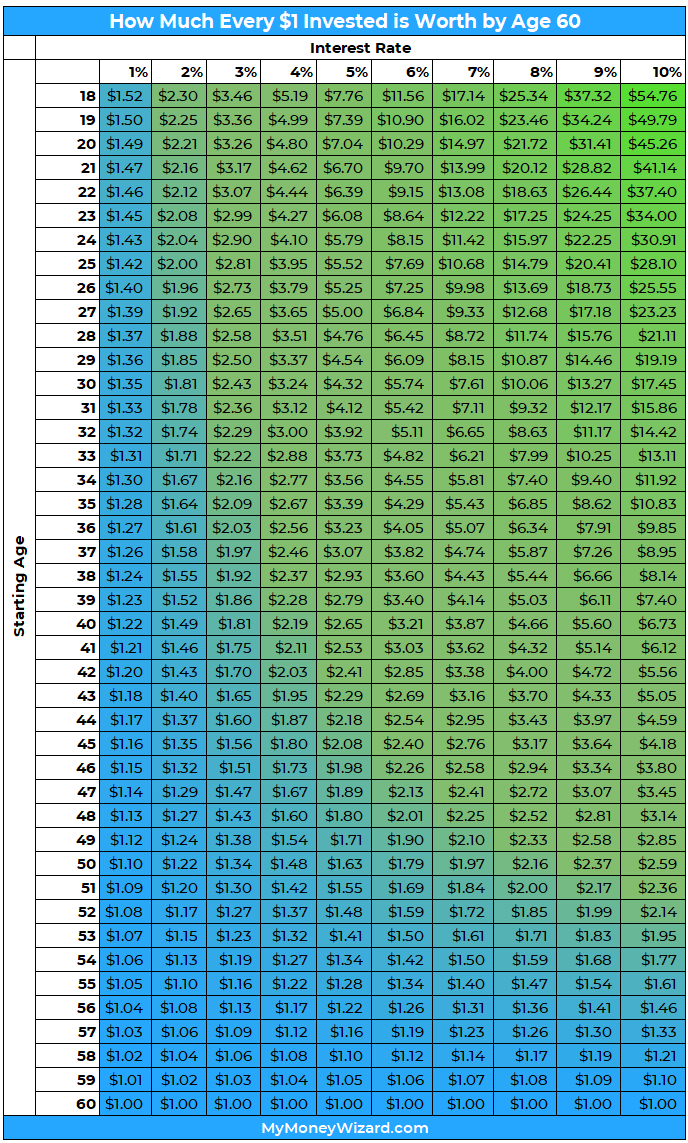 Let's run through our scenario again, remembering that each $1 you invest at age 25 is worth about $11 by age 60. ($10.68, assuming 7% returns)
That means one single $35,000 savings explosion at age 25 adds $373,800 to your portfolio by age 60!
By scraping together $35,000 early in life, you're 37% of the way to a million bucks!
String three of these years together and you just built a $1,121,400 retirement portfolio.
Three years is nothing! Especially if you're young.
In your mid-20s, you probably just spent the past four years living a vagrant lifestyle between college dorms and grungy apartments. From there, if you score a well paying job out of school (or even a below average one, supplemented with some side hustle effort) and just don't go crazy with your spending, you could be set for life in less time than it took you to knock out your core credit hours.
After that, you'd never need to save another penny again, if you didn't want to.
You could literally spend your days living it up, blowing through every dollar you earn, and working whatever dream job you'd like, so long as it put food on the table.
That sure doesn't sound like a long grind to me…
How realistic is it to save $35,000 though?
Good question, and I'll answer it with another question.
How badly do you want financial freedom?
I don't know about you, but I want it pretty bad. Which is probably why I came out of the college gates swinging, saving anywhere from $20,000 to $30,000 per year.
Sure, I had a good paying job. (About $50,000 salaried) But it should also be noted that I wasn't exactly setting frugality world records, either.
I rented my own apartment (didn't even have roommates) and did quite a bit of traveling. I also barely earned a penny from side hustling – Uber, Upwork, and the gig economy barely even existed back then. (Does that make me a dinosaur? 😱)
There's no doubt in my mind that anyone ambitious enough could sock away this wad of cash, pretty much no matter their income.
It should also be noted that $35,000 isn't the magic cutoff, either.
You're free to go at this challenge at your own pace. Say you "only" manage to save $15,000-$20,000, which is still awesome. You could still build a future million dollar portfolio in just 5-6 years.
From there, you can coast through life, doing pretty much whatever you want. You never have to stress about money ever again, because you know you already took care of the heavy lifting.
How amazing is that!?
Start a savings explosions now!
Really, the biggest advantage of all is simply starting early.
Interestingly, that advantage of time can also override just about any earnings advantage and/or disadvantage.
And here's the best news. Today is the oldest you've ever been, but it's also the youngest you'll ever be.
Meaning there will never be a more advantageous time in your life to create your own Savings Explosion!
Do you enjoy my free blog? Share this article on your favorite social media or take advantage of free, awesome products like Personal Capital or Rakuten using this site's affiliate links. (Like those two links!) Thanks for keeping this place alive!
---
Related Articles: