Money Wizards,
Welcome to a new net worth update in a new decade.
We livin' in the future…
Speaking of new, if it's your first time here, I track and share my progress every month. The end goal is financial freedom by age 35. I'm currently 29 with a few hundred thousand to go, so let's check out the latest progress.
Life Update: January 2020
January was such an action packed month that I'm gonna switch into lazy blogger mode, and let most of the talking come from the tons of pictures I took from all over the country.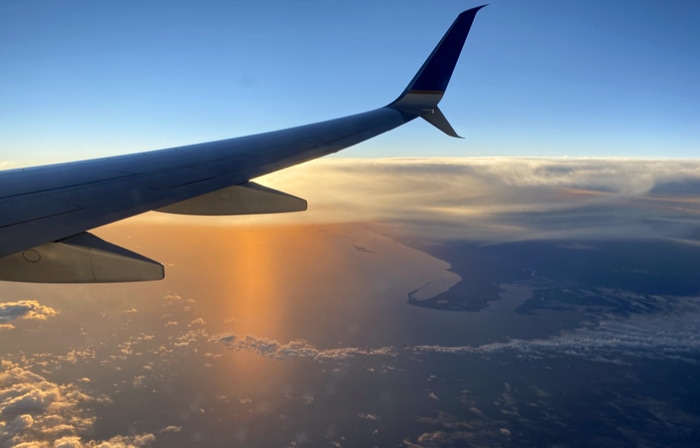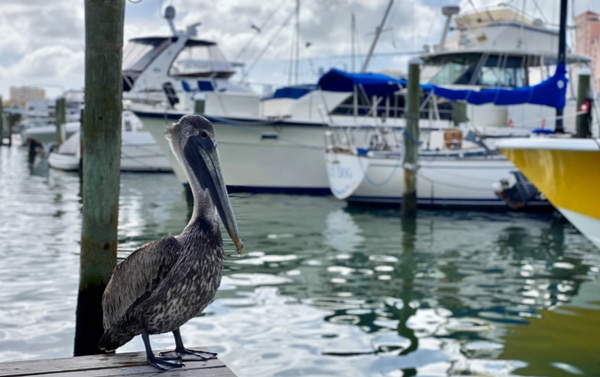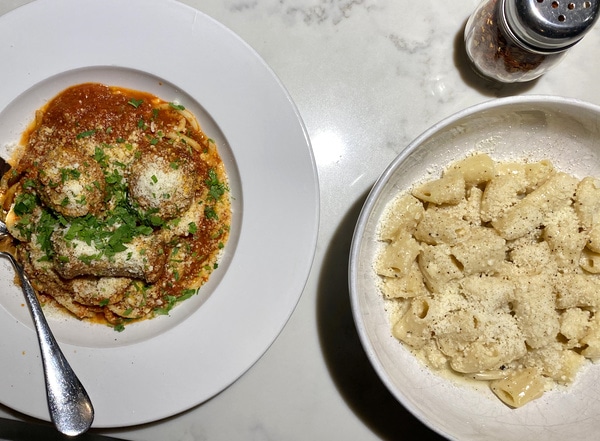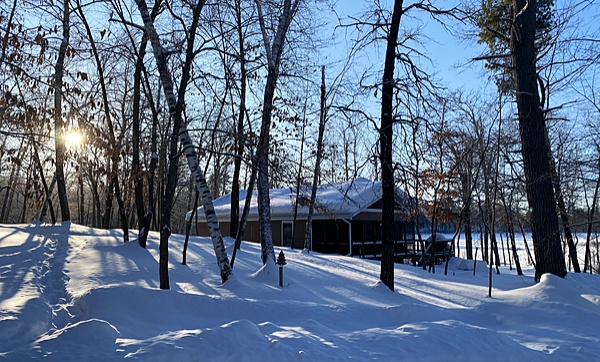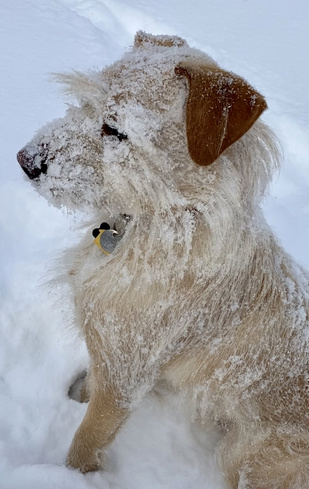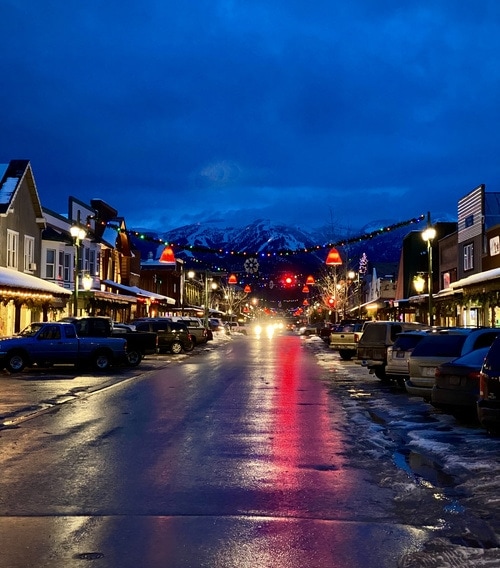 (PS – If you're curious for a full-length trip report that only the truest of ski geeks could sit through, I recently launched a ski blog to document those trips! You can find the entire Whitefish trip report here.)
I followed that trip up with a, wait for it… twenty-five course tasting menu as an encore celebration for Lady Money Wizard's special occasion. Unfortunately, I was too busy devouring all those delicious courses to bother with the camera.
And then, fully inspired by the idea of a tasting menu, we decided to host a wine tasting and pasta night at our house.
The frugal twist? With our upcoming $2,750 wedding, we focused the tasting entirely on affordable boxed wines that we could BYOB to our reception.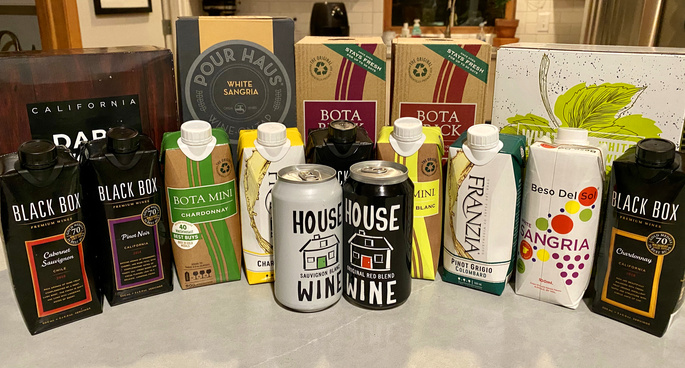 And within those cheap wines, we found some really fantastic options! What's the old saying… price is what you pay, value is what you get?
We made all the pasta ourselves, which was not only as cheap as the price of eggs and flour, but frankly, absolutely blew the socks off even the most expensive Italian restaurants in the city. And a ton of fun, too!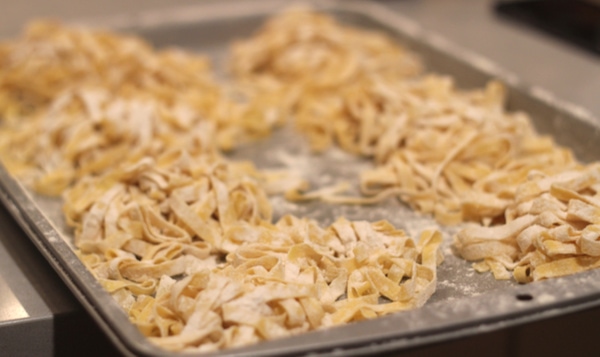 Net Worth Update: January 2020
In all the monthly shenanigans, I missed snapping a month-end screenshot of my Personal Capital dashboard for the first time in this blog's life. So this month, you're stuck with trusting my detailed spreadsheet.
The $3,000 change is nice, but a far cry from last month's $11,000 gain. That's because in January, the stock market did something that, with all the never-ending returns lately, you might have forgotten was even possible:
It went down.
😲
Cash: $15,693
(+$127)
The monster $4,000 credit card statement from last month was a major cash drag in January, so cash only went up a puny $100.
Brokerage: $163,588
(+$510)
No contributions to the brokerage this month, although that will likely change in February. I always like to keep as much of my cash invested as possible, since if you're young with minimal responsibilities like me, big emergency funds are for suckers.
I'm actually surprised to see even the $510 gain, since the market fell about 1% in January.
401(k): $141,884
(+$1,028)
That $1,000 gain was dragged along entirely by the $2,132 of paycheck and employer matching contributions I made during the month.
Keen readers will realize that's about double what I contributed to my 401k just one month ago. That's because with the new year, I'm ramping up my 401k contributions to the $19,500 maximum.
The way I see it, that's a much better use of my recent promotion than lifestyle inflation. And the best part? It barely impacts my take home pay at all, since 401k contributions come with such a big tax advantage.
This is why "pocketing your raises" is so important in building wealth.
Roth IRA: $39,183
(+$680)
No contributions this month. But hey, wasn't I supposed to max this out in January?
Whoops. Sometimes life gets in the way of the 10 second chores.
Also interesting to note is that my Roth, which is invested entirely in REIT real estate index funds, increased in value while the rest of the market fell. I love when a little diversification works out…
Rent: $853
($5)
Nothing exciting here. Lady Money Wizard and I are still splitting the mortgage and all home expenses while living in a way-below-our-means house that she purchased in Minneapolis.
Credit Cards Payable:
$3,523
Less than last month's monster, but still higher than I'd like. Let's take a closer look:
January 2020 Spending: $3,629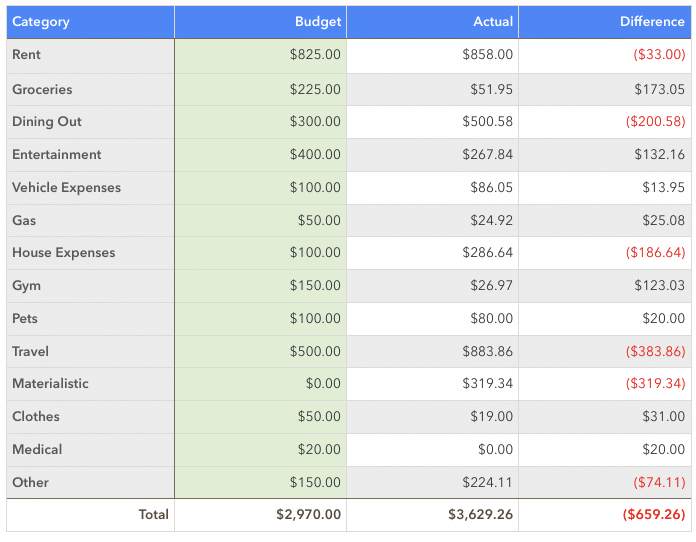 Whoa! A wild start to the year is right.
After deciding to spend a little more money in 2020, I blew right past my $3,000 a month budget and instead spent a lot more money.
January's always a big spending month for me. There's almost always a Florida trip, plus my first ski trip of the year. But this month, I definitely went a little nuts in some other categories too…
Dining Out: $501
It turns out, 25 course tasting menus aren't cheap! I paid for both of our meals and drinks, which accounted for almost all of this total. A total blast of an experience, but definitely something I'll want to keep tucked away on the "very-rare splurge" shelf.
Groceries: $52
One inefficient hack to keep your grocery spending down? Spend a ton on travel and dining out…
Entertainment: $268
Mostly all those boxed wines for the at-home wine tasting. But hey, at least we've got enough half-drank boxes left over to survive the zombie apocalypse if this corona virus thing gets out of hand.
Other major items were pre-paying for my upcoming Spring softball season.
House Expenses: $287
About half of which was the every-other-month-ish maid service. We also got a random and surprisingly huge bill for street repairs, which seems like it should be illegal. I'm just thankful we're not living paycheck to paycheck and can cover those surprises.
Travel: $883
A big number, but considering it includes three different vacations, I think we actually did this about as frugal as possible.
Florida Trip – $115: Spirit airlines flights for $33 (saved $40 by using the passenger usage hack!) and staying with family made this a nearly-free getaway.
Cabin Trip – $375: Most tourists aren't looking to go even further north during the cold Minnesota winters, so we took advantage of the off-season by scoring a beautiful cabin for $100/night – nearly 1/3 the price of its summer going rate.
Montana Ski Trip – $390: It turns out, Whitefish is one of the cheapest places in the country to take a ski trip. I found a $230 round trip flight and booked it with points, found a $60 a night hotel and booked that with points, then took advantage of the hotel shuttle to spend a big zero dollars on the rental car. I even found a deal on the lift tickets! So, my only real costs were food on the road, which I like to count as travel spending since it usually includes more splurges than if I was home.
Materialistic – $319
After proving to myself that I could stick with running consistently for two months straight, I coughed up $100 for a nice pair of running shoes. (You could probably even classify those as health spending, but I'll put it here since they aren't a total necessity.)
I also scratched my ski goggles and decided it was finally time to replace them.
How was the start of your year?
I hope it was a little more frugal than mine!
PS – If you want to easily calculate your own net worth, Personal Capital is the free tool I use. It tallies up all your accounts in one place, adds up your spending, and even helps you avoid overpaying on investment fees.
---
Related Articles: